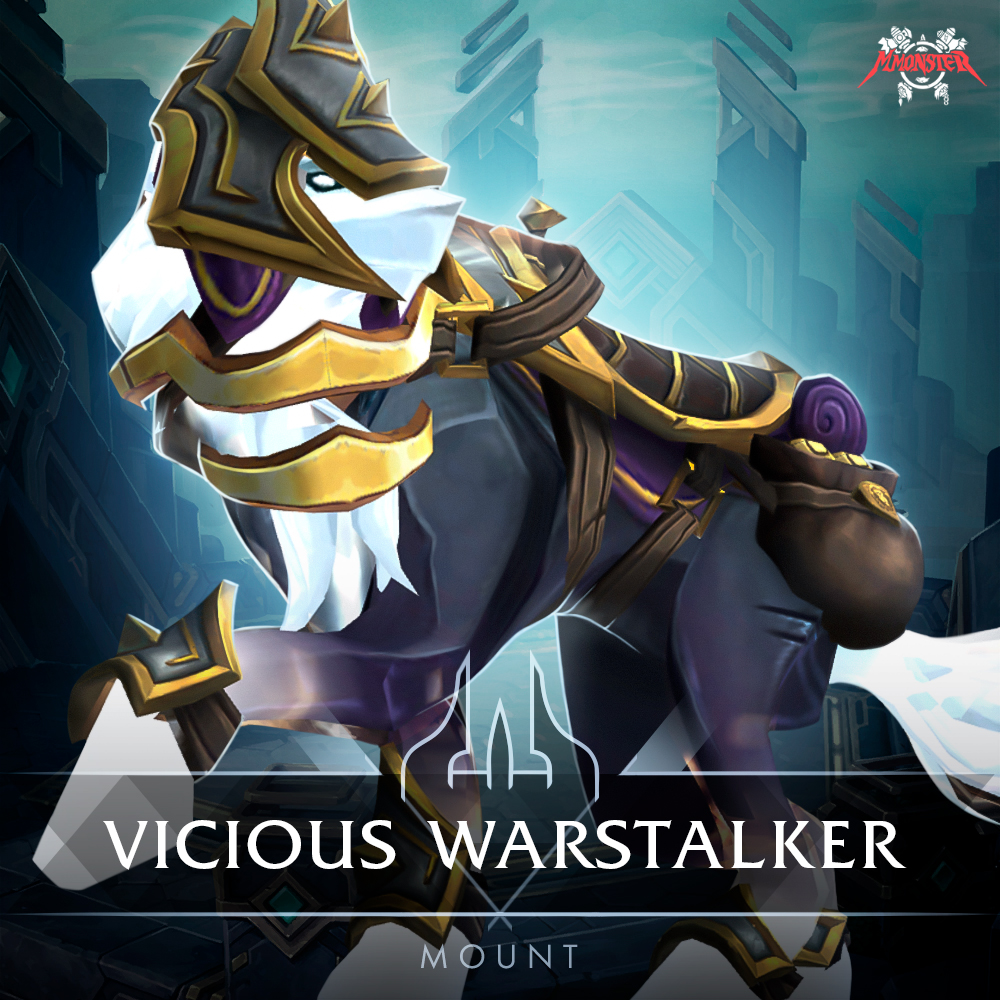 Vicious Warstalker (PvP Season 4 Mount)
Here you can buy
Vicious Warstalker Mount Boost

to get Arena wins on 1400+ rating and fill the PvP bar to obtain Shadowlands Season 4 PvP Seasonal Mount
PVP Season 4 Vicious Mount Reward: Vicious Warstalker mount on Alliance side and Vicious Warstalker mount on Horde side.
*Once you obtain your Seasonal Mount, every time you fill the pvp bar after that you'll earn a Vicious Saddle. That said, if you haven't earned seasonal mount reward this season yet you will need to buy one more boost for each Vicious Saddle item, which can be exchanged for Vicious Seasonal Mounts added in previous expansions.

You will get a lot of Arena wins on 1000+ Rating, lots of Conquest Points and Honor Points farmed during the boost and guaranteed 291+ PVP / 278 PVE item level item as a reward from The Great Vault

You will get Challenger I: Shadowlands Season 4 achievement and Challenger title

Tons of Anima to fuel your Covenant Reservoir or to buy some cool Covenant rewards

A bunch of MARK OF HONOR which you can exchange for old season PVP tier sets or weapons, heirlooms and pvp mounts
Lots of Cosmic Flux currency required to craft or upgrade your Legendary Item to Rank 7 (292 Item Level) and to convert one piece of Shadowlands Season 3 gear into a Progenitor Tier Set Piece
Login and password in case of account sharing option, your account safety guaranteed.
At least 260+ item level of PvP gear, please ask our managers on more details regarding your specific character's gear.
Estimated Delivery Time is up to 3-5 days.
Vicious Warstalker Mount Boost Carry

- the best way to obtain your Shadowlands Season 4 PvP seasonal mount fast and easy

Any participation in any WoW PvP season has an associated mount that you gradually work towards as you play more of the game called PvP Seasonal Mount. These PvP Seasonal mounts were introduced in Battle for Azeroth Season 3 and persist to the new WoW Shadowlands expansion. Seasonal Mount is awarded after a player fills up the pvp season progress bar by winning 60-100 rated Arena or RBG games while above 1000 rating. You will need to fill the progress bar to 100% in order to obtain the mount and only wins while at 1000 or above rating will count towards the Seasonal mount progression. In Shadowlands PvP Season 4 the Seasonal mount reward is Vicious Warstalker mount on Alliance side and Vicious Warstalker mount on Horde side. The Vicious Saddle system will also still be in place, able to be earned after you earn your seasonal mount. Our boosting team will gladly help and get you all needed Rated Arena Wins to fill up the bar and obtain your Vicious Warstalker Seasonal mount reward in shortest time so what are you waiting for? Get your Vicious Warstalker Mount Boost Carry today and get your Shadowlands Season 4 PvP Mount and other rewards in no time!
All
Vicious Warstalker Mount Boost

rewards - buy the boost, enjoy the loots!

After you fill your progress bar up once, earning the Vicious Warstalker mount for Alliance and Vicious Warstalker mount for Horde, you will start earning the Vicious Saddle item every time you fill up the Seasonal progress bar, which can be turned in for many mounts! The Saddle itself is soulbound, but the mount you obtain and learn is Battle.net account wide. There are lots of Vicious mounts from previous expansions available for exchange including new mounts which were added from Battle for Azeroth pvp seasons: Mount List. Additionally to Vicious Warstalker as your Seasonal mount reward, you will get lots of Conquest Points and Honor Points farmed during the rated arena wins carry to buy some cool Season 4 PvP gear, guaranteed 291+ PVP / 278+ PVE item level item as a weekly reward from The Great Vault, Challenger I: Shadowlands Season 4 achievement and Challenger title, a bunch of Marks of Honor which you can exchange for old season PvP tier sets, weapons, heirlooms and pvp mounts and tons of Anima to fuel your Covenant Reservoir or to buy some cool Covenant rewards. There are no special requirements to buy Vicious Warstalker PvP Season 4 Mount boost other than 60 level and 260+ item level gear of your character. You can buy Vicious Warstalker Mount Boost with account sharing or selfplay. Our professional and trusted Mmonster players will kindly boost your character with this WoW Shadowlands Season 4 Vicious Warstalker mount really fast so lean back and watch your character collects all those tasty rewards and achievements and tremendously grows in power!
Login or Register with...
---
The order was quick and painless. Got the spider mount and 1500 rating wthin a week! Will order again!