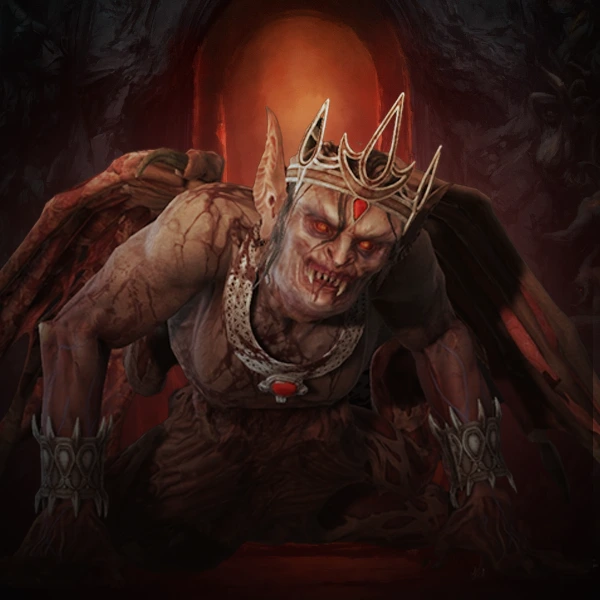 Diablo 4 Abattoir of Zir boost
Here you can buy the
D4 (Diablo 4) Abattoir of Zir service
- a pinnacle endgame activity, gain access to the
Tears of Blood Glyph
- a unique Paragon Glyph, and also earn a lot of experience for your regular glyphs.
The event will be available until the end of the season.
This is a pre-order. Service will be available at December 6
Diablo 4 Abattoir of Zir Service Includes:
For your first completion, you will get a unique Paragon glyph - Tears of Blood.
Unlock the ability to craft higher level Bloodforged Sigils.
Uber Nightmare Dungeon Experience Totem (provides a lot of experience for Paragon glyphs).
Rewards of high item level at the end of the dungeon.
Guaranteed completion within the timer.
D4 Abattoir of Zir Requirements:
Fully Completed Season Journey.
Level 100 character on the seasonal server Not leveled up yet? Buy our Diablo 4 leveling boost.
For higher tiers, a strong Diablo 4 S-tier Build is required.
Everything We Know About Diablo 4 Abattoir of Zir
This is a new pinnacle Seasonal dungeon event that came to D4 with patch 1.2.3. It is very similar to the Greater Rifts from Diablo 3. The principle is the same: you have 10 minutes to destroy hordes of monsters and fill the event bar. If you manage to fill the bar before the timer runs out, a boss appears. Defeat the boss and victory is yours.
There are a total of 25 possible tiers of Diablo 4 Abattoir of Zir. Compared to Greater Rifts from Diablo 3, you can expect about a 70% increase in monster difficulty (meaning damage and health) as you progress on each tier. Such a challenge is only for the strongest S-tier builds in the best equipment! Want to try it yourself? Order our Diablo 4 Champions build service.
How to Participate in D4 Abattoir of Zir and What are the Rewards?
To participate in Abattoir of Zir, you need to fully complete the Season's Journey, including killing the uber bosses Diablo 4 Echo of Lilith and Diablo 4 Duriel kill. Then you will have the opportunity to craft a Tier 1 Bloodforged Sigil with an occultist.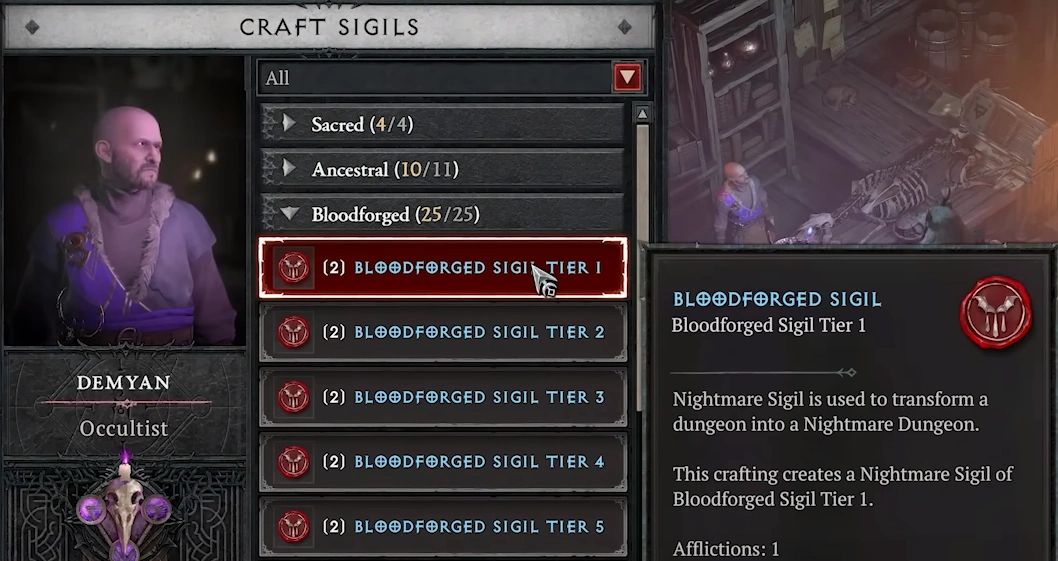 Bloodforged sigil crafting interface
What is Needed to Craft a Bloodforged Sigil?
Rewards for Diablo 4 Abattoir of Zir Completion
By completing D4 Abattoir of Zir, you will receive an uber experience totem for leveling glyphs, useful high-level loot, and for the first completion a unique Paragon glyph, Tears of Blood, which is many times more powerful than any other glyph. The glyph can be "leveled" like other glyphs, but its maximum level is 210. The glyph provides a 2% multiplicative damage bonus for every 5 Core stats within the glyph's radius, making it over 10 times stronger than any other glyph presented earlier, and also enhances surrounding nodes by 50%.
How Long Will D4 Abattoir of Zir Be Active?
This event will be available from December 5th to January 26th, 2024, after which the thematic event will end and will be presented in a new form in season 3.
Useful Links
Abattoir of Zir video preview from Blizzcon 2023
How Does Diablo IV Abattoir of Zir boost work?
After you've selected all the desired options and paid for your order, you'll receive an order number and an email confirmation that your order has been accepted.
If you don't get in touch for a while, our operators will contact you using the specified method or email;
Provide us with your order number, and our support crew will start looking for a suitable booster;
As soon as we assign a player to carry out your order, we will need your account details from the platform where you purchased the game;
When the order is completed, you'll receive a notification in the Discord channel or another messenger of your choice.
Enjoy the results of your order ;)
Please leave a review! Your opinion is very important to us, and we aim to provide the best Diablo 4 boosting service on the market!
Why Buy Boosting When You Have Most of the Information?
Our players are professionals who love their job. Whether it's an endless grind for resources, gold, or completing challenging content
we can be your partners! Most of our services offer you the opportunity to play yourself, and we will gladly assist you with any difficult content.
Maybe you just want to get rewards that you couldn't obtain on your own.
Is It Safe to Buy Boosting Services?
The short answer is yes, and there are several reasons for this:
In our 9 years of experience in the boosting industry and with over 30,000 completed orders, there have been almost no bans or other issues. In Diablo 4, there have been zero issues in over 1,000 orders.
We only work with verified players who complete all orders manually, never using cheats, exploits, or bots.
All our boosters have years of experience and are top-tier players with impressive portfolios.
Our operators personally play the games we offer (for example, I actively play Diablo 4) and know what they are talking about.
We only use high-quality VPNs developed by our dev team.
We guarantee 100% security of your personal data.
We guarantee 100% security of your account data.
Our mission is to provide the best Diablo 4 boosting services at a fair price.
About Author
My name is Dmytro, but most people know me by my nickname, Miri. I am the curator for Diablo 4 and some other sections on our site. I've been with the Mmonster team for 9 years, during which we've completed over 1000+ Diablo 4 orders. You can read over 8000+ positive reviews on diablo and other services by our happy customers. My love for gaming and friendship with other mmonster members brought me to the company.
I adore games, especially action RPGs like Diablo 4 and Path of Exile, as well as sports simulators from the Fifa/Nba2k series and others. In Diablo 4, I've played around 300 hours and have personally tried the game in high-end. In Diablo 3, I've spent over 1500 hours. Overall I've been an active gamer for 25 years.
I hope all this information gives you an insight into my gaming experience and understanding of the games
Change log
07.11.2023 Diablo 4 Abattoir of Zir boost Published
Login or Register with...