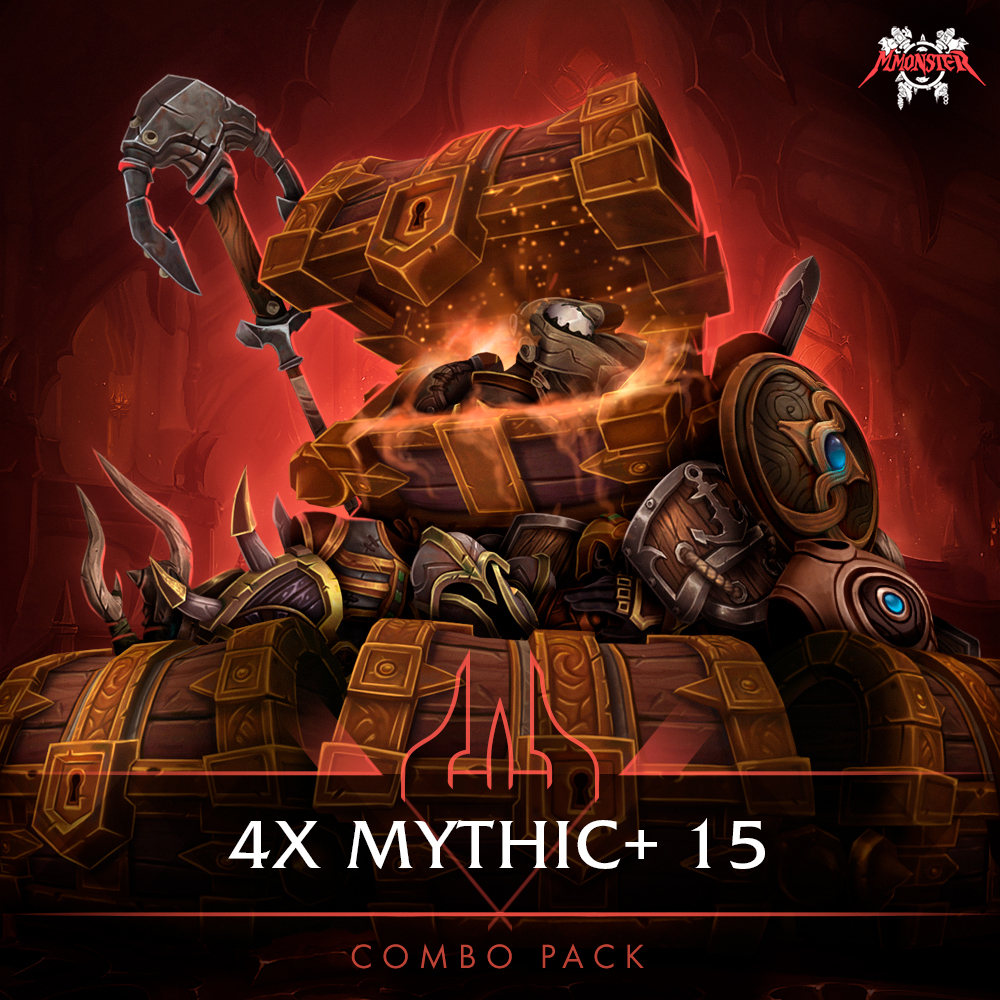 4x Mythic+ 15 Dungeons Combo Pack Boost Carry [id:94511]
Here you can buy
4x Mythic+ 15 Dungeons Combo Pack

to get four Mythic+ 15 Dungeon Boost Runs in Time with X2 Loot Traders at the price of 3X runs and obtain the best dungeon gear for your character of up to 252 item level guaranteed
4x Mythic+ 15 Dungeon runs completed in timer with 2x extra loot traders with same armor type as your character at the price of 3x runs
3x increased chance to get 236 ilvl epic items from the end of dungeon chest for each Mythic+ 15 Dungeon completed thanks to within timer completion (+1 item in the chest) and 2x extra loot traders who will trade all loot they may get and trade to you
Guaranteed 252 item level item from the Great Vault which you can choose from 2 unlocked items as your weekly reward next reset
540+ Valor Points required to upgrade item level of items from Mythic+ dungeons to up to 246 item level
Chance to obtain Conduits for your Covenant Soulbinds customization and

Memory of the Runecarver

recipes to unlock

Legendary Powers

in Runecarver's Chamber.
Tons of Anima for your Covenant Reservoir or buy come cool rewards
Login and password in case of account sharing option, your account safety guaranteed.
4x Mythic+ 15 Dungeons Combo Pack

- the best way to get highest item level mythic+ dungeon gear fast and easy

Our Mythic+ 15 Dungeons Combo Pack is tailored specially for those who want to drastically increase their chances of getting 236 ilvl dungeon gear from End of Dungeon chests, 2x 252 ilvl items unlocked in the Great Vault on the next weekly reset guaranteed and some Valor Points required to upgrade item level of their Mythic+ gear fast and easy. Completing Mythic+ 15 dungeon run will grant the group with Challenger's Cache in the end of mythic+ dungeon run which contains 1 random piece of loot for 1 random player in a group. Additionally to that, beating the dungeon within timer adds one item to the end of dungeon chest making it 2 total. And this loot can be traded if the character who gets the item already has higher item level item in that particular item slot. That's why there will be 2 players with the same armor type as your character in your group who will trade you all items they MAY get as reward from the end of dungeon chest, increasing your chances of getting desired extra loot even more. And we guarantee that all of your assigned players will have higher than 236 item level and will be able to trade you 99.9% they may get as reward. Plus, Mythic+ dungeon system has no lockouts and thus any amount of M+ runs can be completed as long as someone in a group has a mythic keystone to activate and start the mythic+ dungeon run. And our mythic+ teams keep a lot of them ready to make any amount of runs you want!

Successful completion of Mythic+ 15 level dungeon will grant you best possible reward in The Great Vault next week - 252 item level, which makes mythic+15 dungeon rewards on par with Sanctum of Domination Mythic raiding gear. Item rewards received at The Great Vault can be any loot dropped from any boss through all the dungeons available. And with 4x Mythic+ Combo Pack you will have 2 items unlocked to choose from as your weekly reward giving you more choice and chances to get the desired item, even though you can pick only one guaranteed weekly reward from the the Great Vault. Mythic+ Dungeon gear from highest Mythic+ 15 Keystone levels will benefit your character during the whole Shadowlands Season 2 up until the new Season release. And our 4x Mythic+ 15 Dungeons Combo Pack is the fastest and the most effective way to get the best gear which is on par with even a relevant Mythic raiding gear. So what are you waiting for? Get your 4x Mythic+ 15 Combo Pack Boost Carry today and watch your character collects all this cool gear and tremendously grows in power!
All
4x Mythic+ 15 Dungeons Combo Pack Boost Carry

rewards - buy the boost, enjoy the loot!

Even if you are an experienced player with the best gear from mythic dungeons and even current raid, running and completing higher Shadowlands Season 2 Mythic+ Dungeons content will still be a tough challenge for you. However, the rewards you will get for successfully completing the runs are really high: along with 236 and 252 item level dungeon gear with top stats from both Challenger's Cache and The Great Vault, which can also be socketed powering up your character even more, you can also get achievements for completing Mythic+ runs within timer, 540+ Valor Points required to upgrade item level of your Mythic+ gear even more, chance to obtain Conduits for your Covenant Soulbinds customization, Memory of the Runecarver recipes to unlock Legendary Powers in Runecarver's Chamber and tons of Anima for your Covenant Reservoir

There are no special requirements to buy Mythic+ Dungeons boost runs other than 60 level of your character (you can order Shadowlands Power Leveling Boost at our store). You can buy 4x Mythic+ 15 Dungeons Combo Pack boost with account sharing or selfplay. We will prepare your mythic+ boost group or appoint your m+ run in no time. At the appointed time you will get a quick invite to a boost group and will be carried through the dungeons until the very end and won't have to face all the trials during the mythic plus run, just follow the group, enjoy the show and grab rewards!
Login or Register with...