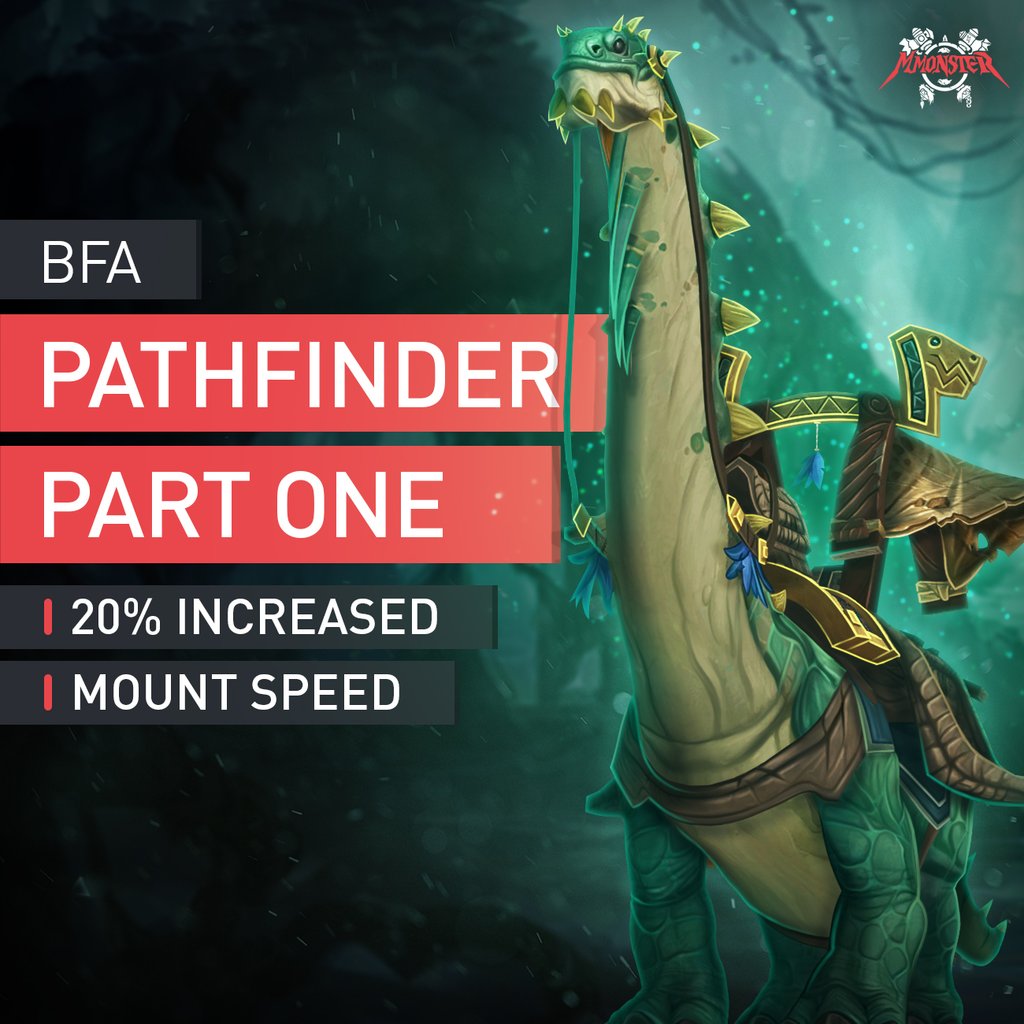 Battle for Azeroth Pathfinder, Part One
20% Increased Mount Speed on Kultiras and Zandalar continents
War Campaign part 1 "Ready for War" completed for Horde OR Alliance faction (depends on your character´s faction)

Revered reputation with all Battle for Azeroth Factions granting you tons of toys, pets, profession recipes, gear and other rewards
Island Expeditions unlock
Warfront access and one Warfront victory
50 Lvl Character. Don't have one yet? Take advantage of our Power Leveling Boost service.

Service lead time hardly depends on your current progress, full service may take up to 2 weeks
Login and p

assword, your account's safety guaranteed.
New
World of Warcraft: Battle for Azeroth expansion brings us a full-fledged conflict between the Horde and the Alliance factions on the new lands of Kul Tiras Kingdom and Zandalar Empire. On the way to unlock flying on Battle for Azeroth zones you need to accomplish Battle for Azeroth Pathfinder, Part One meta-achievement first which rewards 20% increased mount speed on Kultiras and Zandalar, flying itself will become available at some point later through the expansion. This huge meta achievement requires a lot of efforts and time to unlock. You need to complete 100 different World Quests, explore all 6 sub-zones, complete your faction's main zone questlines (complete the most important storylines on all 3 zones on Zandalar or Kul Tiras) and earn Revered reputation with all Battle for Azeroth factions, and of course, you must complete full War Campaign.
Join our team, rush into this epic Battle for Azeroth completing Battle for Azeroth Pathfinder fast and easy, get your ultimate rewards and have the best gaming experience and pastime you have ever had!
You can buy Battle for Azeroth Pathfinder boost with account sharing only.
Our professional and trusted Mmonster players will kindly boost your character with this World of Warcraft (WOW) Battle for Azeroth Pathfinder boosting service really fast so lean back and watch your character collects all those tasty rewards and achievements and tremendously grows in power!