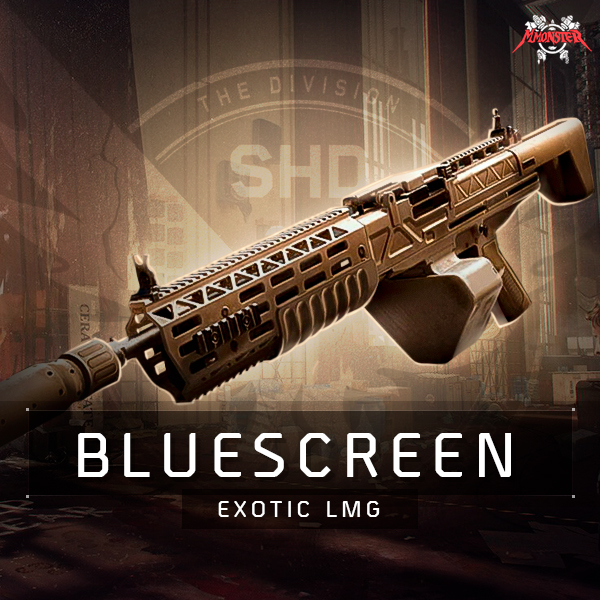 Bluescreen Exotic LMG Farm Boost
Here you can buy
Bluescreen Exotic LMG Farm Boost

to get new Season 9 Bluescreen Exotic weapon farmed for your Division 2 character guaranteed
You will get

Bluescreen Exotic LMG Weapon

You will get lots of

High-End Gear

equipment during the boost
Tons of experience to boost your SHD and Season Pass levels
Bluescreen Exotic LMG Farm Boost

- the best way to farm new Division 2 Season 9 Exotic LMG weapon fast and easy

Division 2 Exotics are a higher tier than High-End, which makes them some of the best guns in game. They are all unique named weapons and you get them through complicated tasks, such as plenty of grind and prayers to the god of random loot drop. Exotic weapons have been termed weapons which have unique abilities delegated to them Which is exactly what makes them essential for the endgame content. Despite having a general excellent stat line, Exotic Weapons could be hard to acquire. Aside from the bonus exotic weapons which arrive with special editions, you'll have to scour the map to discover the blueprints in order to craft these weapons.

The Division 2 Bluescreen Exotic LMG is the most recent exotic being added to The Division 2 Season 9: Hidden Alliance and is a reward for reaching Season Pass Level 85 or can be farmed as a targeted loot from PVE activities or DZ. Bluescreen Exotic LMG is tailored for skilled/support builds andfeels awesome to fire and melt down multiple enemies in long fights thanks to its unique talent Disruptor Rounds: Shooting an enemy marks them and adds a stack to the agent up to a count of 50. Shooting a marked enemy refreshes the mark and adds stacks to the agent. When you deploy a non-shield skill, remove all stacks on agent and all marked targets trigger an effect.
1-10 Stacks - Pulse marked targets for 5 seconds.
11-25 Stacks - Pulse and Disrupt marked targets for 5 seconds.
26-49 Stacks - Pulse, Disrupt, and Disorient marked targets for 5 seconds.
50 Stacks - Pulse, Disrupt, and Disorient marked targets and all hostiles within 10 meters of the marked targets for 5 seconds. This effect will trigger immediately if any marked enemy is killed.
How
Bluescreen Exotic LMG

farm service will be carried out

After placing the order we will contact you, share your account with our player and our Division 2 team will start farming the targeted activities until your character gets Bluescreen Exotic LMG weapon. Our players are the best boosting team with great helpful players and our support is there to answer your questions and assist you when you need it. We make Division 2 Bluescreen Exotic weapon farm boost on EU or US region and on any gaming platform available for the best price: PS4, Xbox and PC! Try MmonsteR boost service and you will have your in-game helper from this moment on. Safety of the boost is guaranteed!
Login or Register with...