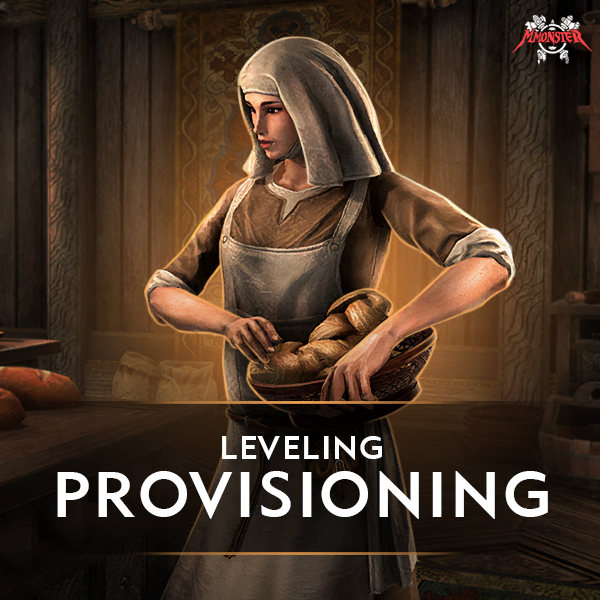 ESO Provisioning Leveling
Selected character Provisioning Profession will be power leveled from 1 to 50 lvl


Estimated boost time around 15 minutes after start

With the professions leveling you will receive additional achievements and resources

Leveling is available on both regions - EU / US
ESO Online Account on PC (Don't have one yet? Check out our account catalog. Maybe you will find there already fully prepared acc, that you need)

Login Details (Login and Password if you're using Bethesda launcher or Steam Login and Password if you're using Steam Launcher)

Verification code, from your mail or phone(in case of steam guard phone protection)

Your account's safety guaranteed. All items, gold and other valuable items will stay in place
The Elder Scrolls Online features a crafting system similar to most modern MMOs. There are 7 professions: Alchemy, Blacksmithing, Clothier, Enchanting, Jewelcrafting, Woodworking and Provisioning. You can choose any crafts you want; however, to raise crafting tiers and make crafting more profitable, you need to invest skill points into your chosen craft(s). You can use Provisioning to transform provisioning ingredients into cooked food and brewed drinks. It is the equivalent of cooking in Skyrim. Provisioning recipes are broken into two categories, Food Recipes and Beverage Recipes. You must be at a Cooking Fire in order to create any items. In general, provisioning ingredients can be found by searching sacks, barrels, baskets and crates. Grocers also sell ingredients, but have a limited selection. Various creatures throughout the world can also be hunted for meat.

In the other professions, you are able to make items as soon as you have the materials. However, in Provisioning you must have found and learned a recipe before you are able to create any Food or Drink. Recipes may be found as random drops, especially in containers such as Cupboards and Chests. They may also be bought from Guild Stores or from other players. Completing Provisioning Writs will also give the player a random level specific recipe. Food items boost at least one of the three stats, Health, Magicka, or Stamina for a period of time. Drinks provide more rapid regeneration of at least one of the three stats over a period of time. Recipes come in four strengths. Standard Recipes are the weakest, and affect only one stat. Difficult Recipes are intermediate, and affect two stats. Complex Recipes are more powerful, and will affect all three stats. Legendary Recipes require the rarest ingredients and usually provide unique bonuses not found elsewhere. In addition to food and drinks, the Provisioning skill allows you to craft furnishings for your home.

All of this content is waiting for you, but to reach it out, you will have to lay your path throw a hundred of hours time-wasting repetative grind and quests, that most of the time foul the impression of the game. But don't hurry up to scream, that it takes "FOREVER!" to reach your desired point! Because we are here to help you out! No more lazy rats killing to get needed rank to level up, no more quest skipping to became champion! Our team provide you the best experience in world of ESO, fast and reliable service, makes all the long-term work, so you can make your wishes come true and conquer the desired content right away! Enjoy our ESO power leveling service now and focus on having fun instead of grinding!

Craft Professions Leveling: how the service will be carried out
After placing the order we will contact you to start boost service process. First of all we will need you to provide primary data, for account sharing (Login and Password), so our booster can receive access to your account. Second if there is needed, we will ask some additional information, if it was not yet provided from you before, like char name, time for account is available for boost or any other details, that you wish to clarify for us. After all preparation is done and we have all the needed info from you, in the nearest time our boosting member procceed to order completion. While boost is going you always have the opportunity to receive info about process, or to add some additional orders. When all the work is done we will inform you, so you can check all the work is done properly and complete.
How to get Provisioning Profession Leveling fast
Crafting Professions in ESO is a main part of the game, which goes aside while you exploring the world. If you're are truly adventurer, you will notice, that every time you leveled up, your armor and weapons are gettinge weaker, and your enemies growing stronger. And as well, to make your way to the champion one of the helping aspects for the game is using provisioning. The main profit from it - it's more higher primary characteristics or sustain. To get provisioning boost fast, you will need 4 recipes, for 19, 29, 39 and 49 lvl. This one you can find either in your adventure randomly in chests, or other junk containers, or you can buy it from npc guild traders. The same way you get needed food ingridients. Don't forget, that every time you reach hither level in profession - you need to rise level of it's recipe improvement, so you will be able to craft next recipe food. And offcourse if you don't wanna waste a lot of your time, and just pop up in a fight fully geares and prepared, you can always count on our team to help you!

Why you need Elder Scrolls Online Provisionin Leveling service
Our service designed to greatly save your precious time, so you don't have to stuck on some tedious location lurking for another stone in the far corner of the map and hours of waiting just for another dungeon to load. We make all process fast and safe, so in the result of our professional ESO boost you will receive all that you wish, as well as some additional loot and other bonuses, that your hero will get during the boost performance. Our guys are the best boosting team with great helpful players and our support is there to answer your questions and assist you when you need it. While carrying we can provide you screenshots of current progress, if needed. We make any existing ESO carry services available for the best price! Try MmonsteR boost service and you will have your in-game helper from this moment on!
Login or Register with...