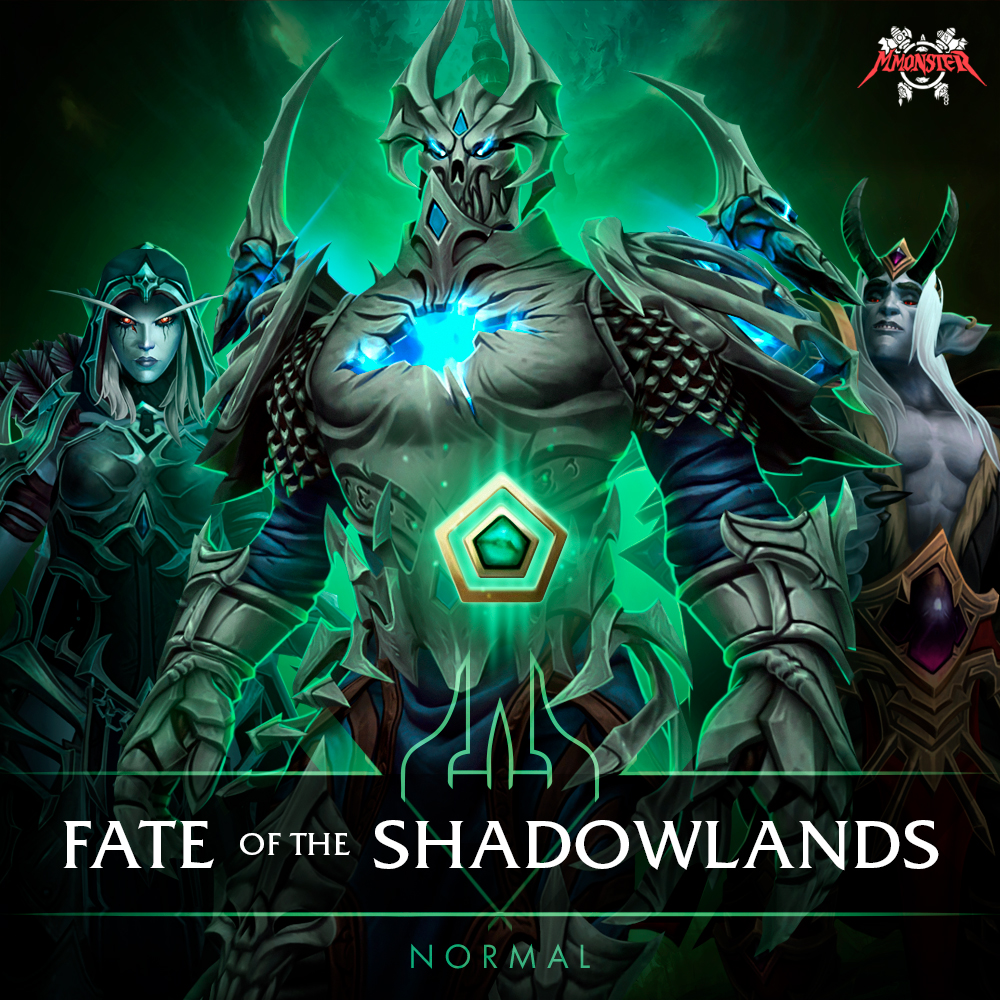 Fates of the Shadowlands Raids Achievement Boost
Here you can buy
Fates of the Shadowlands Raids

meta-achievement to complete all 3 WoW: Shadowlands Season 4 Fated raids on Normal difficulty and get unique Jigglesworth Sr. slimesaber ground mount fast and easy
278 item level (285 item level from two last bosses) loot dropped as Personal loot for your character's chosen class and spec including socketed items and Progenitor Class Tier Set items and 3 guaranteed gear rewards from the Great Vault during 3 consecutive weeks
Lots of Cosmic Flux currency for every boss kill required to craft or upgrade your Legendary Item to Rank 7 (291 Item Level) and to convert one piece of Shadowlands Season 4 gear into a Progenitor Tier Set Piece
Login and password in case of account sharing option, your account safety guaranteed.
Estimated Boost Appointment Time is 3 weeks.
Fates of the Shadowlands Raids Boost

- the fastest way to get your

Jigglesworth Sr. Mount

Fates of the Shadowlands Raids is the new raid meta-achievement from the lates WoW: Shadowlands Season 4, which arrives on August 2 in US region and on August 3 in EU region. To earn the achievement players have to face and kill all bosses in all 3 Shadowlands raids on Normal difficulty with a new seasonal affix called Fated. Fated adds ability called Fated Power to all boss fights of the raid, but also drastically increasing ilvl of gear dropped from Fated Raid bosses. Each week there is only one Fated Raid available with all 3 raids being on a weekly rotation meaning you can obtain Fates of the Shadowlands Raids Achievement and its ultimate reward - Jigglesworth Sr. slimesaber ground mount only in 3 weeks of full raid clearing. So what are you waiting for? Get yourFates of the Shadowlands Raids boost today and watch your character collects all those tasty rewards and tremendously grows in power!
All
Fates of the Shadowlands Raids

rewards - buy the boost, enjoy the loot!

Even if you are an experienced player with the best gear, obtaining Fates of the Shadowlands Raids achievement will still be a tough challenge for you as you need to complete all 3 Shadowlands Fated Raids on Normal difficulty or higher. However, the rewards you will get for completing the Fates of Shadowlands Raids achievement are really high: along with the best 278/285 item level raiding gear with top stats, which can also be socketed powering up your character even more, you will get Jigglesworth Sr. slimecate groun mount as the ultimate reward, 3 achievements for completing all shadowlands season 4 fated raids: Fate of Nathria, Fate of Domination and Fate of the Sepulcher and lots of Cosmic Flux currency required to craft and upgrade shadowlands legendary items as well as to craft Progenitor tier set items. There are no special requirements to buy Fates of the Shadowlands Raids boost other than 60 level of your character (you can order Shadowlands Power Leveling Boost at our store). You can buy Fates of the Shadowlands Raids boost with account sharing or selfplay. Our professional and trusted Mmonster players will kindly boost your character with this Shadowlands Fates of the Shadowlands Raids boosting carry service really fast so lean back and enjoy rewards.
Simply buy
Fates of the Shadowlands Raids

and complete the meta-achievement fast and easy

Buy Fates of the Shadowlands Raids boost service from the safest and most reliable boosting service, join the most epic fated raids in Shadowlands season 4, clear all normal difficulty bosses, get your unique Jigglesworth Sr. ground mount in no time and stand out from the crowd! Account Sharing option is your best bet if you just want to save your time, especially for fated raids during first weeks after raid's release and selfplay option is always available for you also if you want to participate in all Fated raids and get the most epic gaming experience yourself. Just save yourself lots of time and skip unwanted boring wipes by using our Fates of the Shadowlands Raids boosting carry service with our professional and skilled players.
Login or Register with...