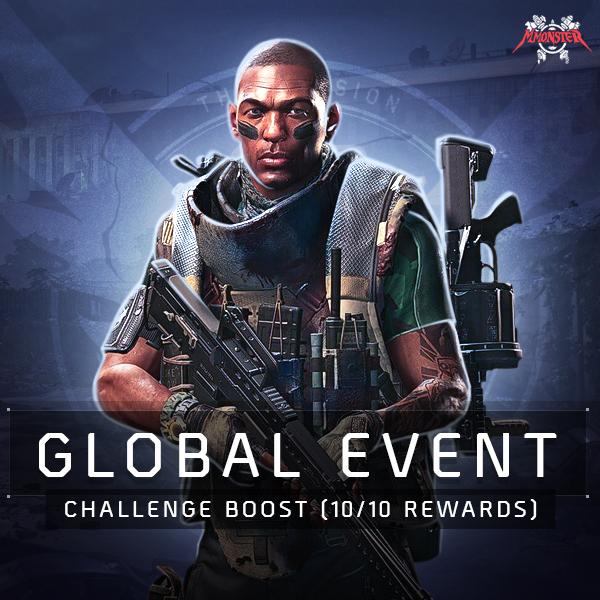 Global Event Challenge Boost (10/10 Rewards)
You will get Global Event Challenges completed for your agent and all 10/10 Global Event Rewards unlocked on selected difficulty
You will get lots of

High-End Gear

equipment during the boost
You will get tons of XP to boost your Season Pass Levels and SHD Levels
The Division 2 Warlords of New York DLC on PC, XBOX or PSN.
Login Details (Email and Password).
40 Level Character. Don't have one yet? Check our 1-40 Character Leveling Boost or 30-40 Character Leveling Boost.
Estimated Delivery Time is up to 48 hours to complete full Global Event Challenge and unlock all 10/10 Rewards.
What is Division 2 Global Event and why you need this Challenge boost carry
The Division 2 is a tactical shooter action role-playing video game where you'll function as Division Agent located in Washington D.C. Your goal is to save the city from falling by completing missions to keep the peace and enemies appearing to topple society. While power leveling and completing main storyline to gain maximum level 30 and unlock end game content you are going to be fighting various enemy factions: True Sons, Hyenas and Outcasts. Main goal is to purge them from the D.C. and to protect the remaining civilians left in town.
On March 3 The Division 2 first ever major DLC named Warlords of New York released focuses on a mission to retake the ruins of Lower Manhattan from a cabal of rogue agents. Warlords of New York opens up a large portion of new end game content to explore bringing new avenues to level up your character and acquire more power. Once you reach Level 40 and complete the Warlords of New York campaign, you will gain access to a new Seasonal Activities including Global Event Challenge.
Global Event Challenge is a special time-limited event which made its return from the original Division 1 game. Global Events last one week, and there are three Global Events per each Division 2 Season planned. While Global Event is running, it adds special modifiers to missions and open world environment that spice up gameplay with unique effects that can be activated and de-activated by players. Also, they include Challenges that unlock on a daily basis and completing these challenges unlocks 10 unique Global Event Rewards including Named cache, Season cache, Exotic Cache with a random god roll Exotic item guaranteed, cosmetic items and more. And last, but not least, playing Global Events and completing Challenges rewards players with tons of XP to boost their Season Levels and SHD Levels. Buy the Division 2 Global Event Challenge Boost to unlock all 10/10 Rewards and boost Season Pass levels and SHD levels for your agent.
Login or Register with...