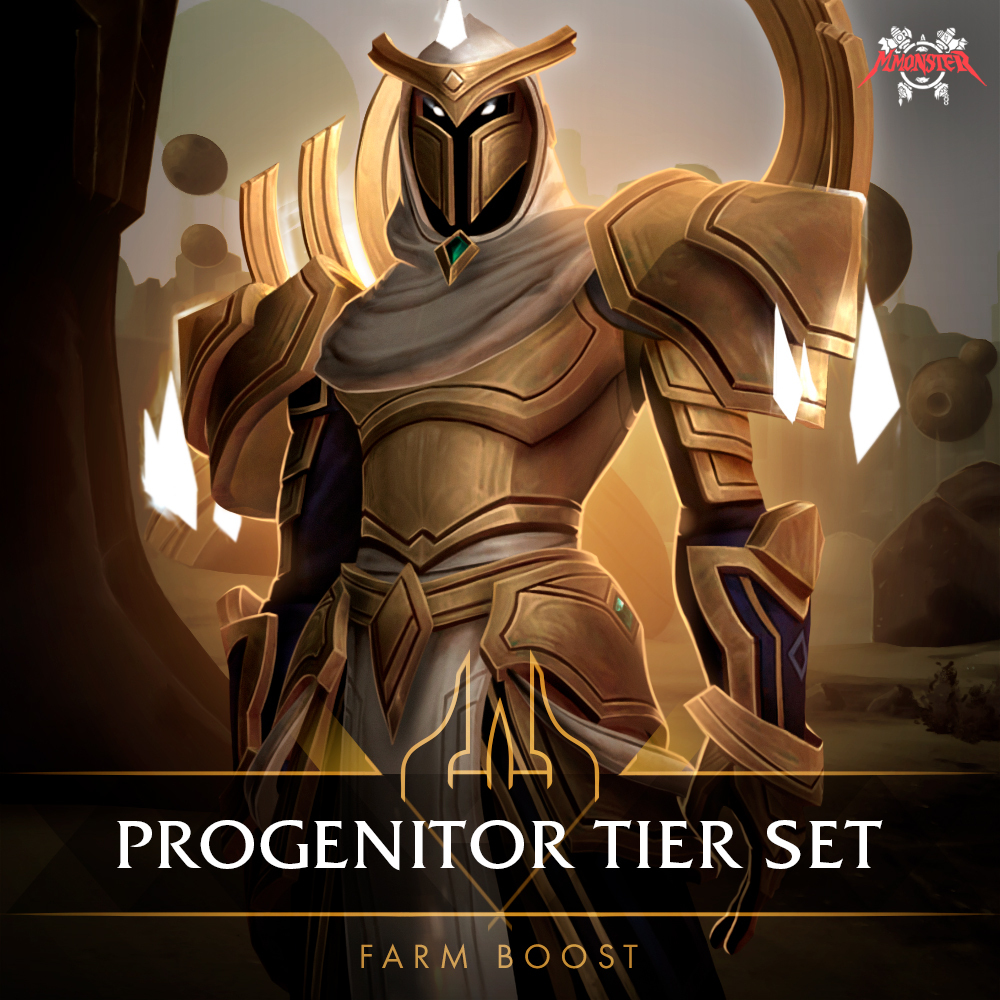 Progenitor Tier Set Farm Boost
Here you can buy
Progenitor Tier Set Farm Boost

to get required amount of

Progenitor Class Tier Set

gear pieces and unlock 2-piece and 4-piece Progenitor set bonuses fast and easy
Selected Progenitor Class Tier Set gear pieces of selected item level farmed from bosses in Sepulcher of the First Ones fated raid or made via the Creation Catalyst system by using raid non-set items dropped from raid bosses in other fated raids
Chance to get other 278+ item level loot for your character from specific bosses depending on your selected boost option. Check Tier Set Drop Info tab for more information
Some Cosmic Flux currency required to craft or upgrade your Legendary Item to Rank 7 (291 Item Level) and to convert one piece of Shadowlands Season 4 gear into a Progenitor Tier Set Piece
Login and password, your account safety guaranteed.
Estimated Boost time varies and highly depends on a drop chance and on your selected boost options. Collecting full Progenitor Tier Set for your character may require up to 2-3 weeks.
Buy
Progenitor Tier Set Farm Boost

- the fastest way to unlock 2-piece or 4-piece Progenitor class set bonuses for your character

New WoW: Shadowlands Eternity's End patch 9.2 brings our beloved Class Tier Set back presenting new Progenitor Tier Set armor granting your character even more powerful abilities and perks by collecting and unlocking 2-piece and 4-piece tier set bonuses. Impregnated with the power of the First Ones, Progenitor Tier Set gear available as 5 tier pieces: Chest, Shoulders, Helm, Hands and Legs, and provide with 2 tier set bonuses when you collect and equip 2 and 4 class set items. These tier pieces drop from specific bosses in Sepulcher of the First Ones raid, but this time around they also can be obtained by mythic+ and pvp activities, can drop as a reward from the Great Vault and can be crafted from non-set pieces with a special new Creation Catalyst system. Even though now players can use different activities to get their Class Tier Set armor, raid remains the main source of obtaining it.

As earlier class tier sets, each Progenitor Class Tier bonus has special abilities and perks it grants the character based on whether he has 2 or 4 pieces equipped. The bonuses will also change based on character's current talent specialization, meaning that you don't need to collect several sets of tier armor for every spec. It is crucial to collect 2- or 4-piece bonuses for your character as they will drastically increase the power of your character. It may take tremendous amounts of time to farm the required Progenitor tier set gear pieces so why would you waste countless hours for this routine if you can simply invest your time in more exciting and new Shadowlands: Eternity's End end-game content with your geared character? With our Progenitor Tier Set Farm Boost our boosting team will farm required amount of tier sets by killing specific bosses in Sepulcher of the First Ones raid every week until your character gets them all. We guarantee security of your account, complete anonymity and reliability of our gear farm boost services.

You can buy Shadowlands Progenitor Tier Set Farm Boost service with account sharing only. Our professional and trusted MmonsteR players will kindly boost your character with this World of Warcraft (WOW) Shadowlands Progenitor Tier Set Farm service really fast so lean back and watch your character collects all those tasty rewards and achievements and tremendously grows in power!
Login or Register with...