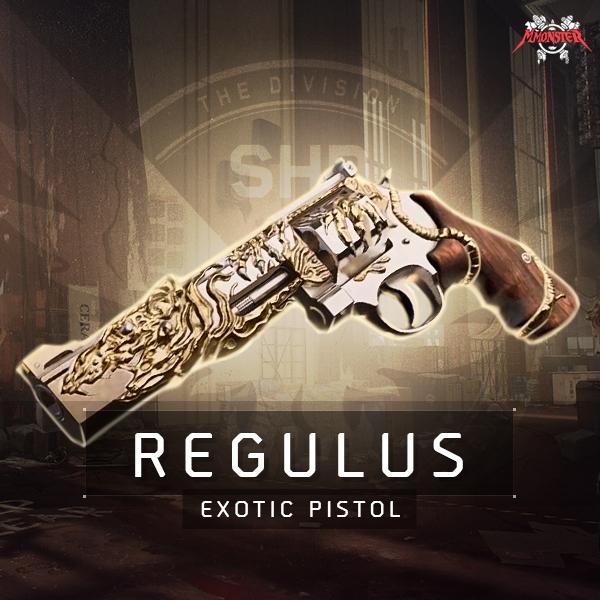 Regulus Exotic Pistol Weapon Farm Boost
You will get

Regulus Exotic Pistol Weapon

You will get lots of

High-End Gear

equipment during the boost
Tons of experience to boost your SHD and Season Pass levels
The Division 2 Warlords of New York Game on PC/XBOX or PS4.
Login Details (Email and Password).
40 Level Character. Don't have one yet? Check our 1-40 Character Leveling Boost or 30-40 Character Leveling Boost.

Estimated delivery time highly depends on a drop chance and thus can not be accurately predicted (may require several raid weeks).
What is Regulus Magnum Pistol and why you need to buy this Division 2 Exotic Weapon farm boost carry
Division 2 Exotics are a higher tier than High-End, which makes them some of the best guns in game. They are all unique named weapons and you get them through complicated tasks, such as plenty of grind and prayers to the god of random loot drop. Exotic weapons have been termed weapons which have unique abilities delegated to them Which is exactly what makes them essential for the endgame content. Despite having a general excellent stat line, Exotic Weapons could be hard to acquire. Aside from the bonus exotic weapons which arrive with special editions, you'll have to scour the map to discover the blueprints in order to craft these weapons.
The Division 2 Regulus Magnum Pistol is the most recent exotic weapon being added to The Division 2 Warlords of New York with Title Update 10 and is an exclusive reward from the second Division 2 Foundry raid called Operation Iron Horse. It is tied to a new crafting quest that is guaranteed to yield Regulus once completed. The Regulus exotic is a revolver that offers a high base damage and creates explosions on headshot kills that amplify damage and apply bleed to all enemies nearby thanks to its unique talent Regicide: Headshot kills create a 5m explosion, dealing 400% weapon damage and applying bleed to all enemies hit.
How Regulus Exotic Revolver farm service will be carried out
After placing the order we will contact you and Regulus farm boost service will be done in two different methods depending on playing method you have chosen. In case of Selfplay method, we will offer you time and date for the first raid and you will join our group by invitation right in the Division 2 game at an appointed time. We will carry you through the Operation Iron Horse raid and will trade you the Regulus exotic weapon in case it drops from one of the bosses or in the chest at the end of the raid. In case it does not drop from the first raid we will invite you next time and appoint another raid for you and we will carry you until you will get Regulus guaranteed. In case of piloted run, the boost is done in the same way but the time of the runs will vary and we will inform you when we will take over your account. Our players are the best boosting team with great helpful players and our support is there to answer your questions and assist you when you need it. We make Division 2 Regulus farm boost on EU or US region and on any gaming platform available for the best price: PS4, Xbox and PC! Try MmonsteR boost service and you will have your in-game helper from this moment on. Safety of the boost is guaranteed!
Login or Register with...