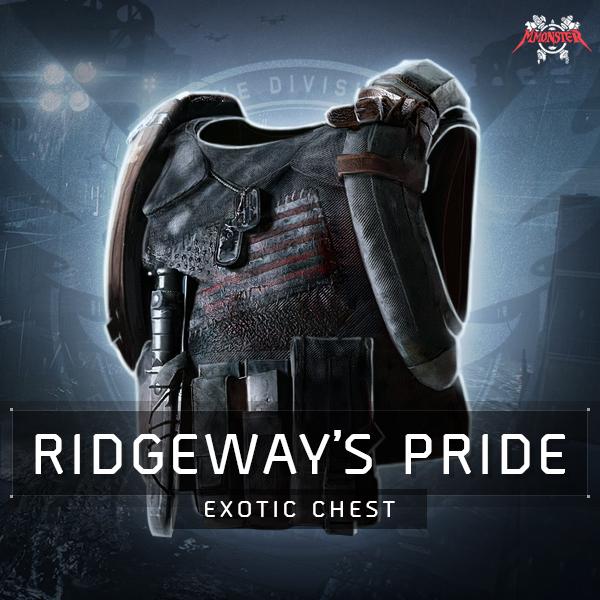 Ridgeway's Pride Exotic Chest Farm Boost
You will get

Ridgeway's Pride Exotic Chest

You will get lots of

High-End Gear

equipment during the boost
Tons of experience to boost your SHD and Season pass levels
The Division 2 Warlords of New York Game on PC/XBOX or PSN.
Login Details (Email and Password).
40 Level Character. Don't have one yet? Check our 1-40 Character Leveling Boost or 30-40 Character Leveling Boost.

Estimated delivery time is various and highly depends on a drop chance of needed quest items.
What is Ridgeway's Pride and why you need to buy this Division 2 Exotic Chest farm boost carry
Ridgeway's Pride Chest is a new exotic armor piece arrived with new The Division 2 Warlords of New York expansion in Title Update 11 and is a reward for a completion of special project quest, which unlocks at floor 100 after you kill final boss during The Summit challenge. The quest unlocks after you obtain 5 crafting components farmed on different floors during The Summit. The project itself will require you to farm and donate some materials, weapons, gear, exotic components and keys from different named enemies. Ridgeway's Pride Exotic Chest is a really cool piece of gear tailored for close combat DPS and tank builds thanks to its Unique talent called Bleeding Edge:
Damaging enemies within 10m applies bleed to the target.
Repair 1-25% of your armor per second for every enemy within 10m that is bleeding.
1 enemy - 1%
2 enemies - 4%
3 enemies - 9%
4 enemies - 16%
5 enemies - 25%
Buy Ridgeway's Pride Exotic Chest from the safest and most reliable boosting service on both EU and US regions and our pro players will deliver your exotic gear for your character in no time! The whole process to get Ridgeway's Pride Chest is a really tough and time consuming challenge so we are here to help you.
Login or Register with...