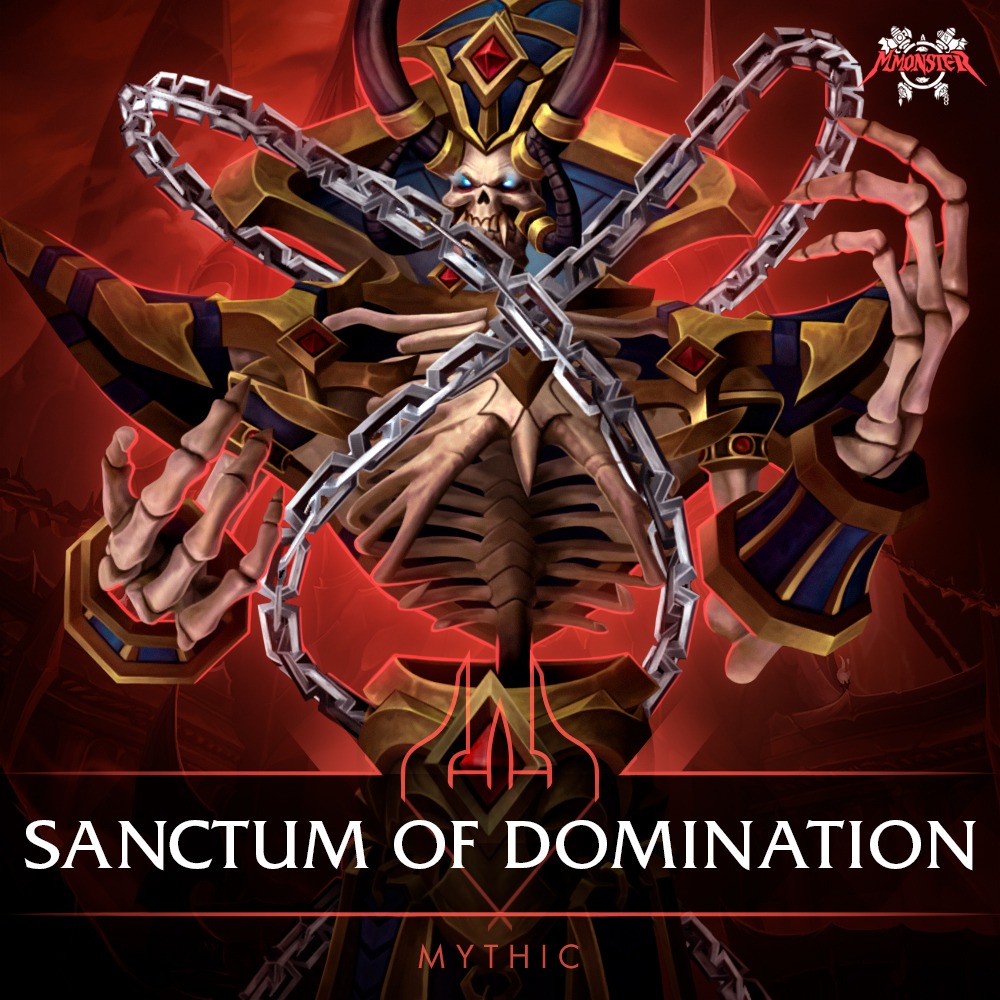 Sanctum of Domination Mythic Boost Run
Here you can buy
Sanctum of Domination Mythic Boost run

to get some cool

252/259 item level raiding gear

,

Vengeance Mount

from Sylvanas Windrunner Mythic boss and other rewards fast and easy
Selected amount of Sanctum of Domination Mythic bosses killed participating in one of our best raiding teams. Check Loot Run Info tab for more information regarding available boost run options and boss sequence

Mythic: Sanctum of Domination achievement for completing 10/10 Sanctum of Domination Mythic run
252 item level (259 item level from two last bosses) loot as a personal drop for your character's chosen class and spec including socketed items. For some SoD Mythic boost run options we offer a minimum quantity of items guaranteed. Check Loot Run Info tab for more information
You will get one 252+ ilvl item guaranteed as a single reward selected from up to 3 unlocked items in the Great Vault next week for killing 3+, 6+ or 9+ bosses in SoD Mythic raid. Please check Description Tab for more information
Super cool and rare Vengeance flying dragonhawk mount guaranteed as a FREE bonus (available only with SoD Mythic Boost runs which include the kill of Sylvanas Windrunner boss)
Chance to obtain Conduits for your Covenant Soulbinds customization and Shards of Domination items to upgrade your Sanctum of Domination gear with Domination Sockets on it (Domination Sockets can also drop from bosses)
Tons of Anima for your Covenant Reservoir or buy come cool rewards
Login and password in case of account sharing option, your account safety guaranteed.
Raid start time may be up to one week because of hard workload of our mythic boosting teams.
Sanctum of Domination Raid

- new Shadowlands Patch 9.1 raiding content to explore

Sanctum of Domination is a new WoW Shadowlands raid located in Torghast where players will fight Jailer's forces and face 10 powerful bosses inlucding well known characters such as The Tarragrue, Remnant of Ner'zhul, mighty Kel'Thuzad and treacherous Sylvanas Windrunner as the final encounter. Sanctum of Domination heroic raid is released on July 6 in US region and on July 7 in EU region, one week after new Chains of Dominarion patch 9.1 hits live servers on June 29. The raid is available in 4 difficulty modes: LFR, Normal, Heroic and Mythic and consists of 4 floors with linear structure. Join this epic adventure alongside with our best boosting guilds, be the one of the first to get Sanctum of Domination Mythic Raid Run and have the best gaming experience and pastime you have ever had!
SoD Mythic Boost Run

- the best way to get your guaranteed 252/259 item level gear fast and easy

Sanctum of Domination raid on Mythic difficulty drops 252 item level gear (259 item level from two last bosses) with the Maw and Torghast themed weapons and armor as loot rewards for killing bosses. There is also new The Great Vault feature introduced with Shadowlands release which is an upgraded version of previous Weekly Chest, but this time you can get your guaranteed weekly reward for killing bosses in Sanctum of Domination raid. Item level of reward from the Great Vault will be equal to item level of loot dropped from Sanctum of Domination mythic raid - 252/259 item level (you will need to kill 2 last bosses in Mythic raid for a chance of 259 item level item to appear). You can also unlock additional items (up to 3) to choose from by killing more bosses in a raid giving you more choice and chances to get the desired item, but still you can pick only one guaranteed weekly reward from the the Great Vault. Depending on amount of bosses killed during the week you will unlock following rewards to choose from in your Vault:
1 item of 252/259 item level unlocked - 3/10 Sanctum of Domination Mythic bosses killed during one reset week;

2 items of 252/259 item level unlocked - 7/10 Sanctum of Domination Mythic bosses killed during one reset week;

3 items of 252/259 item level unlocked - 10/10 Sanctum of Domination Mythic bosses killed during one reset week.
Sanctum of Domination mythic raid gear will benefit your character during the whole Shadowlands Season 2 up until the new raiding content release. So what are you waiting for? Get your Sanctum of Domination Mythic Boost Run today and watch your character collects all this cool gear and tremendously grows in power!
All
Sanctum of Domination Mythic Loot Run

rewards - buy the boost, enjoy the loot!

Even if you are an experienced player with the best Sanctum of Domination Heroic or Mythic+ Dungeons gear, Sanctum of Domination mythic raid will still be a tough challenge for you. However, the rewards you will get for completing it are really high: along with the best 252 / 259 item level raiding gear with top stats, which can also be socketed powering up your character even more, you will get rare and unique Breaker of Chains title, outstanding Vengeance flying dragonhawk mount by killing Sylvanas Windrunner Mythic last boss (included in 10/10 Sod Mythic Run, Sylvanas Kill and 2 Last Bosses Kill), chance to get Rae'shalare, Death's Whisper legendary bow as a personal drop from Sylvanas Windrunner boss if you are Hunter, chance to obtain new Conduits for your Covenant Soulbinds customization, chance to get Shards of Domination items to upgrade your Sanctum of Domination gear which has Domination Sockets on it with different stats and side effects. There are no special requirements to buy Sanctum of Domination Mythic boost other than 60 level of your character (you can order Shadowlands Power Leveling Boost at our store). However please keep note of 230+ minimum item level gear restrictions for account sharing option. You can buy Sanctum of Domination Mythic boost run with account sharing or selfplay. Our professional and trusted Mmonster players will kindly boost your character with this World of Warcraft (WOW) SoD Mythic boosting carry service really fast so lean back and enjoy rewards.
Simply buy
Sanctum of Domination Mythic Boost

and complete the raid in no time

Buy new Mythic SoD raid boost released in Shadowlands: Chains of Domination Patch 9.1 from the safest and most reliable boosting service on EU region, join the most epic raid in Shadowlands and clear all desired or all 10/10 SoD Mythic bosses in no time! Account Sharing option is your best bet if you just want to save your time, especially for Mythic raids during first weeks after raid's release and selfplay option is always available for you also if you want to participate in Sanctum of Domination raid and get the most epic gaming experience yourself. Please note that until the raid becomes cross server, you will need to transfer your character to our guild's server for the run. Please contact our support managers for more info! Just save yourself lots of time and skip unwanted boring wipes by using our Sanctum of Domination boosting service with our professional and skilled players.
Get even more loot in our
SoD Mythic Boost Raids

with our extra loot traders

If you want to be sure that you're taking out the maximum amount of loot from Sanctum of Domination Mythic raid or want to gear your alts most quickly and efficiently, look no further, as our Sanctum of Domination Mythic Boost Service include some loot trade by default! You will get a full-fledged Sod mythic lootrun with all the extra loot you can carry from our loot traders and we have lots of them prepared for you to meet any expectations and provide you with your loot satisfaction. Please keep in mind that loot will be randomly distributed without any guarantees of specific items, so to put it simple: you can't choose items from the drop list during the raid.
Personal Loot
Raid with Personal Loot option means that quantity of items you will get fully depends on your luck, which we wish you most of all :) You will get all 252/259 ilvl loot for your character's chosen class and spec including socketed items which may drop for you personally during the run.
Loot Distribution
We guarantee that you will get a minimum quantity of items in different slots during Sanctum of Domination Mythic Loot run. To achieve that in personal loot run, some of our players will trade you some random items they may get. Please note that only quantity of items in different slots is guaranteed, you can't choose which items will be traded to you. Minimum guarantee is just a bad luck protection so you can count on getting 100% minimal reward and it doesn't mean you won't get more items, actually you can and definitely will :) Items which drops for you personally and items, which are not an upgrade for your character, count towards minimum guarantee, however double items (2 items in a same item slot) don't. In case of a bad luck of not getting minimum guarantee we will make another loot run for your character to get remaining items next week absolutely free.
Guarantees
Bosses included in your SoD Mythic run and number of items guaranteed depends on a loot run option (quantity of bosses) you choose, check out our loot table:
| | | | | | | | | | | | | |
| --- | --- | --- | --- | --- | --- | --- | --- | --- | --- | --- | --- | --- |
| Boost Run Option | 1/10 Bosses | 2/10 Bosses | 3/10 Bosses | 4/10 Bosses | 5/10 Bosses | 6/10 Bosses | 7/10 Bosses | 8/10 Bosses | 9/10 Bosses | 10/10 Bosses | Sylvanas Windrunner | 2 Last Bosses |
| Items guaranteed | 0 | 1 | 1 | 2 | 3 | 3 | 4 | 5 | 5 | 6 | 0 | 0 |
| The Tarragrue | ✔ | ✔ | ✔ | ✔ | ✔ | ✔ | ✔ | ✔ | ✔ | ✔ | | |
| The Eye of the Jailer | | ✔ | ✔ | ✔ | ✔ | ✔ | ✔ | ✔ | ✔ | ✔ | | |
| The Nine | | | ✔ | ✔ | ✔ | ✔ | ✔ | ✔ | ✔ | ✔ | | |
| Remnant of Ner'zhul | | | | ✔ | ✔ | ✔ | ✔ | ✔ | ✔ | ✔ | | |
| Soulrender Dormazain | | | | | ✔ | ✔ | ✔ | ✔ | ✔ | ✔ | | |
| Painsmith Raznal | | | | | | ✔ | ✔ | ✔ | ✔ | ✔ | | |
| Guardian of the First Ones | | | | | | | ✔ | ✔ | ✔ | ✔ | | |
| Fatescribe Roh-Kalo | | | | | | | | ✔ | ✔ | ✔ | | |
| Kel'Thuzad | | | | | | | | | ✔ | ✔ | | ✔ |
| Sylvanas Windrunner | | | | | | | | | | ✔ | ✔ | ✔ |
Things you should know and get ready to
There's one limitation with common Shadowlands loot system in which only items with lower item level than the ones player already has in the same item slot can be traded. Despite this, we guarantee that all of your assigned players will have higher item level than the basic item level of items dropped in this raid (252+) and will be able to trade you 99.9% of items they get. Please note that BOE items can not be traded.
Login or Register with...