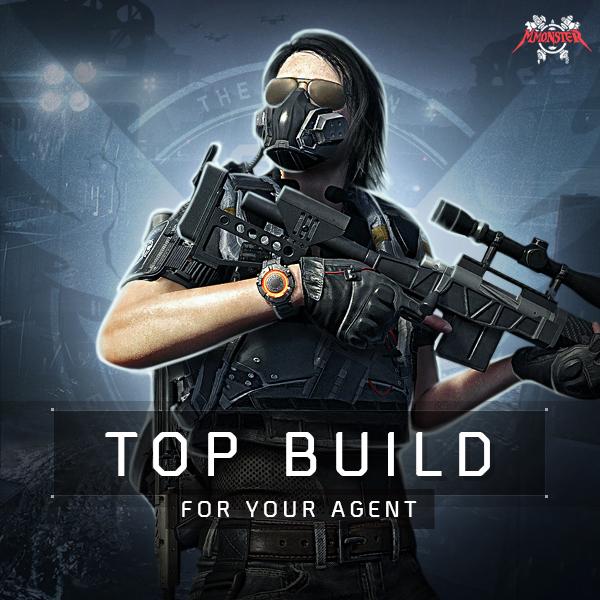 Top Build for your Agent Boost
TOP LMG (LIGHT MACHINE GUN) DPS CRIT BUILD
You will get selected LMG weapon(s) as your Primary weapon(s): Best High-End LMG:

Infantry MG5

or

IWI Negev

,

Bullet King Exotic LMG

and/or

Pestilence Exotic LMG

You will get any best selected weapon(s) as your Secondary weapon(s)
You will get 6 Gear pieces best tailored for your top build:

3/3 Providence Defense Brand Set Gear

,

1/3 Petrov Defense Brand Set Named Gloves: Contractor's Gloves

,

1/3 Česká Výroba s.r.o. Brand Set Item

,

1/3 Grupo Sombra S.A.

or

1/3 Overlord Armaments Brands Set Named Kneepads: Fox's Prayers

You will get lots of

High-End Gear

equipment with needed stats to recalibrate your top build's gear set with top stats
Your Agent's gear will have between 45-55% Crit Chance and 110-130% Crit Damage in the end of the boost
TOP AR (ASSAULT RIFLE) DPS CRIT BUILD
You will get selected AR weapon(s) as your Primary weapon(s): Best High-End AR:

Famas 2010

or

Military P416

,

Mechanical Enemy Named AR

,

Eagle Bearer Exotic AR

and/or

Bighorn Exotic AR

You will get any best selected weapon(s) as your Secondary weapon(s)
You will get 6 Gear pieces best tailored for your top build:

3/3 Providence Defense Brand Set Gear

,

1/3 Fenris Group AB Brand Set Item

,

1/3 Česká Výroba s.r.o. Brand Set Item

,

1/3 Grupo Sombra S.A.

or

1/3 Overlord Armaments Brand Set Named Kneepads: Fox's Prayers

You will get lots of

High-End Gear

equipment with needed stats to recalibrate your top build's gear set with top stats
Your Agent's gear will have between 45-55% Crit Chance and 110-130% Crit Damage in the end of the boost
TOP RIFLE DPS CRIT BUILD
You will get selected Rifle weapon(s) as your Primary weapon(s): Best High-End Rifle:

Baker's Dozen

,

Classic M1A

,

Harmony Named Rifle

or

The Ravenous Exotic Rifle

You will get any best selected weapon(s) as your Secondary weapon(s)
You will get 6 Gear pieces best tailored for your top build:

3/3 Providence Defense Brand Set Gear

,

1/3 Overlord Armaments Brand Set Named Kneepads: Fox's Prayers

,

1/3 Česká Výroba s.r.o. Brand Set Item

,

1/3 Grupo Sombra S.A.

You will get lots of

High-End Gear

equipment with needed stats to recalibrate your top build's gear set with top stats
Your Agent's gear will have between 45-55% Crit Chance and 110-130% Crit Damage in the end of the boost
The Division 2 gives its players plenty activities to do on the streets of D.C.. You will find Strongholds to carry on, Contaminated Zones to research , new Operation: Dark Seconds raid to clear as well as PvP ways to conquer. With Raids being introduced with the new Division 2 major content update, you'll want the best gear to get pass through them, as well as ones for Heroic Strongholds, Weekly Invasions or any other high end PVE stuff in the game.
Before you can really begin to get into the meat of The Division 2 PvE and PVP metagame and optimise your build for Raids and Strongholds along with other high end PvP activities such as Dark Zones and Conflicts, you will need to boost your Gear with correct stats and as high rolls as you can get. This way you will become raid ready and equipped to confront the toughest enemies that the game has to offer and enemy agents you may encounter. There are many different PvE and PvP builds to think about when playing Division end game, however, just a few of them are going to allow you to own the competition. We're ready to provide your character with best builds for your Agent to top your PvE and PVP endgame experience.
What is Division 2 Top build and why you need to buy this Boost carry service
With the launch of Division 2 game on PC and consoles you want to have the boost like that blogger has or like that guy you saw last week in the game, was wearing but you are struggling to loot such items. Yes, you came into the right place, we can make any ToP Build you want fast and safe! Division 2 has a lot to offer in terms of gear and weapon so you probably have your list of things you would like to loot as PvE or PvP build for your Agent.
How to buy Top PvE and PvP Build for your Agent
When you will place your order, wait for us to contact you and we will discuss the list of things and stats that will be in your PvE or PvP build. Then the professional player will start playing on your account to get all the items from the list (not the exact same items, but close enough) and getting a bunch of items with needed stats for re-calibration. Boost may take from couple days up to 1.5 weeks to complete. As the result of the Top Build you will gear the dreamed gear in Division 2 which will enhance your performance in the game and make your playing hours the most relaxed and enjoying ever! Top Build boost for your Agent is done with account sharing only.
Login or Register with...