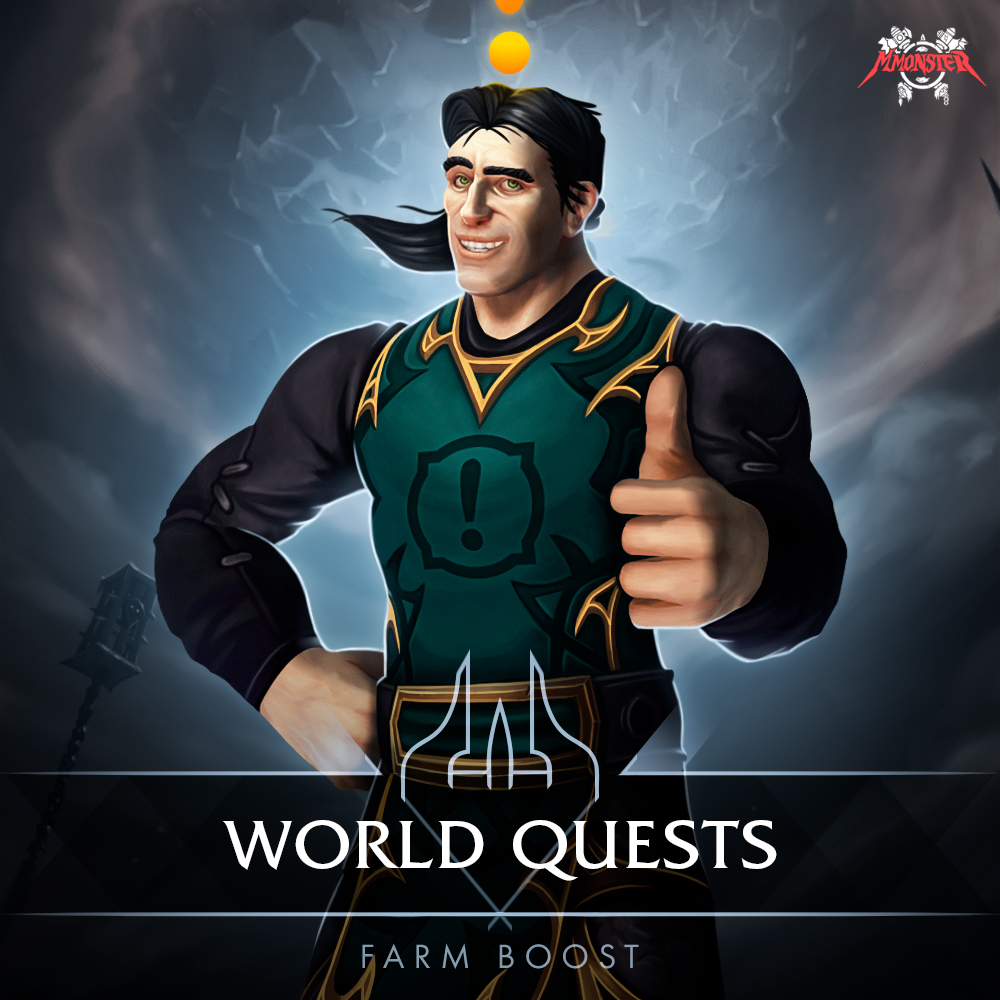 World Quests Farm Boost
Here you can buy
World Quests and Covenant Callings Farm Boost

to get lots of Reservoir Anima, catch up gear, reputation and other rewards. Minimum amount of World Quests for purchase is 10, please use quantity multiplier to select required number of world quests
Selected amount of Shadowlands World Quests and Covenant Callings completed

Item level of World Quest gear varies from 155 ilvl to 200 ilvl and is based on your Renown level for your character (highly depends on your character's current item level)

Lots of Reservoir Anima - main resource to fill your Covenant Sanctum, upgrade Covenant Renown levels and buy different rewards

Some other reputation, gold and covenant specific rewards
Login and password, your account safety guaranteed.
Estimated Boost time varies and highly depends on amount of quests you've selected (there are total of ~20-25 world quests and covenant callings available daily)
Shadowlands World Quests Farm Boost

- the easiest way to farm Reservoir Anima and get your character some starting gear

World Quests are tasks that available at any location in Shadowlands: Bastion, Maldraxxus, Ardenweald and Revendreth. Completing them grant reputation with the new Shadowlands factions, experience, gold, gear appropriate to your level (cap based on your Covenant Renown level) and last but not least, Reservoir Anima. The Emissaries are removed in Shadowlands and new Covenant Callings were introduced to replace them. These are new type of daily quest with goals and rewards specific to your Covenant alignment. Covenant Callings work similar to Emissary Quests, you can have 3 Callings with 4 quests each available at a time with the exception that you have to pick up and turn in these quests in your Covenant Sanctum. These quests represent daily boring routine so why would you waste countless hours farming them if you can simply invest your time in more exciting and new Shadowlands end-game content? Get Selected amount of World Quests and Covenant Callings completed by professional boosters in no time. Our boosting team will gladly help and grind required amount of world quests and covenant callings in the shortest time allowing you to continue your epic and most interesting journey on the new realms of Shadowlands expansion.

You can buy Shadowlands Covenant Callings and World Quests Farm with account sharing only. Our professional and trusted MmonsteR players will kindly boost your character with this World of Warcraft Shadowlands World Quests Farm carry service really fast so lean back and watch your character collects all those tasty rewards and achievements and tremendously grows in power!