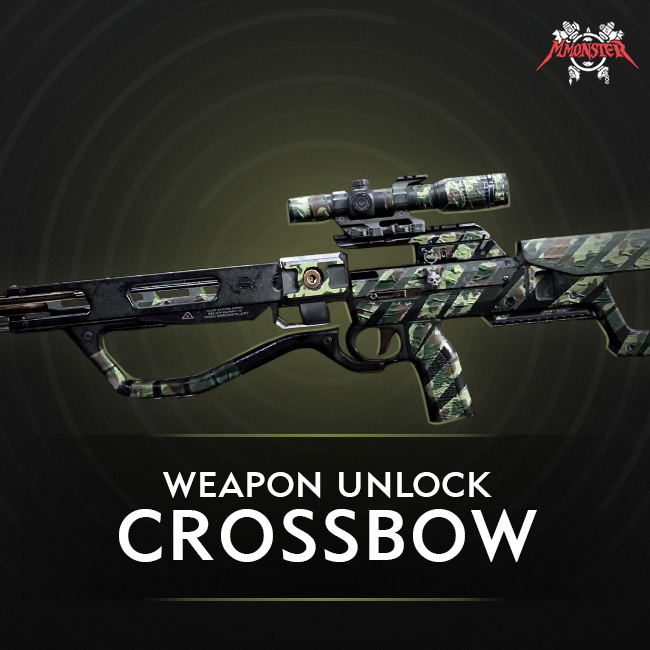 CoD MW Crossbow Unlock Boost
You can also get your Crossbow Leveled UP to unlock all Weapon Attachments, just add it as an Extra Option
You can also get

Gold

and (or)

Obsidian

camouflage unlocked for your Crossbow, just add it as an Extra Option
Several Battle Pass lvls will be unlocked and the Rank will be increased by several lvls during the boost if you will add one of the Extra Options
Call of Duty Modern Warfare (2019) Account. (The boost will be done in multiplayer mode.)
Login and password. Account safety guaranteed.
A very special weapon and why you need the Crossbow Unlock Boost
U
pdate 1.13 for Call of Duty Modern Warfare introduced a new weapon - a crossbow. It belongs to DMRs (Designated Marksman Rifle) and does not have its own category, but is still something very special because the crossbow has its own completely different attachments than the rest of the weapons in the game. Instead of a muzzle there are strand cables and arms instead of the barrels. The ammunition is also different. The behavior of the weapon can be completely changed with the bolts. Fury bolts explode, Venom bolts spray gas and Backburn bolts apply thermite. With a proper setup, the crossbow becomes a deadly weapon in multiplayer as well as in Warzone.
MMOnster Crossbow Setup:
Cable: 28-Strand Cable
Arms: XRK Thunder 200 Lb
Laser: Tac Laser
Underbarrel: FTAC Speed Grip
Bolt: FTAC Fury 20 Bolts or Stock: FORGE TAC SpeedTrak
T
o unlock the crossbow, you have to get 5 kills with DMRs in 25 different games, which can be tricky. If you're hot for the crossbow, but you don't have the time or you just don't feel like spending hours on the farm, let us know, the experienced professional players from MmonsteR will be happy to take it over.