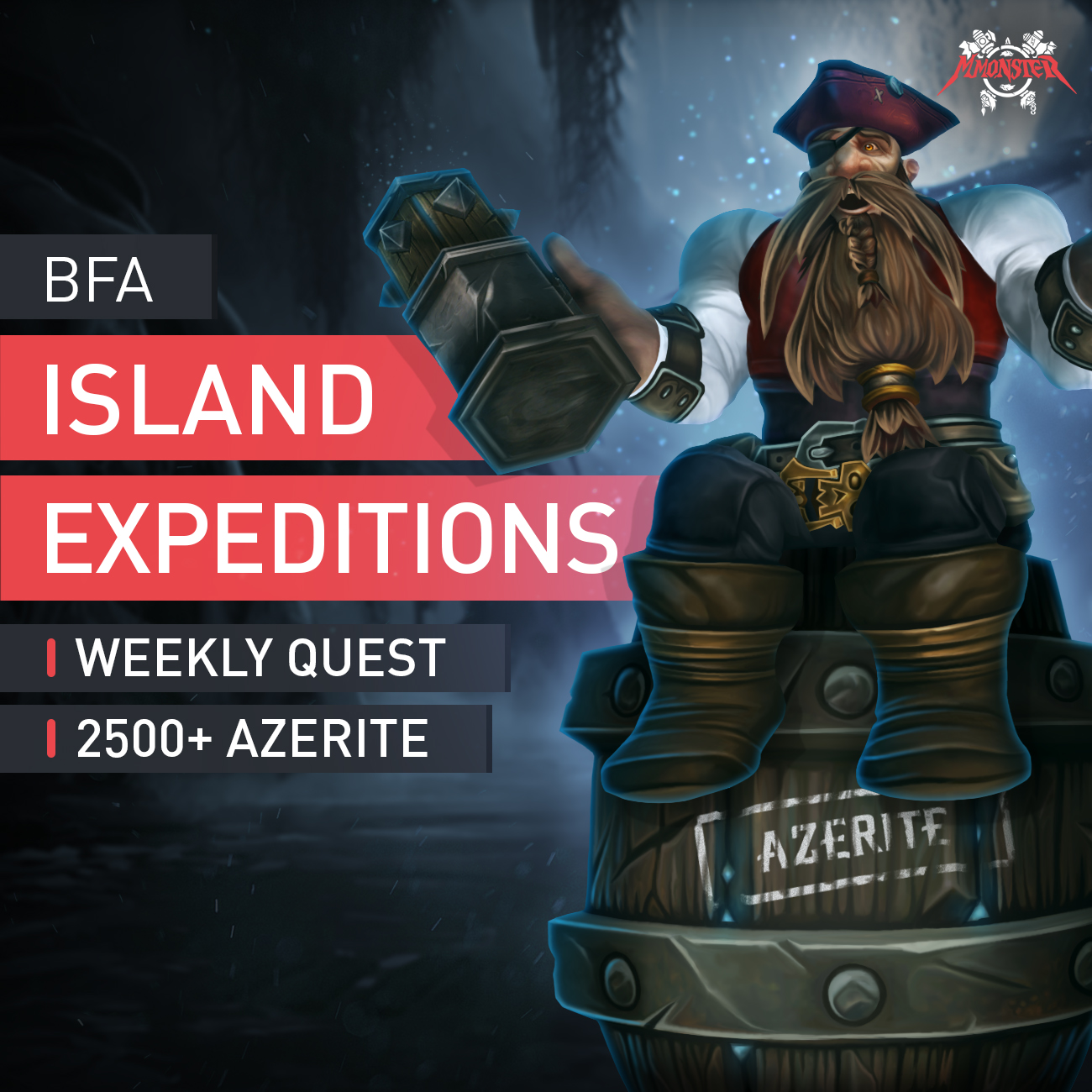 Island Expeditions Weekly Quest
1000+ Azerite

Power

for winning 4 Island Expeditions on Heroic difficulty
Some Achievements for winning Island Expeditions
All these rewards will be easily yours after you buy our most reliable boost service in Europe (EU region) with the affordable price and excellent support
Login and p

assword, your account safety guaranteed.
295+ item level to enter heroic island expeditions run
World of Warcraft: Battle for Azeroth expansion as always brings us some new content to experience and some new ways to obtain cool rewards. And such piece of content are Island Expeditions, replayable 3 player quick battles (like scenarios in MOP) against an enemy faction expedition team of 3 AI champions on 3 difficulties (normal, heroic and mythic) or 3 real players (pvp mode). There are a total of 7 different island locales coming with BFA release with 3 active and rotating each weak, they are: Dread Chain, Rotting Mire, Whispering Reef, Verdant Wilds, Ungol Ruins, Molten Cay and Skittering Hollow. The key point is to collect Azerite from any sources on the Island. T
he team that will collect 6000/9000/12000 (on Normal/Heroic/Mythic) Azerite first wins and gets the chance to collect such treasures as new mounts, pets, toys, plundered weapons of 60+ ilvl and armor sets for transmogrification and much more. There is also a Weekly Quest reward for collecting 36000 Azerite on Island Expeditions on any difficulty total during the week, which rewards you 2500 Azerite Power making this content the best way to get azerite power and boost your Heart of Azeroth. Join our team, rush into this epic Battle for Azeroth completing Island Expeditions Weekly Quest fast and easy, get your ultimate rewards and have the best gaming experience and pastime you have ever had!
You can buy Island Expeditions Weekly Quest with account sharing only
. Our professional and trusted Mmonster players will kindly boost your character with this World of Warcraft (WOW) Island Expeditions Weekly Quest boosting service really fast so lean back and watch your character collects all those tasty rewards and achievements and tremendously grows in power!