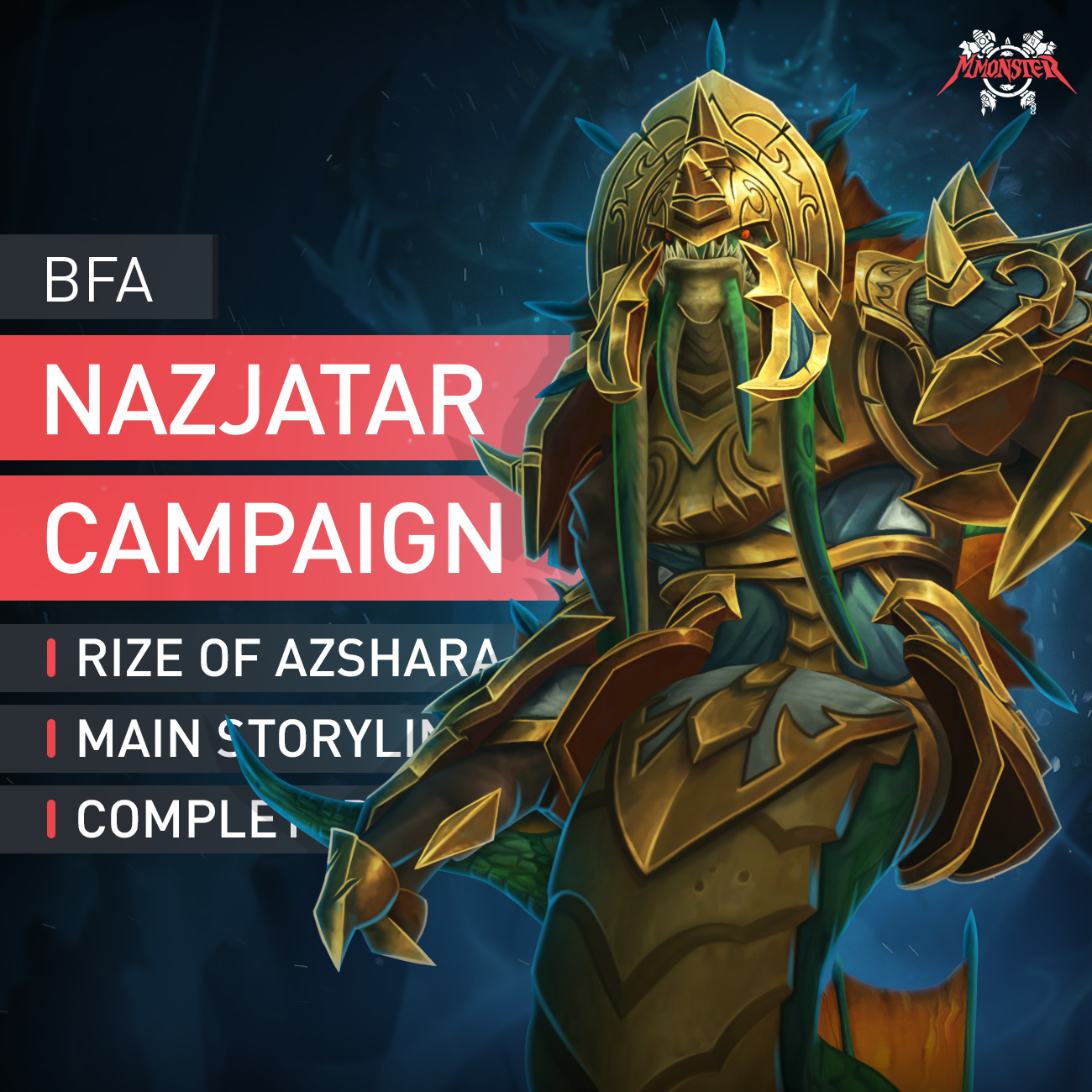 Nazjatar Main Storyline completed for Horde or Alliance faction

Heart Forge unlocked - special device which gains access to new Azerite Essence System to empower your Heart of Azeroth. You will get The Heart Forge achievement and unlock your first Essence: The Crucible of Flame
Nazjatar World Quests unlocked

Benthic Gear upgrade NPC, Nazjatar Bodyguards unlocked and Mechagon

questline unlocked
The new WoW BFA: Visions of N'Zoth content patch was released so we are happy to offer you the most relevant and fresh boosting services including unlocking of new Legendary Cloak, New Vulpera and Mechagnome Allied Races Access, Horrific Visions Challenge Boost, Season 4 Mythic and Mythic+ Dungeon Runs, Ny'alotha, the Waking City Normal, Heroic and Mythic Raid Loot Runs, Nyalotha Full Gear farm service, N'Zoth Assaults, new mounts, achievements and much more! In order to get the latest campaign done and unlock Legendary Cloak in new World of Warcraft Visions of N'Zoth update, please visit new Black Empire Campaign Boost product page. Also, check all our new Visions of N'Zoth boosting and power leveling services by entering Visions of N'Zoth collection and achieve new victories in Battle for Azeroth!
Login and p

assword, your account's safety guaranteed.
Unlocking the World quest completed, which unlocks World Quests in Battle for Azeroth, to be able to set sail to Nazjatar.
Lead time is up to 3 hours.
New World of Warcraft patch 8.2 Rise of Azshara brings us new zone to explore called Nazjatar, the capital of the Naga. Any 120 level character with unlocked BFA World Quests access will receive a call from their faction leaders to set sail into the mysterious ocean depths which eventually bring you to Nazjatar. Nazjatar has lots of new end-game content to unlock by progressing through its questline continuing the main sroty of Battle for Azeroth. By completing Nazjatar campaign you will unlock the Heart Forge and Heart of Azeroth Essence System, discover new Waveblade Ankoan or Unshackled faction, gain Nazjatar World Quests access, reach the latest 8.2 War Campaign chapter, find new Mechagon Island and its respective storyline and get your hands on other Rise of Azshara content. All these new 8.2 systems, locked behind the Nazjatar storyline progression, are crucial for any player to actually experience the latest end-game of Battle for Azeroth and develop their characters even further that's why it's so important to complete Nazjatar Campaign storyline for your character.

You can buy Nazjatar Campaign boost with account sharing only. Our professional and trusted Mmonster players will kindly boost your character with this World of Warcraft (WOW) Nazjatar Campaign boosting service really fast so lean back and watch your character collects all those tasty rewards and achievements and tremendously grows in power!