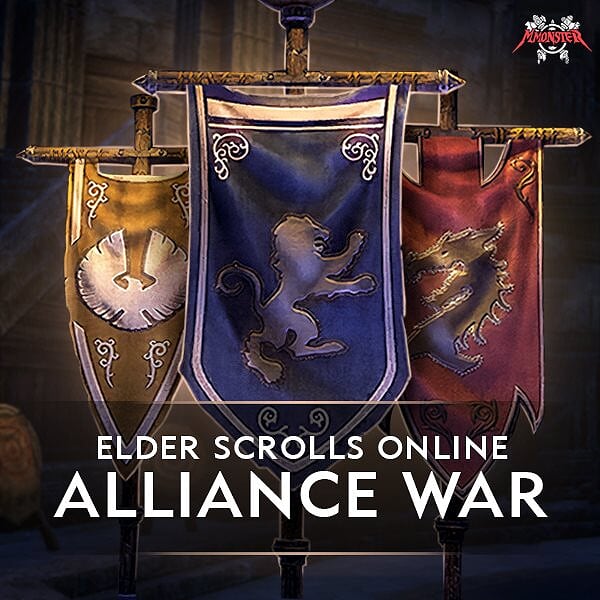 ESO Alliance War Power Leveling
Selected character Alliance War will be power leveled for chosen levels


Estimated power leveling boost time can vary depending on selected options, standard time for one Alliance War Level around 2 hours

Leveling is available on both regions - EU / US
Character with level 50 (Don't have one yet? Check out our Boost catalog, to find more leveling products) If character lower, than 50 lvl, estimated time will be higher


Login Details (Login and Password if you're using Bethesda launcher or Steam Login and Password if you're using Steam Launcher)

Verification code, from your mail or phone(in case of steam guard phone protection)
Your account's safety guaranteed. All items, gold and other valuable items will stay in place
The Alliance War is the ongoing conflict between the Aldmeri Dominion, the Daggerfall Covenant, and the Ebonheart Pact to wrest control of the Ruby Throne from the Empire of Cyrodiil. Starting at Level 10, players will have the opportunity to join in the battle in Cyrodiil for their chosen alliance. Every player who enters Cyrodiil is given the Battle Spirit bonus, regardless of their level. On a player below Level 150, this also stacks with "battle leveling", which scales up their attributes, armor, and damage ratings in order to remain competitive.

Players are free to travel almost anywhere in the zone; exceptions include the Border Keeps of the opposing alliances, which are off-limits unless the nearby Artifact Gate is open. When those gates are open, enemy players can enter the Border Keep area as far as the associated Scroll Temple; however, attempting to reach the Border Gates themselves will result in players being teleported back to their own Border Gate.

All of this content is waiting for you, but to reach it out, you will have to lay your path throw a hundred of hours time-wasting repetative grind, that most of the time foul the impression of the game.But don't hurry up to scream, that it takes "FOREVER!" to reach your desired point! Because we are here to help you out! No more lazy rats killing to get new gear, no more sleepless night to became champion!

Our team provide you the best experience in world of TESO, fast and reliable service, makes all the long-term work, so you can make your wishes come true and conquer the desired content right away! Enjoy our TESO power leveling service now and focus on having fun instead of grinding!
Power Leveling Carry: how the service will be carried out
After placing the order we will contact you to start boost service process. First of all we will need you to provide primary data, for account sharing (Login and Password), so our booster can receive access to your account. Second if there is needed, we will ask some additional information, if it was not yet provided from you before, like char name, time for account is available for boost or any other details, that you wish to clarify for us. After all preparation is done and we have all the needed info from you, in the nearest time our boosting member procceed to order completion. While leveling you always have the opportunity to receive info about process, or to add some additional orders. When all the work is done we will inform you, so you can check all the work is done properly and complete.
How to get Alliance War skill line leveling fast
Any leveling in ESO is a easy part from the very start, like in most games, but a greatly rising difficulty right after the middle levels. The great way to level up your Alliance War skill line is by finding a massive group of high leveled players in prime time, that pushing your alliance to primary objective, like capturing forts and castles. Besides, if you don't like to go with random players, you can always easily find some well organized guilds, that doing cyrodiil sieges in specific times or even doing this just to help newcomers. Also, don't forget, that killing some random boss in the caves will grant you temporary buff, that increases alliance war points receiving. And don't forget, that more party members you have, the more xp you get. But if you don't wanna waste time for this - our boosting team knows how to get all what you need fast and safe.

Why you need Elder Scrolls Online Power Leveling service
Our service designed to greatly save your precious time, so you don't have to stuck on some repetative monster killing or random dungeons runs suffering. We make all process fast and safe, so in the result of our professional ESO boost you will receive all that you wish, as well as some additional loot and other bonuses, that your hero will get during the boost performance. Our guys are the best boosting team with great helpful players and our support is there to answer your questions and assist you when you need it. While leveling we can provide you screenshots of current progress, if needed. We make any existing ESO carry services available for the best price! Try MmonsteR boost service and you will have your in-game helper from this moment on!
Login or Register with...