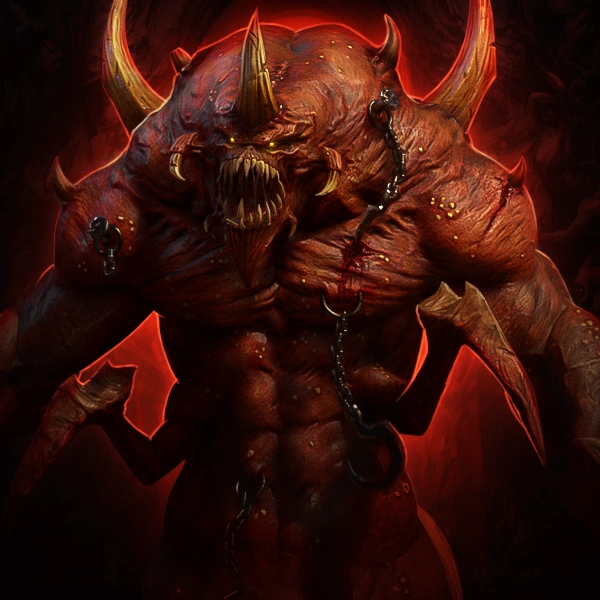 Diablo 4 Echo of Duriel boost
Here you can order Echo of Duriel service in D4(Diablo 4) - one of the toughest challenges in the Diablo 4. With our service professional booster will defeat Duriel, the King of Maggots, as many times as you've selected. Duriel is the only source with increased chances to obtain uber unique items that can drastically empower your character.
Diablo 4 Echo of Duriel Boost Service includes:
Summon and kill the Echo of Duriel
Chance to get Smoldering Brimstone Mount
Guaranteed Unique 925 item.
Chance to get 925 item level Uber Unique item
Ancestral gear (925 item level)
Requirement for D4 Echo of Duriel boost:
World tier 4 Unlocked
Main Campaign completed on any character on the account
Diablo IV Duriel options Explained:
I can summon boss:
With this option You will summon boss instead of our player. That allows to our player to spend much less time & efford on this service. Price goes down by 50%.
Priority and Order Completion Time:
With the Standard Priority, the booster will start your completion within 0-36 hours after the purchase, if all requirements are met.
With the High Priority, you will gain high order priority. ETA start time 0-12 hours. Execution speed increased up to 30%
For Pre-order or just-released products, the start time may take longer. Pre-orders by default count as a high-priority option
All about Duriel the king of Maggots:
Duriel returns to the world of Sanctuary as an enemy in Diablo 4 with the release of Season 2 Season of Blood and is immediately elevated to the rank of Pinnacle bosses. At the moment, only two bosses are rated in this rank by players. According to the developers in their official blog and during the Diablo IV Developer Update - October 2023 - Echo of Duriel will be the second most challenging boss in the game, right after, and the Echo of Lilith boost, and it's designed for players at level 100.
What makes Uber Duriel boost so useful?
The first thing that comes to mind is that this is the only boss with an increased chance of obtaining Uber Unique items, moreover, these items will be at the maximum Item level - 925!
Secondly, the boss has a unique loot table, items from which cannot be target farmed from any other boss (but can still be obtained from random mobs or at the end of completing Nightmare dungeons). For example, unique items like Tempest Roar for the Druid or new artifacts that appeared in the second season.
Smoldering Brimstone Mount from the Echo of Duriel
Uber Unique Items for each class:
List of Unique Items for Each Class:
Please note, that items are not updated yet and not showing real stats at the moment. Once they are revealed we will update our guide
Thirdly, summoning the boss takes considerable effort and time. To summon the boss, you'll need to put in quite a bit of effort and time for preparation, but with our Diablo 4 Echo of Duriel boosting service, our pro players will prepare all the necessary materials and actions for summoning the boss in advance. All you have to do is cross your fingers and hope for uber loot!
And if you already have the materials to summon the boss, the price for the boost becomes significantly lower!
How to Summon Echo of Duriel D4?
Before we can summon Duriel, The King of Maggots, we'll have to work quite hard. The diagram below shows how the End game is structured starting with the Season of Blood.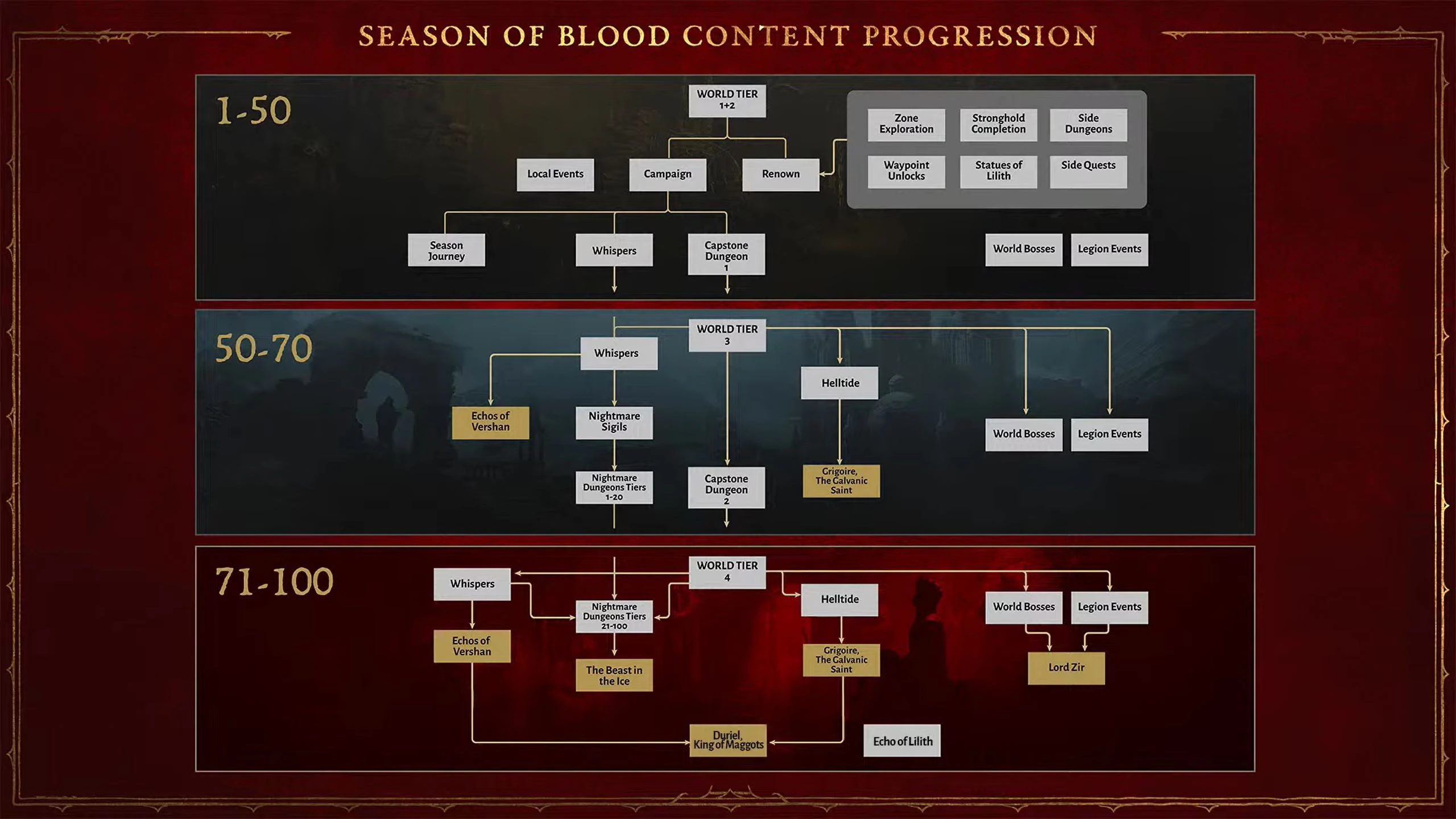 Season progression idea by D4 Developers
To summon the boss, we first need to collect a sufficient amount of Mucus-Slick Eggs, which can be obtained from Echo of Varshan, as well as Shards of Agony, which we can farm using the Diablo 4 Grigoire Galvanic saint Boost.
To summon Echo of Varshan, we need to complete the Tree of Whispers quests, specifically killing Grotesque Debtors during Whispers of the Dead, for which we will receive Parts of Varshan's Body.
To summon Grigoire, we'll need to open Tortured Offering during Helltides.
Tips and Tricks for Killing Diablo 4 Uber Duriel
This is a Pinnacle boss, so it's better not to waste time on him until you reach level 100. If you want to speed up this process, order our Diablo 4 leveling and skip the boring part.
The boss has a poison element, so make sure you have the maximum level of Poison resist.
Stock up on large poison protection elixirs.
Prepare a build focused primarily on Solo-target damage or on Stagger and (DoT)Damage over time effects.
Nevertheless, keep the ability to deal with the boss's summons.
Stay alert and dodge Duriel's powerful abilities.
Pick Vampiric powers that will help you outlast the boss's damage.
Useful Links
Diablo 4 Echo of Duriel (Uber Duriel) In-depth guide. How to get the best gear in D4 - Uber unique items By Mmonster.co
Cheat-sheet table of loot from all Uber bosses by Maxroll.gg
Uber Duriel guide by Wowhead.com
Blizzard's Season of Blood overview
How Does Diablo IV Echo of Duriel boost work?
After you've selected all the desired options and paid for your order, you'll receive an order number and an email confirmation that your order has been accepted.
If you don't get in touch for a while, our operators will contact you using the specified method or email;
Provide us with your order number, and our support crew will start looking for a suitable booster;
As soon as we assign a player to carry out your order, we will need your account details from the platform where you purchased the game;
When the order is completed, you'll receive a notification in the Discord channel or another messenger of your choice.
Enjoy the results of your order ;)
Please leave a review! Your opinion is very important to us, and we aim to provide the best Diablo 4 boosting service on the market!
Why Buy Boosting When You Have Most of the Information?
Our players are professionals who love their job. Whether it's an endless grind for resources, gold, or completing challenging content
we can be your partners! Most of our services offer you the opportunity to play yourself, and we will gladly assist you with any difficult content.
Maybe you just want to get rewards that you couldn't obtain on your own.
Is It Safe to Buy Boosting Services?
The short answer is yes, and there are several reasons for this:
In our 9 years of experience in the boosting industry and with over 30,000 completed orders, there have been almost no bans or other issues. In Diablo 4, there have been zero issues in over 1,000 orders.
We only work with verified players who complete all orders manually, never using cheats, exploits, or bots.
All our boosters have years of experience and are top-tier players with impressive portfolios.
Our operators personally play the games we offer (for example, I actively play Diablo 4) and know what they are talking about.
We only use high-quality VPNs developed by our dev team.
We guarantee 100% security of your personal data.
We guarantee 100% security of your account data.
Our mission is to provide the best Diablo 4 boosting services at a fair price.
About Author
My name is Dmytro, but most people know me by my nickname, Miri. I am the curator for Diablo 4 and some other sections on our site. I've been with the Mmonster team for 9 years, during which we've completed over 1000+ Diablo 4 orders. You can read over 8000+ positive reviews on diablo and other services by our happy customers. My love for gaming and friendship with other mmonster members brought me to the company.
I adore games, especially action RPGs like Diablo 4 and Path of Exile, as well as sports simulators from the Fifa/Nba2k series and others. In Diablo 4, I've played around 300 hours and have personally tried the game in high-end. In Diablo 3, I've spent over 1500 hours. Overall I've been an active gamer for 25 years.
I hope all this information gives you an insight into my gaming experience and understanding of the games
Change log
16.10.2023 Diablo 4 Echo of Duriel boosting serivce was published
28.10.2023 Diablo 4 Service include update
06.11.2023 Items lists updated
Login or Register with...