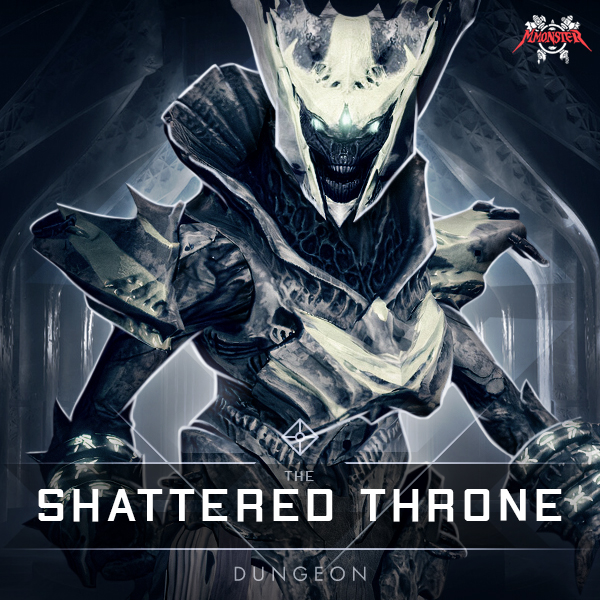 The Shattered Throne Dungeon Boost
You will get The Shattered Throne Dungeon completed for your Guardian in our top Destiny 2 raiding teams

You will get all Armor 2.0 pieces of gear (weapons and armor) which drop during the raid run

First quest step completed for Wish-Ender Bow Exotic weapon

You will get the "Solo-nely" triumph and the "The Eternal Return" emblem if you select the solo completion

You will get the "Seriously, Never Again" triumph for completing the dungeon on a flawless solo run (solo, without dying) + the rewards from the solo run.
Destiny 2: Forsaken DLC purchased.
Login and password, your account's safety is guaranteed.
Forsaken Main Storyline Campaign completed and Dreaming City unlocked
Estimated Delivery time is up to 12 hours (dungeon available every three weeks)
The Shattered Throne
is a new dungeon (mini-raid) added in Destiny 2: Forsaken expansion featuring two bosses with unique mechanics and some pretty powerful loot and platforming around huge environments. Similar to The Whisper mission from the past which nets you the
Whisper of the Worm exotic
.
The Shattered Throne
is filled with all kinds of secrets and is eventually how you'll claim the
Wish-Ender Exotic bow
. It's also only available once (per character) every three weeks and is probably the best activity in the game, both for loot and for a good time.
You can buy The Shattered Throne Dungeon boost with
account sharing or selfplay
. Our professional and trusted MmonsteR players will kindly boost your character with this Destiny 2 The Shattered Throne Dungeon boosting service really fast so lean back and watch your character collects all those tasty rewards and achievements and tremendously grows in power!