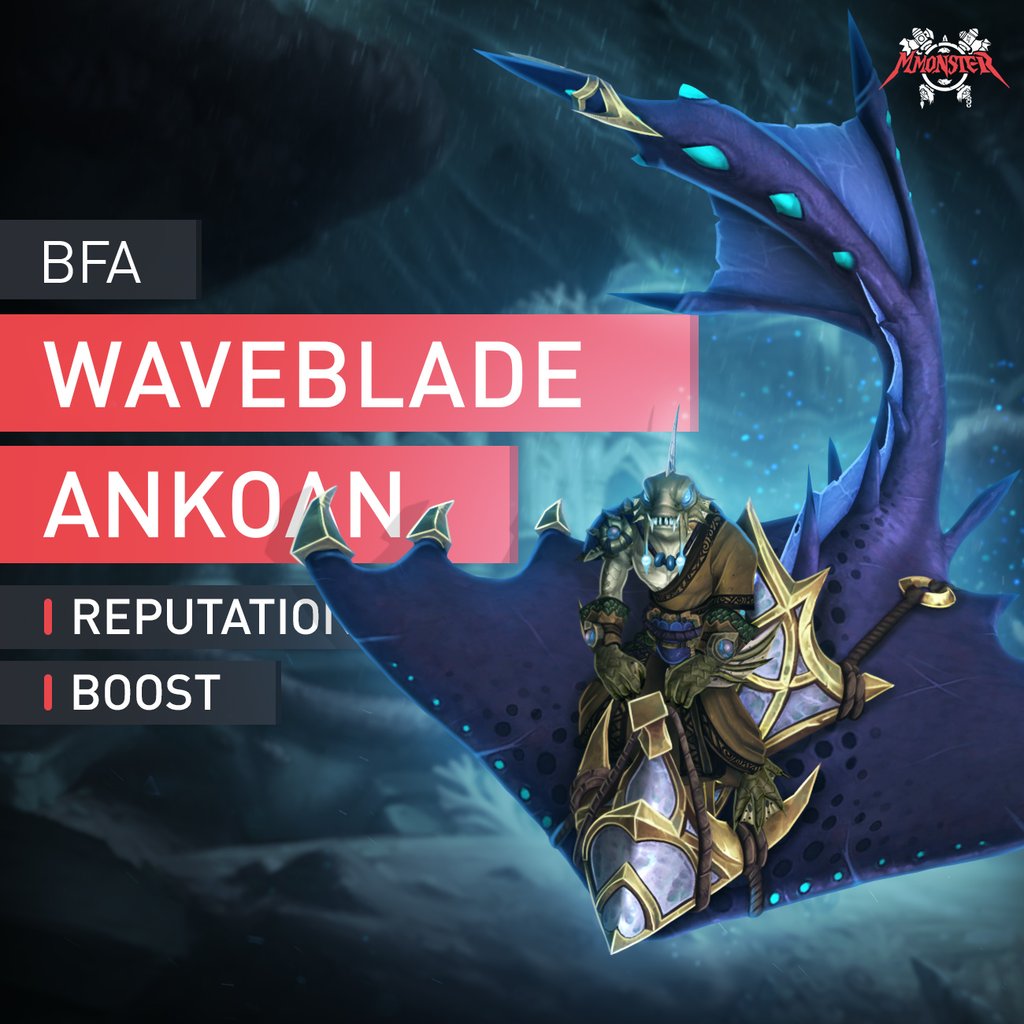 Waveblade Ankoan Reputation Farm Boost
All these rewards will be easily yours after you buy our most reliable boost service in Europe (EU region) with affordable price and excellent support
Login and p

assword, your account safety guaranteed.
Waveblade Ankoan is a new Alliance only faction added in World of Warcraft patch 8.2 Rize of Azshara located in Nazjatar. The faction is a clan of ancient, former jinyu warriors, over decades fighting the naga with their remaining forces. They've been eliminated to the point of almost total extinction so that those who remained vowed to avange for the fallen by slaying naga. Leveling reputation with Waveblade Ankoan faction unlocks some cool rewards such as some Rank 3 profession recipes, special items to unlock and upgrade 3 Azerite Essences and last, but not least - cool Ankoan Waveray flying waveray mount for getting Exalted reputation sold for 250 Prismatic Manapearls. There are several ways to gain reputation level, such as zone quests, world quests, daily quests, killing rare spawns, summons from the depths and other Nazjatar activities, but even then getting Exalted reputation will take you several weeks to achieve. We will perform all the required activities to gain Exalted reputation with Waveblade Ankoan faction, so save yourself lots of time using this farm service by our boosting team.
You can buy Waveblade Ankoan Reputation Farm boost with account sharing only. Our professional and trusted Mmonster players will kindly boost your character with this World of Warcraft (WOW) Waveblade Ankoan Reputation boosting service really fast so lean back and watch your character collects all those tasty rewards and achievements and tremendously grows in power!
Check our table to know the exact lead time of your powerleveling boost

Waveblade Ankoan Reputation
Estimated Delivery Time

(no longer than)

Neutral - Friendly
1 day
Friendly - Honored
2 days
Honored - Revered
4 days

Revered - Exalted

7 days