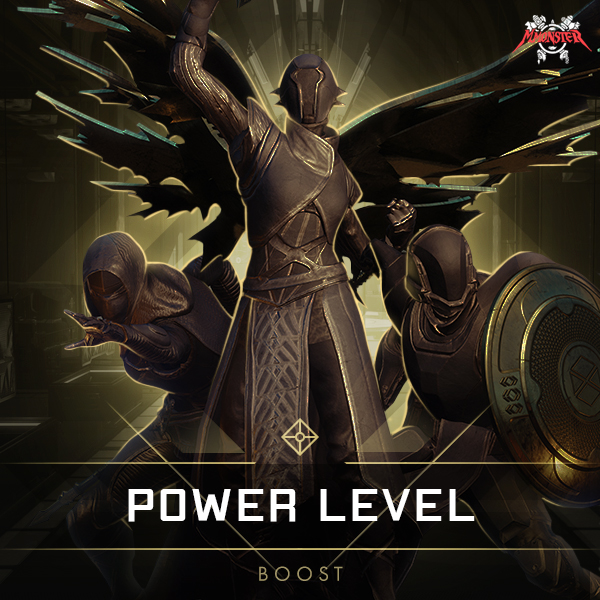 Destiny 2 Power Level Boost
You will get selected Power Level boosted for your character
You will get a lot of Rare, Legendary and Exotic Gear
Reputation Tokens for different factions
Destiny 2: Beyond light - Annual Pass

on PC/XBOX or PS4/5.
Login Details (Email and Password), your account safety is guaranteed.

Your character(s) must be 1050+ Power Level

Estimated Delivery Time: 1200 power level up is to 2-3 days, 1230 power level is up to 2 weeks, 1260 power level is up to 3 weeks.
We will complete the most EFFICIENT activities for your boost..
Power Level is the new Light Level from the first Destiny game. Power is tied to the stats of armor and weapons and you raise it by receiving the best gear you can. Every bit of equipment has a power level attached, and the overall power level is dependent on the average of all the gear you have. You will receive incremental upgrades to a Power Level from practically every source of equipment by finishing all sorts of PvE along with PvP tasks. After you reach 1200 Base Power Level soft cap, normal activities might get you side-grades but not updates and to proceed further you will need to finish different kind of end-game activities like Nightfalls, raids etc. New Destiny 2 Beyond expansion and it's first Season of the Hunt brings a brand new Destiny 2 Power level cap to work for and is now set at 1260 Power. However, with the soft cap staying at 1250, getting to the maximum power level cap works almost the identical way as when Forsaken arrived. Our professional and trusted MmonsteR players will kindly boost your character with this Destiny 2 Power Level Boost service really fast so lean back and watch your character collects all those tasty rewards and tremendously grows in power!