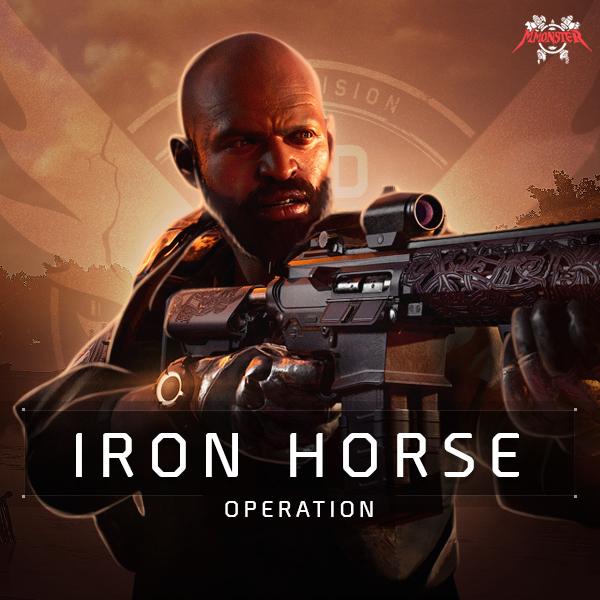 Operation Iron Horse Raid Boost
You will get Operation Iron Horse Raid completed for your character agent
You will get tons of

High-End Gear

items during the raid
Chance to get

Gear Set items

from one of 2 new gear sets:

Foundry Bulwark

and

Future Initiative

Chance to obtain

The Ravenous Exotic Double Barrel Rifle

and

The Regulus Exotic Magnum Pistol

weapons

You will get tons of XP to boost your Season Pass Levels and

SHD Levels
What is Operation Iron Horse and why you need to buy this Division 2 Raid boost carry
Title Update 10 is The Divison 2 Warlords of New York latest major update arrived June 16 and it introduced the Division 2 second 8 player raid called Operation Iron Horse. The True Sons have taken over a Foundry to develop new weapons and threaten to retake what they've lost in Washington, DC. and destroy everything the Division has worked for. During this challenge, you will not only have to face the True Sons and the secrets they are hiding; but also the treacherous environment of a foundry. All bosses will come with their own unique mechanics and will challenge players ability to cooperate efficiently and to operate in a highly challenging environment. Operation Iron Horse will have 2 versions for Level 40 and Level 30 agents respectively, with Level 40 version becoming available on June 30th at 6 PM CEST, while a Level 30 version will become available to all owners of the base version of The Division 2 one week later on July 7th.
To start the raid, players will need to speak with the helicopter pilot at the Base of Operations. This brings up the raid tab on the social menu where it will list the new raid, allowing everyone to start building their raid groups. Operation Iron Horse will reward players who have the skill and teamwork to make their way through it. Among the raid-exclusive loot is the Ravenous exotic double barrel rifle, Regulus exotic magnum revolver, the two new Gear Sets Future Initiative and Foundry's Bulwark dedicated to healer and tank roles respectively as well as new cosmetic items. A new range of commendations will also be available as well as unique new arm patch rewards and more. The raid has a weekly reset timer, and boss loot will only drop once per week. Join our Division 2 boosting team, be the one of the first to get Operation Iron Horse Raid boost and have the best gaming experience and pastime you have ever had!
How the Division 2 Foundry Raid boosting service is done
Why Operation Iron Horse raid help is needed? To be able to finish all bosses in a new Foundry raid you will need to spend hours and hours of playing and gaining experience in Division 2 plus you will also need a group of 8 skilled players in order to finish this raid where the best loot drop such as 2 exotic weapons, 2 new gear sets, new cosmetic rewards and some other cool loot. What we offer is the fastest and safest way to get all those tasty rewards you want to become the coolest player! Division 2 is a great game with some difficult activities and we are ready and happy to help you with Operation Iron Horse Carry. Order today, get The Division 2 raid finished very fast!
After the order is placed we will get in touch with you and appoint the nearest possible date and time for your division 2 raid boost. According to the playing method chosen in your order, we will either invite you to join our group in the appointed time or start your raid boost at appointed time using your permission to sing into your account. In this case, we guarantee your account's safety. As a result of the boost, you will get a hero with lot's of cool high-end equipment with a chance of getting one of two most wanted exotics: The Ravenous Rifle and Regulus Pistol. Our players are the best boosting team with great helpful players and our support is there to answer your questions and assist you when you need it. We make Division 2 Iron Horse Raid boost on EU or US region and on any gaming platform available for the best price: PS4, Xbox and PC! Try MmonsteR boost service and you will have your in-game helper from this moment on.
Login or Register with...