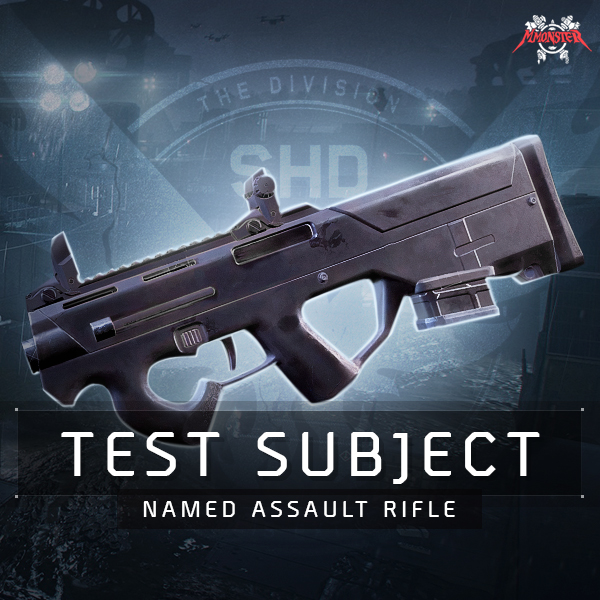 Test Subject Named Assault Rifle Farm Boost
You will get

Test Subject Named Assault Rifle Weapon

You will get lots of

High-End Gear

equipment during the boost
You will get tons of XP to boost your Season Pass Levels and

SHD Levels
What is Test Subject Assault Rifle and why you need to buy this Division 2 Named Weapon farm boost carry
Test Subject is a named variant of the new high-end PDR Assault Rifle which arrived with Division 2 Warlords of New York Title Update 12 and is a reward for reaching Season Pass Level 30 in Season 3 or can be farmed as a targeted loot from PVE activities. This high-end Test Subject AR is currently one of the best Assault Rifles in Division 2 and it is perfectly tailored for long fights thanks to its unique talent Perfectly In Sync:
Hitting an enemy grants +20% skill damage for 5s.
Using a skill or damaging an enemy with a skill grants +20% weapon damage for 5s.
Damage increases are doubled while both buffs are active at the same time.
How Test Subject Assault Rifle farm service will be carried out
After placing the order we will contact you, share your account with our player and our Division 2 team will start farming the targeted activities until your character gets Test Subject PDR Assault rifle weapon. Our players are the best boosting team with great helpful players and our support is there to answer your questions and assist you when you need it. We make Division 2 Test Subject Assault Rifle farm boost on EU or US region and on any gaming platform available for the best price: PS4, Xbox and PC! Try MmonsteR boost service and you will have your in-game helper from this moment on. Safety of the boost is guaranteed!
Login or Register with...