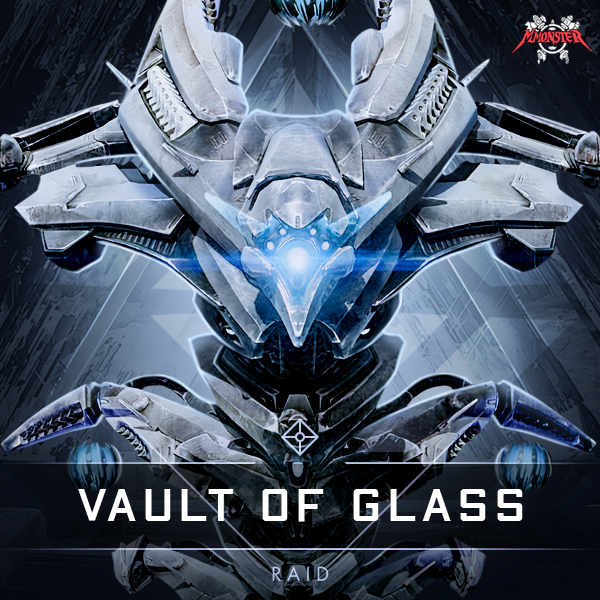 Vault of Glass
As Vault of Glass is free to all players, we recommend you to enable cross-save on as many platforms as possible
Vault of Glass full raid completed
Expirience for your season pass & artifact level
At each boss will reward you with a

Legendary

raid drops at Pinnacle level
Chance to get raid themed unique Armors & Weapons
Raid completion emblem: Infinite Reflections
Chance to get an Vex Mythoclast Exotic Fusion Rifle, for defeating final boss
The Triumph Package includes these triumphs:
Break No Plates
Dragon's Den
Take Cover
Tempered Teleport
Too Fast, Two Gorgons
Rabid Relic
Eyes on Atheon
You have to be of BASE 1300+ Power Level. If you don't have required power, get your power level boosted with our POWER LEVEL BOOST service
Vault of Glass

- new Beyond light epic piece of endgame content to explore

Vault of Glass is unique in the entire solar system. Other realities collide with ours in the vault, so it is possible that he is unique in the entire universe. In the Vault, time wears out and the needle goes through it. The needle is the will of Atheon. Inside the Vault, there is a place that is in time before or after the stars. The stars in the Vault are called Oracles. These Oracles move, mark and sing to you. They decide whether you are real or not. Legend has it that the oracles foresee the future, the world that the Vexes desire.
Vault of Glass Boost Run

- the best way to get your power level to a Pinnacle level fast and easy

Vault of Glass - located is a raid located in Ishtar Sink, Venus. It first became available on September 16, 2014, and now it has been recreated and will be the main source of the best rewards in the 14th season.

Valult of glass gear will benefit your character during the whole Beyond Light Season 14 up until the new raiding content release. So what are you waiting for? Get your Vault of Glass Boost Run today and watch your character collects all this cool gear and tremendously grows in power!
All
Vault of Glass

rewards - buy the boost, enjoy the loot!

Even if you are an experienced player with the best Pinnacle gear from previous season, Vault of glass raid will still be a tough challenge for you. However, the rewards you will get for completing it are really high: along with the best 1320 item level pinnacle gear, you can get Vex Mythoclast from Atheon, Time's Conflux. And Emblem Infinite Reflections emblem by completing full raid.

Also there is a chance to get unique raid themed Armor & Weapons, such as

Fatebringer

,

Vision of Confluence

,

Corrective Measure

and other There are no special requirements to buy

Vault of Glass

boost other than 1300+ base power level of your character (you can order

Destiny 2 Power level boost Service

at our store). Our professional and trusted Mmonster players will kindly boost your character with this Destiny 2

Vault of Glass

boosting carry service really fast so lean back and enjoy rewards.
Simply buy
Vault of Glass Boost

on EU/US regions and complete the raid in no time

Buy new Vault of Glass raid boost released in Season on Splicer expansion from the safest and most reliable boosting services on EU region, join the most epic raid in Beyond Light and clear all bosses in no time! Account Sharing option is your best bet if you just want to save your time, especially for raids during first weeks after raid's release and selfplay option is always available for you also if you want to participate in Vault of Glass raid and get the most epic gaming experience yourself. Please note that the raid is available for all players, so enable your cross save, so we can set your run as fast as possible. Please contact our support managers for more info! Just save yourself lots of time and skip unwanted boring wipes by using our Vault of Glass boosting service with our professional and skilled players.
Login or Register with...