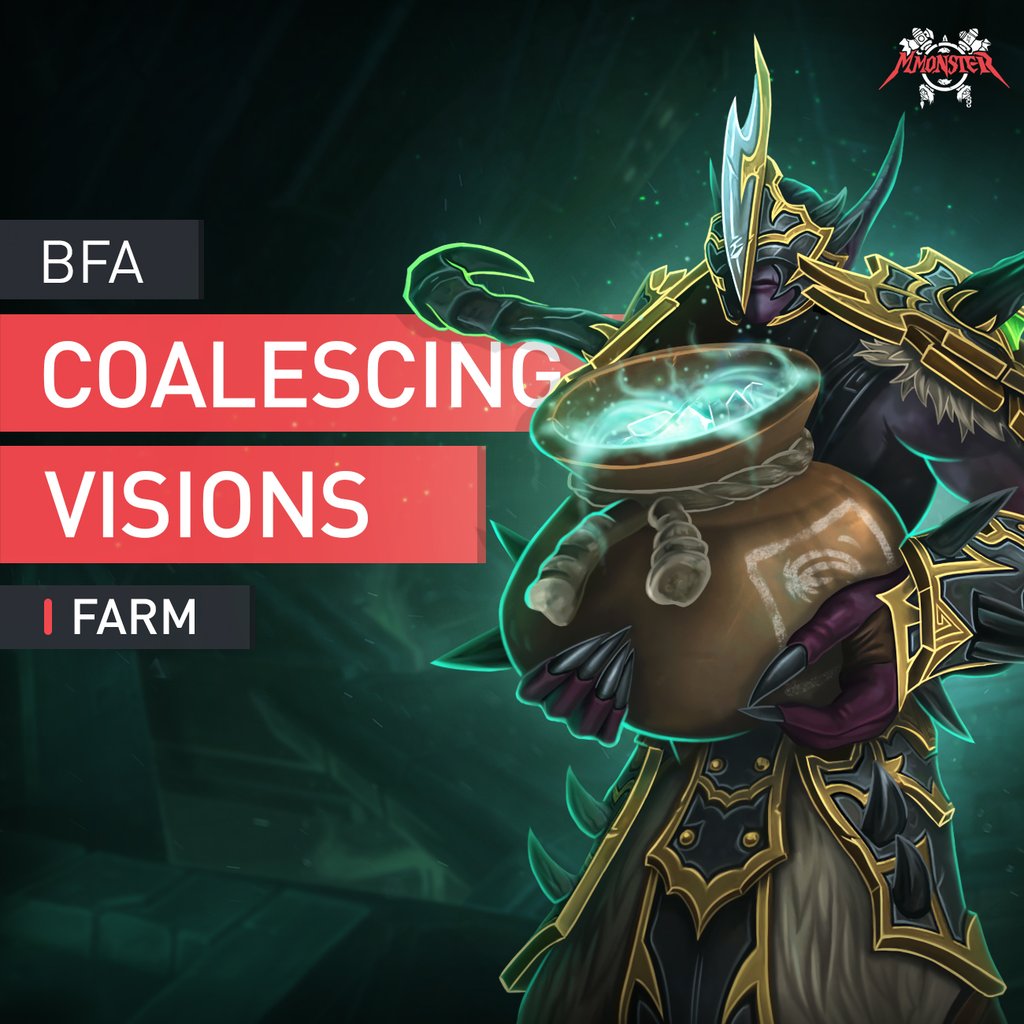 Coalescing Visions Farm Boost
Tons of Azerite to boost your Heart of Azeroth level

Lots of other rewards and random drops you may get during the farm boost
120 Lvl Character. Don't have one yet? Take advantage of our Power Leveling Boost service.

Black Empire Campaign

completed to unlock N'Zoth Assaults (Black Empire Invasions) content. If you don't have it, simply add it as an extra option.
Login and p

assword, your account safety guaranteed.
Estimated Delivery Time is up to 1 week for every 30000 Coalescing Visions farmed (limited to n'zoth assaults and daily activities).
What is Coalescing Visions currency and why you need to buy farm boost
C
oalescing Visions is a new and very important currency introduced in Battle for Azeroth patch 8.3 Visions of N'Zoth which is obtained as a reward for completing N'Zoth Assaults,
M
ini-visions and by performing different activities like world quests, finding treasure chests, killing rare
mobs etc in Uldum and Vale of Eternal Blossoms.
Coalescing Visions
is used to buy
Vessel of Horrific Visions
from Wrathion to
enter Horrific Visions Challenge - new major content in Visions of N'Zoth, an instanced challenge for 1 to 5 players who are fighting their way through the twisted future of Orgrimmar and Stormwind where N'Zoth has succeeded in revitalizing the Black Empire and doomed the whole Azeroth. It is crucial to complete Horrific Visions on a regular basis to upgrade your Ashjra'kamas, Shroud of Resolve Legendary Cloak, get Corrupted Mementos, 420+ ilvl gear and other rewards (you can learn more about rewards on our Horrific Visions Challenge Boost product page).
And in order to get all those rewards you will have to do tons of activities in Visions of N'Zoth main content areas everyday for a good while. Buy
Coalescing Visions farm boost and save yourself lots of time with this farm service from our boosting team on EU / US regions.
You can buy Coalescing Visions farm boost with account sharing only. Our professional and trusted Mmonster players will kindly boost your character with this World of Warcraft (WOW) Coalescing Visions farm service really fast so lean back and watch your character collects all those tasty rewards and achievements and tremendously grows in power!