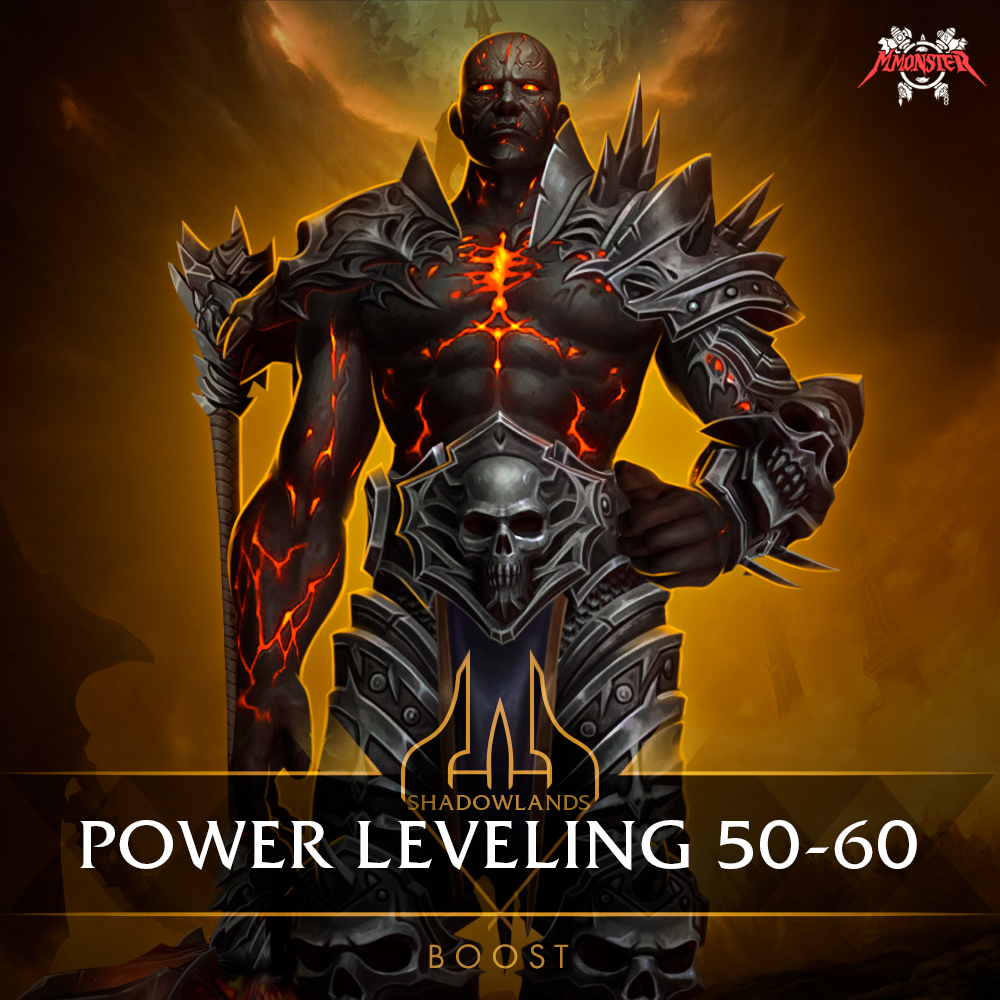 Shadowlands 50-60 Power Leveling Boost
Here you can buy fast and smooth Shadowlands 50-60 Power leveling Boost and get your WoW character leveled to Level 60 in no time. Try our exclusive
Premium Leveling Boost

service get your character ready for Shadowlands endgame in just 12 hours
You will get your character boosted to 60 level by grinding mobs, completing quests and running dungeons. For more information regarding estimated leveling time please check the Estimated Boost Time tab

Achievement LEVEL 60 upon reaching maximum level

Additional game content completed based on your selected extra options
Login and password, your account's safety guaranteed
Our
WoW Shadowlands 50-60 Power Leveling Boost

- the easiest way to get your character leveled to level 60 and get ready for some epic adventures

Shadowlands is the new World of Warcraft expansion featuring the new undiscovered Shadowlands world - a realm between realms, the delicate balance of which is preserved by life and death itself. And as every expansion was used to bring with it lots of new features for wow players to experience, this time around Shadowlands addon comes with big leveling changes including leveling rebalance and huge level squish. Level 120 characters were squished to level 50, and level 60 became the max level of new Shadowlands expansion. However, before player even reach the maximum 60 level with our character, for the first time any character will have to play through a full linear campaign by escaping the Maw, proceeding to and exploring 4 new zones and meeting their respective rulers called Covenants in the following order:
Bastion - home realm for Kyrian Covenant;
Maldraxxus - home realm for Necrolord Covenant;
Ardenweald - home realm for Night Fae Covenant;
Revendreth - home realm for Venthyr Covenant.
During Shadowlands leveling players will have to complete hundreds of quests, kill dozens of mobs and grind tons of XP to reach max level 60, which is crucial to unlock endgame in World of Warcraft, including Covenant progression, World Quests, Torghast, Tower of the Damned, new Dungeons, Castle Nathria raid and other activities. So why would you waste countless hours leveling up your character if you can simply invest your time in more exciting and new Shadowlands end-game content? With our Shadowlands 50-60 Power Leveling Boost you will get your character power leveled to level 60 in no time, and if you are the one kind of a player who likes to get be one of the first to get access to new endgame content, we've prepared a special Premium 12 Hours Leveling boost so you can explore Shadowlands endgame in just 12 hours. Our boosting team will gladly help and power level your character in the shortest time allowing you to continue your epic and most interesting journey on the new realms of Shadowlands expansion. Power Leveling usually carried out in a combined way (grinding mobs, completing quests and running dungeons), and if you would like to accomplish crucial campaigns to unlock new game features, please don't hesitate to add them during the ordering process as additional options (as a bonus, by ordering additional options with our power leveling boost, you will even save some money). We guarantee security of your account, complete anonymity and reliability of our powerleveling services. We have also prepared different packages of our leveling boost with different lead times so you can plan your playing time beforehand depending on your needs and goals.
You can buy our Shadowlands 50-60 Power Leveling boost and get your character power leveled to max level 60 in no time. Our professional and trusted MmonsteR players will kindly boost your character with this World of Warcraft (WOW) Powerleveling boosting service really fast so lean back and watch your character collects all those tasty rewards and achievements and tremendously grows in power!
Check our table to know the exact time of your power leveling boost:
| | |
| --- | --- |
| Leveling option | Estimated boost time (no longer than) |
| Premium 12 Hours Leveling | 12 hours |
| Super Speed Leveling | 24 hours |
| Fast Speed Leveling | 48 hours |
| Custom Leveling | 3 hours per 1 Level |
Login or Register with...