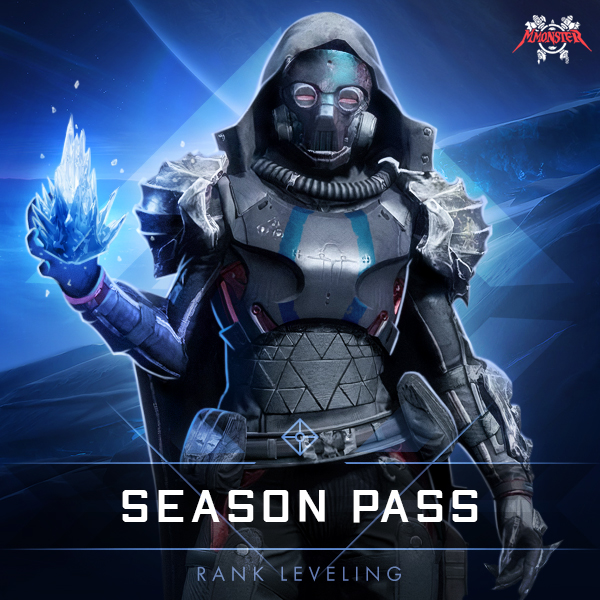 Destiny 2 Season Pass Rank Leveling Boost
HOW TO PURCHASE SEASON PASS RANK LEVELING BOOST:
The price is listed for 1 Season Pass Rank boost, please put in quantity of Season Pass Levels in the QTY field (minimum amount for purchase is 5) and press ADD TO CART button.
You will get selected Season Pass Rank leveled for your character by completing different gaming activities during the Destiny 2: Beyond light Season of Chosen

You will get different kind of rewards depending on your Season Pass rank including but not limited to Legendary Vex armor and weapons, different upgrade materials such as Legendary Shards, Glimmer, Enhancement Prisms and Cores, Upgrade Modules, planetary materials, Ascendant Shards etc, Legendary, Exotic, and Bright Engrams, Shaders, ships, emotes, and emblems, exotic ornates, finisher moves and more.

Chance to get some Rare, Legendary and even Exotic Gear during the Season Pass Rank Leveling Boost
Destiny 2: Beyond light - Season Pass

on PC/XBOX or PS4.
Login Details (Email and Password), your account safety is guaranteed

Estimated delivery time is up to 2 hours per 1 Season Pass Rank level (maximum 10 hours / 5 ranks per day)
With the launch of Destiny 2: Shadowkeep, Bungie's introducing a Battle Pass-inspired seasonal reward system known as Season Pass. Along with unlocking season-specific content and activities, the Season Pass completion will award players with different kinds of rewards such as gear, materials, and cosmetics as they earn XP and increase their rank during the season. There are 100 ranks total and each rank has its premium reward if you own the Season Pass and also some ranks also come with free rewards for players who don't own the Season Pass.

Unlike Battle Passes in other games which require specific challenges in order to increase your rank, the Destiny 2 Season Pass is raised purely by XP (Experience). Anything that earns you XP, from completing Strikes and Weekly Events to turning in bounties will advance your seasonal rank.

You can buy Destiny 2 Season Pass Rank Leveling boost with account sharing only.
Our professional and trusted MmonsteR players will kindly boost your character with this Destiny 2 Season Pass Rank Leveling boost service really fast so lean back and watch your character collects all those tasty rewards and tremendously grows in power!