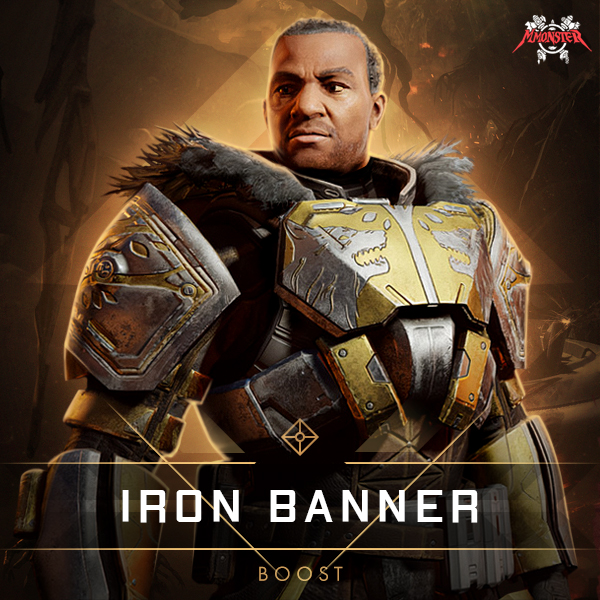 Destiny 2 Iron Banner Boost
Available one week per each month.
Complete the new Quest "Old Reliables" to be rewarded with The Forward Path Auto Rifle, The Fool's Remedy Sidearm, Iron Vendetta Shader and the Light Unbridled Emblem.
For our Rank Up service we will obtain the amount of tokens needed for the amount of ranks that you select. We will not use Iron Banner Bounties to complete this service.
You need 20 Iron Banner Tokens to turn in for one Legendary Iron Engram which rewards legendary weapon or armor.
1 Rank Up is 20 Iron Banner Tokens
5 Rank Ups is 100 Iron Banner Tokens
10 Rank Ups is 200 Iron Banner Tokens
Bounty Completion service we will complete all 4 Weekly Bounties that Lord Saladin offers. For each bounty you will receive a pinnacle reward and 25 Iron Banner tokens to turn in for Legendary Iron Engrams.
Destiny 2: Shadowkeep purchased

on PC/XBOX or PS4.
1210+ Power Level of your character.
Login and password, your account's safety is guaranteed.
Available one week per each month.
Iron Banner is a monthly PvP Live Event in Destiny 2 and like before, Lord Saladin is back in Destiny 2: Shadowkeep Season of the Undying. This time, Iron Banner's host has a new questline called Scour the Rust which rewards with Iron Will Armor Set and some other cool stuff.
The quest is divided into 5 parts (each rewards with one piece of Iron Will armor set item) and challenges you to get kills with different weapons and abilities. Additionaly, each step comes with a free weapon, and once you complete the whole quest, you can turn in your Iron Banner tokens to Saladin in exchange for packages which dish out Enhanced armor mods remarkably frequently. Saladin won't let you claim any of his engrams until you beat Scour the Rust. Also, similarly to previous seasons, Lord Saladin has 4 Powerful bounties for players to complete by doing various tasks within the Iron Banner Crucible playlist.
Each Bounty will reward 1 piece of Pinnacle Gear and 25 Iron Banner tokens once completed. You can buy Iron Banner boost with account sharing only.
Our professional and trusted MmonsteR players will kindly boost your character with this Destiny 2 Iron Banner boosting service really fast so lean back and watch your character collects all those tasty rewards and achievements and tremendously grows in power!
Login or Register with...