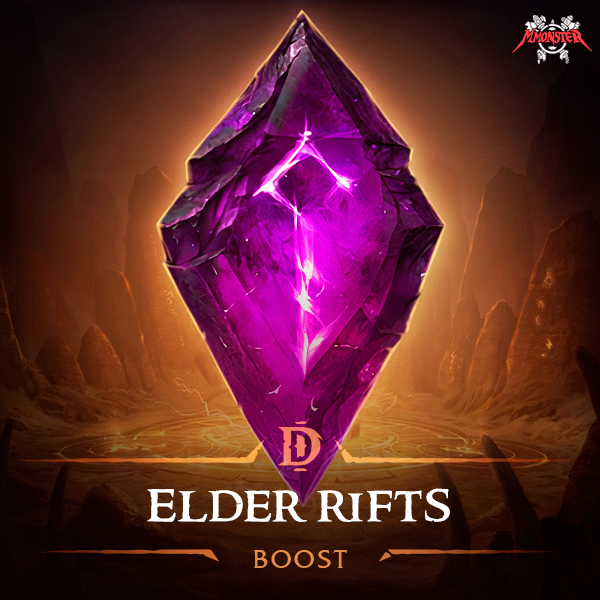 Diablo Immortal Elder Rift Boost Runs
Here you can buy fast and smooth
Diablo Immortal Elder Rift Boost Runs

to complete selected amount of Elder Rifts for your character. Simply choose your platform, class, play method, number of rift runs and you're good to go
You will get selected amount of Elder Rifts completed for your character
You will get some Fading Ember currency, required to purchase Runes needed to craft Legendary Gems
Estimated boost time is ~5 min per one Elder Rift
Active Diablo Immortal account.
Login and password, your account's safety guaranteed.
Diablo Immortal Elder Rift Boost Runs

- the best way to complete Elder Rifts for your character and get lots of rewards

Elder Rifts are randomized fast dungeons, which can be completed any time without any restrictions to gain some cool rewards, such as Experience, Battle Points, Gold and Fading Ember currency to craft Runes and Legendary Gems. For completing each Elder Rift player also has a chance to obtain Mystery Legendary gear and Legendary Gem. Elder Rifts can also be enhanced with up to 3 Rare Crests or Legendary Crests to add modifiers to a rift and increase its rewards: Rare Crest gives a guarantee for Runes to drop and also increases chance for a Legendary Gem, while Legendary Crest gives a guarantee for a Legendary Gem to drop for each Crest used.

Elder Rift Boost is a process of completing selected amount of Elder rift runs for your character in the fastest and most efficient way. Running Elder Rifts can be really grindy and boring task, but at the same time it is vital as elder rifts are some of the most rewarding end-game activities in Diablo Immortal and one of the main ways to obtain Legendary Gems for your character, therefore we are ready to provide you with Diablo Immortal Elder Rift boost carry service fast and easy.

You can buy our Diablo Immortal Elder Rift Boost Runs and we will assign to you our professional and trusted player who will run selected amount of Elder Rifts for your Diablo Immortal character in the quickest and most efficient way. So lean back and watch your character gets his elder rifts done and gets all those rewards in no time!
Login or Register with...