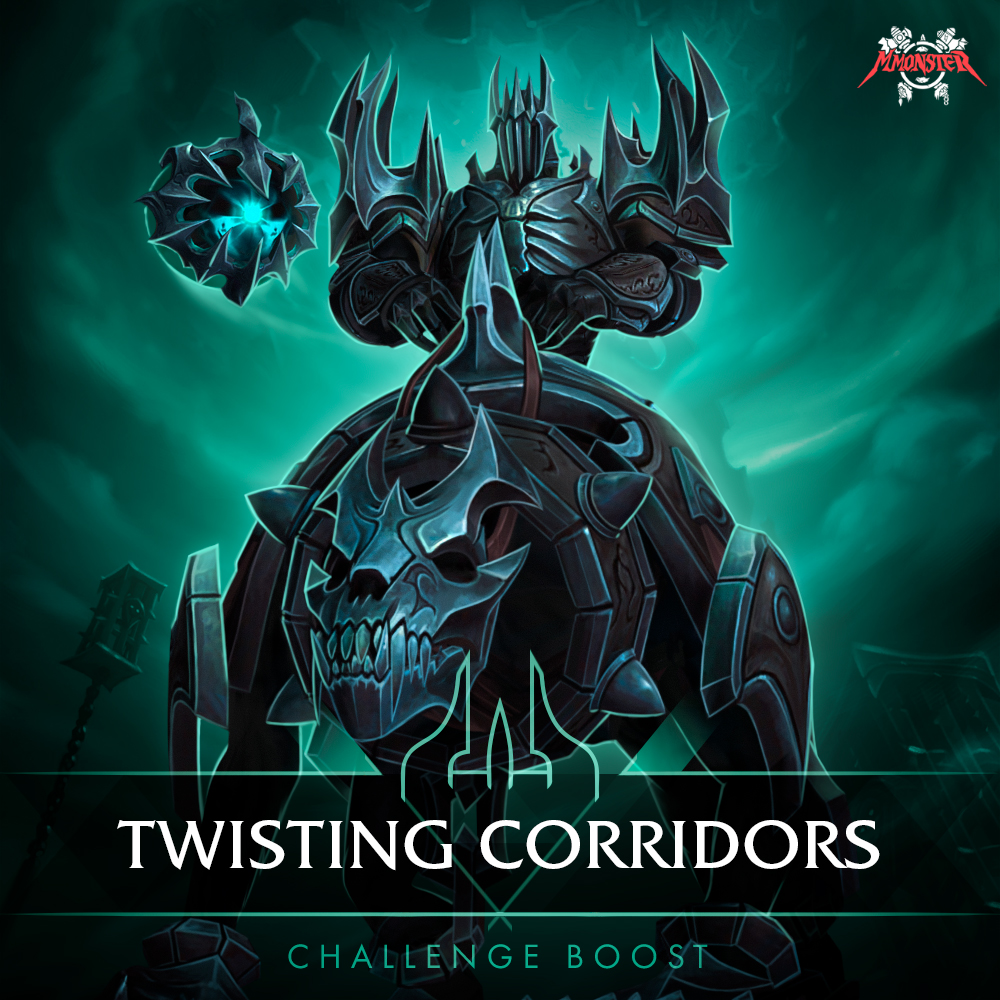 Twisting Corridors Challenge Boost
Selected amount of Torghast Twisting Corridors runs on selected Layer completed
Some cool rewards for completing specific Layers in Torghast Twisting Corridors Challenge Mode:
Different achievements and other rewards for completing Twisting Corridors Layers
Torghast Tower unlocked. You can add it as an additional option or get it on our Torghast Unlock boost product page.
Certain minimum item level of your character depending on Torghast Tower boost run you've chosen to successfully complete the run and get the final reward. Please ask our managers on more details regarding your specific boost run.
Login and password, your account's safety guaranteed.
Estimated boost time varies and highly depends on your boost run options, please ask our managers on more details regarding your specific boost run.
Torghast Twisting Corridors Challenge Boost

- the fastest way to obtain some cool cosmetic rewards including special

Corridor Creeper

mount

Torghast Tower is located in the heart of the Maw and is the place where Jailer holds his most powerful souls. Every time a player enters Torghast, he will encounter new challenges in his way: dynamic wings and changing floors flooded with horrific creatures roaming the corridors, getting stronger as you progress towards higher levels of Torghast. The Tower of the Damned is designed as dynamic content for either solo players or groups up to 5 players scaling everything accordingly. Torghast has 6 common wings with only 2 of them being active at a time during one weekly reset and a special Twisting Corridors Challenge mode wing. The Twisting Corridors wing also has 8 Layers, but each Twisting Corridors layer consists of 18 floors from 3 randomly chosen Torghast wings, meaning the mobs and encounters will scale in difficulty even more making it the most difficulty wing compared to other Torghast wings. As soon as you enter Twisting Corridors, you won't be able to change your spec, talents and gear because of The Jailer's Chains debuff making the challenge more interesting and relied on your skill. This can be countered by a special zone called Refuge of the Damned found at the entrance and on each 3rd Floor of each Layer, where you can swap your gear, talents and buy some useful stuff for collected Phantasma. Every 6th floor will have a boss which needs to be defeated in order to reach higher floor.

The higher the Layer and Floor number, the harder enemies and encounters get introducing new Torments mechanics which become stronger as you advance to higher floors empowering mobs and bosses and weakening player(s). Players venturing in Twisting Corridors will be affected by multiple types of Torghast Torments and affected by Torments in higher amountscompared to a normal Torghast run. All other mechanics are the same as common Torghast wings have, however, with much more complexity and time consuming to complete. Buy new Twisting Corridors challenge boost from the safest and most reliable boosting service on both EU and US regions, join the most epic piece of content in the whole WoW: Shadowlands expansion and get all the cool rewards in no time! Account Sharing option is your best bet if you just want to save your time and selfplay option is always available for you also if you want to participate in Torghast Twisting Corridors boost run and get the most epic gaming experience yourself. Please note that there may be also some special requirements in order to complete specific Twisting Corridors Layer Levels so please read carefully requirements tab and boost option hints.
All
Torghast Twisting Corridors Rewards

- buy the Boost, enjoy the Loot!

Even though you won't get Soul Ash (required to craft Legendary Gear which increase player's power) for completing Twisting Corridors layers compared to common Torghast wings, the unique cosmetic rewards a player obtains for reaching higher layers won't disappoint you. In addition to getting some Stygia currency and achievements for completing each new Twisting Corridors layer, you will get Death Seeker battle pet for completing Layer 2, Helm of the Dominated toy for completing Layer 4, Spirestalker title for Layer 6 and last but not least, Corridor Creeper mount as a final reward for passing Layer 8 and beating the Challenge. Every new player will have to complete all 8 layers in Torghast Twisting Corridors Challenge Mode basis because it is the only source for a special Corridor Creeper mount which allows you to ride in the Maw.

Depending on your character's item level account sharing option may not be recommended for some Twisting Corridors Challenge Boost options due to the higher complexity and Tornment mechanics involved in the Torghast content. Though, there is always selfplay option available for you to experience Twisting Corridors yourself along with our professional players. You won't have to face all the trials during the Twisting Corridors Challenge selfplay run at all, just follow the player(s), enjoy the show and grab the rewards! Our boosting team will gladly help and make the highest Torghast Twisting Corridors Layer runs in the shortest time allowing you to continue your epic and most interesting journey on the new realm of Shadowlands expansion. You can buy Torghast Twisting Corridors Challenge boost with account sharing or selfplay. Our professional and trusted Mmonster players will kindly boost your character with this WoW Shadowlands Twisting Corridors Challenge boost run service really fast so lean back and watch your character collects all those tasty rewards and achievements and tremendously grows in power!
Login or Register with...