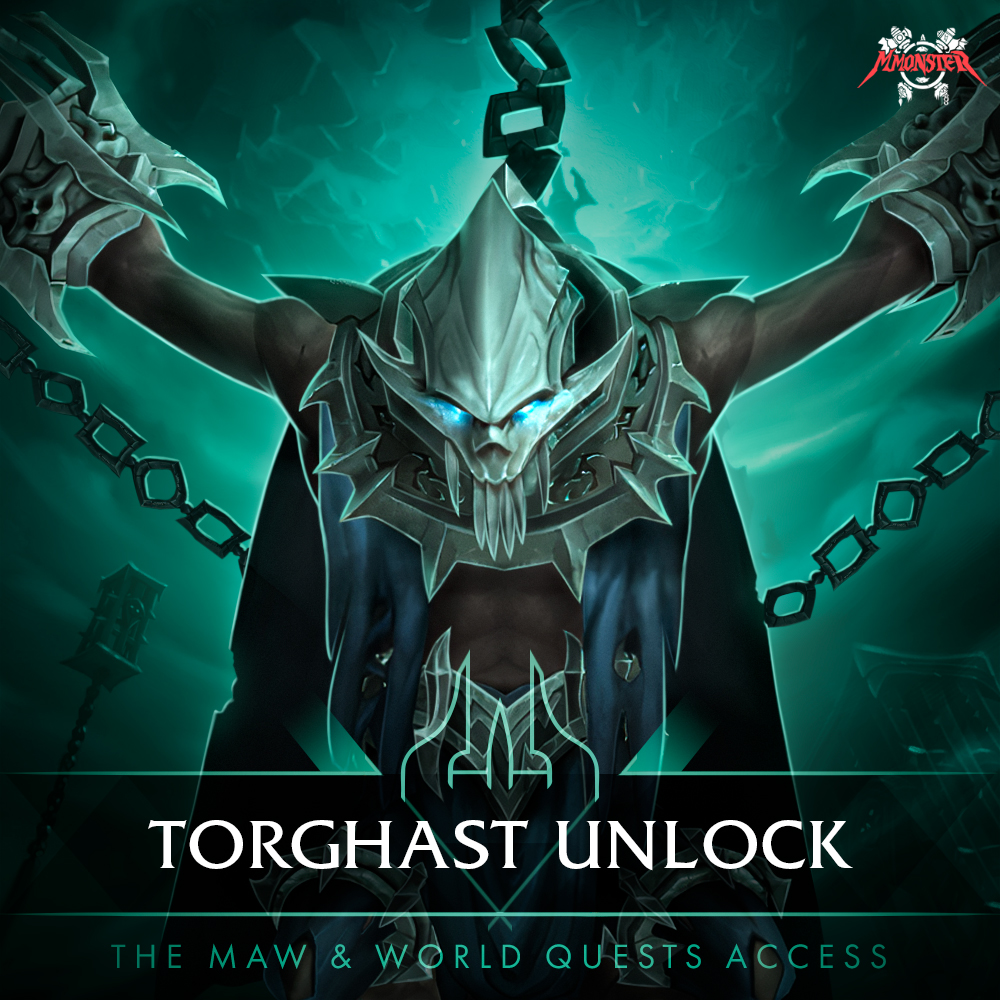 Torghast Tower Unlock Boost
Here you can buy
Torghast Unlock Boost

to gain access to Torghast Tower replayable content, World Quests and Runecarver's Chamber granting you an ability to craft Legendary Gear
The Maw Questline completed which unlocks access to Torghast, Tower of The Damned, Shadowlands World Quests and Runecarver's chamber granting you an ability to craft Legendary Items
Login and password, your account's safety guaranteed.
Estimated boost time is up to 3 hours approximately.
Torghast Unlock Boost

- the fastest way to gain access to Torghast, Tower of the Damned, unlock Shadowlands World Quests and Runecarver's Chamber

Shadowlands is the new World of Warcraft expansion featuring the new undiscovered Shadowlands world - a realm between realms, the delicate balance of which is preserved by life and death itself. And as every expansion was used to bring with it lots of new features for wow players to experience, this time around Shadowlands addon brings new replayable dynamic endgame content for 1-5 people called Torghast, Tower of the Damned.

Torghast Tower located in the heart of the Maw and is the place where Jailer holds his most powerful souls. Every time a player enters Torghast, he will encounter new challenges in his way: dynamic wings and changing floors flooded with horrific creatures roaming the corridors, getting stronger as you progress towards higher levels of Torghast. Every new player will have to complete the Maw questline in order to unlock Torghast Tower and gain access to some crucial endgame content such as world quests and Runecarver's chamber granting you an ability to craft Legendary Armor. Also, Torghast is the only source for Soul Ash currency which is required to fuel Runecarver's Chamber and craft your own Legendary Gear. There are no other requirements to enter Torghast except completing the Maw questline so what are you waiting for? Our boosting team will gladly help and unlock Torghast, Tower of the Damned in the shortest time allowing you to continue your epic and most interesting journey on the new realms of Shadowlands expansion. We guarantee security of your account, complete anonymity and reliability of our powerleveling services.

You can buy Torghast Tower Unlock boost with account sharing only. Our professional and trusted Mmonster players will kindly boost your character with this World of Warcraft (WOW) Shadowlands Torghast Unlock boosting service really fast so lean back and watch your character collects all those tasty rewards and achievements and tremendously grows in power!
Login or Register with...