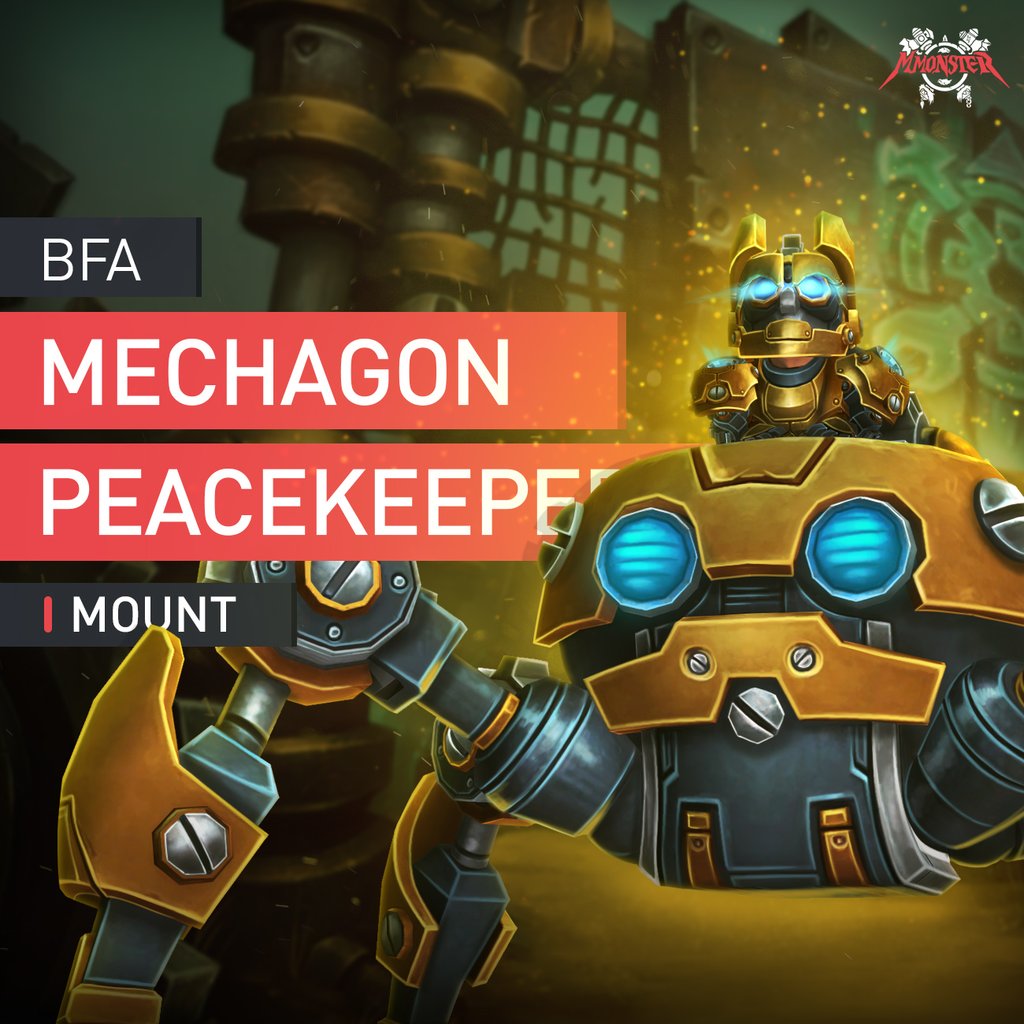 Mechagon Peacekeeper Mount
Operation: Mechagon Megadungeon Hard Mode run done participating in one of the best 5 people teams

You will get rare cool-looking mechanical spider ground mount - Mechagon peacekeeper
85+ item level loot for your character's chosen class and spec including warforged, titanforged and socketed items
All these rewards will be easily yours after you buy our most reliable boost service in Europe (EU region) with the affordable price and excellent support
Login and p

assword in case of account sharing option, your account safety guaranteed.
Mechagon Peacekeeper is a new mount added in World of Warcraft patch 8.2 Rize of Azshara and it drops from the 4th boss in Operation: Mechagon Mega-dungeon when hard mode is triggered. Just like it was in Legion with a hidden Nightbane boss in Return to Karazhan dungeon, Operation: Mechagon has a secret hard mode tied to HK-8 Aerial Oppression Unit encounter which is activated by completing the preceding three bosses in a particular sequence while HK-8 Aerial Oppression Unit is overhead and killing this boss in hard mode rewards a secret Mechagon peacekeeper mount. Join this epic adventure alongside with our best boosting guilds, be the one of the first to get Mechagon Peacekeeper Mount and have the best gaming experience and pastime you have ever had!
You can buy BFA Mechagon Peacekeeper Mount boost with account sharing only. Our professional and trusted MmonsteR players will kindly boost your character with this World of Warcraft (WOW) BFA Mechagon Peacekeeper Mount boost carry service really fast so lean back and watch your character collects all those tasty rewards and achievements and tremendously grows in power!
If you are a true WOW mount collector - check our MOUNTS page as we may have the rarest mounts in game for you. Check our BFA MOUNTS page if you'd like to see only the latest mounts available in World of Warcraft: Battle for Azeroth expansion!