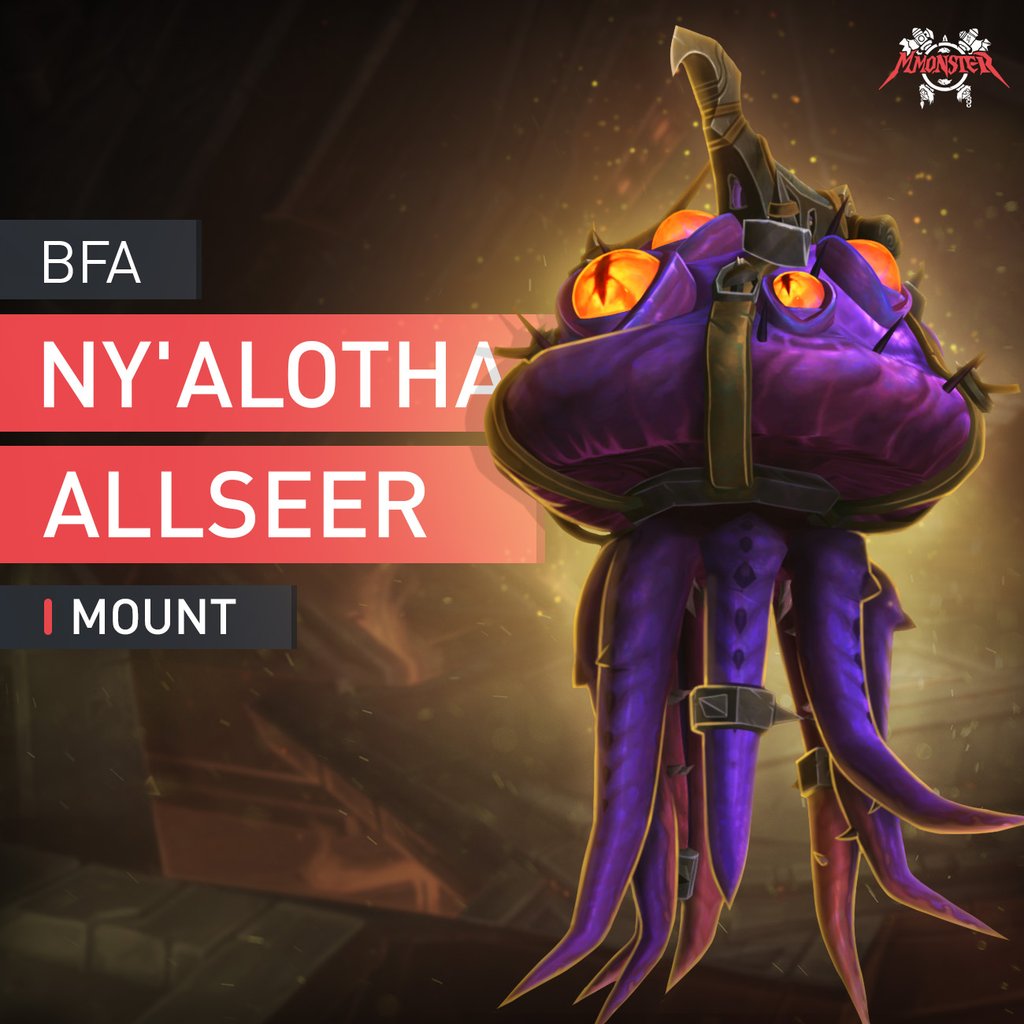 Ny'alotha Allseer Mount
CURRENTLY THIS SERVICE IS AVAILABLE ON

EU

REGION ONLY
Login and password, your account safety guaranteed.
Ashjra'kamas, Shroud of Resolve Legendary Cloak unlocked and equipped on your character otherwise you will be mind controlled on N'Zoth the Corruptor and won't be able to hit the boss resulting in not getting loot or the boss kill counted.
Estimated Delivery Time highly depends on a drop chance and thus varies.
How to get Ny'alotha Allseer Mount and why you need N'Zoth Mythic boost carry
Deep within the sleeping city called Ny'alotha an ancient evil awakened with his armies flooding from their dark halls. N'zoth the Corruptor Mythic is the last boss of Ny'alotha, the Waking City Mythic raid which arrived on January 28/29 on EU/US regions respectively and is guaranteed to contain special rewards for defeating him until next WoW expansion Shadowlands is released. Ny'alotha Allseer is the new unique flying jellyfish mount and is a reward for N'Zoth Mythic last boss kill in Ny'alotha, the Waking City Mythic Raid. This mount has its own unique special animations and is the most cool-looking mount in BFA so far, and that means you have to have it! But that's not a trivial task for people who don't have time and experience for long term mythic raid progression. To reach N'Zoth Mythic boss you will have to run through the whole Ny'alotha Mythic raid and successfully pass 11 bosses and encounters on your way. And when you finally face him as the last boss of Ny'alotha, the Waking City raid, you will have to avoid lots of most complicated mechanics and show the highest playing skills in order to defeat him which is not possible outside of playing in one of the top mythic progression guilds. Buy Ny'alotha Allseer Mount Boost Carry from MmonsteR to get the job done fast and easy alongside with our best boosting guilds, be one of the first to defeat the most powerful N'Zoth Mythic last boss in Ny'alotha Mythic Raid and obtain Ny'alotha Allseer Mount guaranteed and at the best price you can find!
All N'Zoth Mythic boss kill rewards and how Ny'alotha Allseer mount boost is done
Even if you are an experienced player with the best gear in game, N'Zoth the Corruptor Mythic boss will still be a tough challenge for you. However, the rewards you will get for completing it are really cool: you will get mythic Ny'alotha Allseer flying mount along with Mythic: N'Zoth the Corruptor achievement. Our boosters are ready to help you kill N'Zoth Mythic final boss, granting you an opportunity to obtain all these rewards, as mythic Ny'alotha Allseer mount boost carry service is your best choice to get unique Ny'alotha Allseer mount and Cutting Edge achievement before they are gone when new raiding content arrives. You can buy Ny'alotha Allseer mount boost carry with account sharing only.
If you are a true WOW mount collector - check our MOUNTS page as we may have the rarest mounts in game for you. Check our BFA MOUNTS page if you'd like to see only the latest mounts available in World of Warcraft: Battle for Azeroth expansion!
Login or Register with...