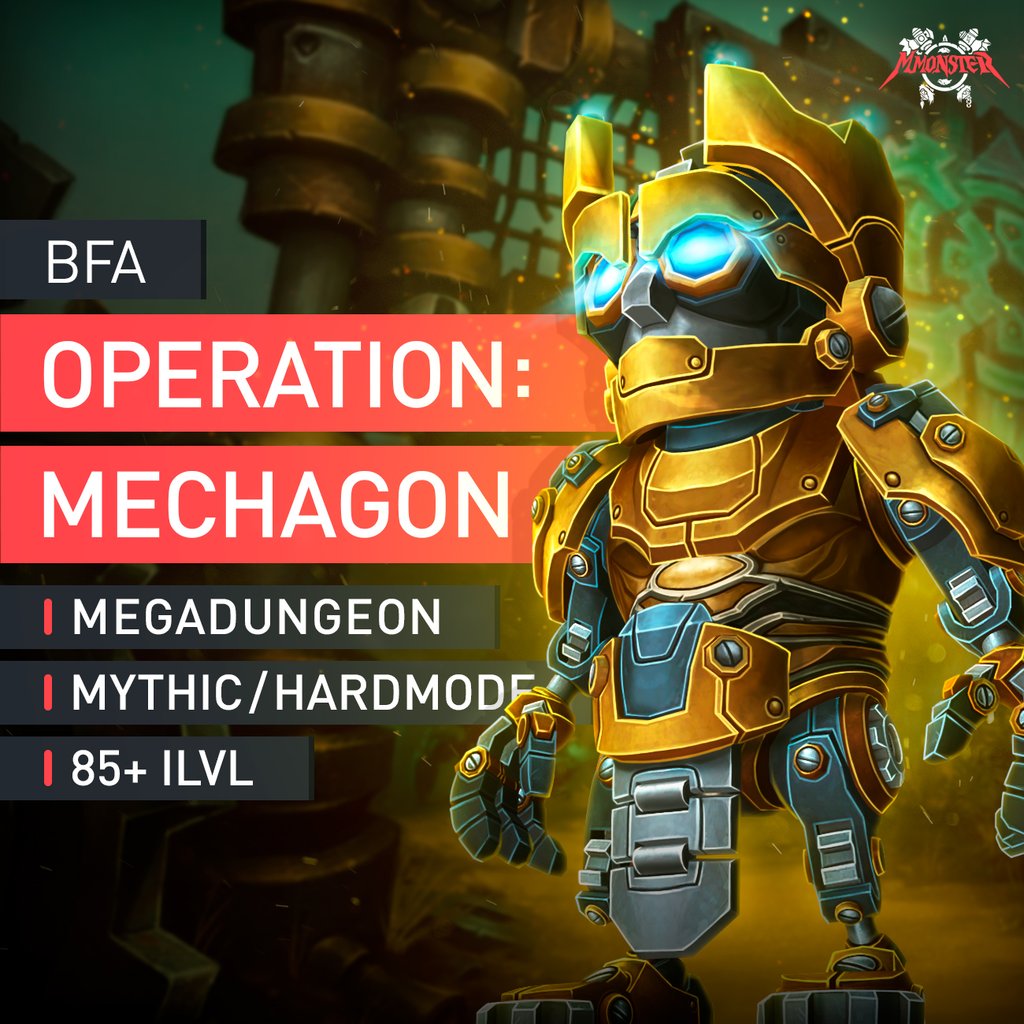 Operation: Mechagon Megadungeon Boost Run
CURRENTLY THIS SERVICE IS AVAILABLE ON

EU

REGION ONLY
Login and p

assword in case of account sharing option, your account safety guaranteed.
What is Operation: Mechagon Megadungeon and why you need the boost run carry
Mechagon is the main city of the Mechagnomes, dominated by King Mechagon, a society where prestige is set by the quantity of robotic components you've got. Operation: Mechagon is released in 2 weeks after new Battle for Azeroth patch 8.2 Rize of Azshara hits on live servers and it is a 5 people, 8 boss mega-dungeon (more like a 5-man raid) similar to Legion patch 8.1 Karazhan remake. Players enter through a trash compactor and make up their way into Mechagon city, which is populated by machinery, turrets, and mechagnomes. The encounters in the dungeon are very unique and include not only classic boss fights, but a stealth minigame, a mortal Arena with Sawblades and hammers, a mechanical pet Ku-jo and many more ending with the King of this Mechagnomes - King Mechagon which has a cool Aerial Unit R-21/X mount in its loot table if you accomplish Operation: Mechagon run in hidden Hard Mode (you also can order this mount).
Operation: Mechagon megadungeon is a mythic difficulty dungeon, has a weekly lockout, drops 430+ item level gear which can be warforged or titanforged (increased item level) and can have a socket on them. Also it features some special unique loot as punchcards to customize the socketable trinket Pocket-Sized Computation Device, rings with set bonuses and wrists with special effects. Join this epic adventure alongside with our best boosting guilds, be the one of the first to get Operation: Mechagon Megadungeon Boost Run and have the best gaming experience and pastime you have ever had!
You can buy BFA Operation: Mechagon Mega-dungeon boost run with account sharing or selfplay. Our professional and trusted Mmonster players will kindly boost your character with this World of Warcraft (WOW) BFA Operation: Mechagon Megadungeon boost run service really fast so lean back and watch your character collects all those tasty rewards and achievements and tremendously grows in power!
Personal Loot

Run with Personal Loot option means that quantity of items you will get fully depends on your luck, which we wish you most of all :) You will get all 430+ ilvl loot

which dropped for you personally during the run including Azerite Armor, weapons and warforged, titanforged and socketed items.

Additional Loot (X1 / X2 Loot)

You have the opportunity to buy additional

X1 /

X2 loot

in our dungeon runs to increase the quantity of needed loot you may get during the run and to have a minimum quantity of items guaranteed.


X1 LOOT

There will be 1

player

with the same armor type in your group without loot ID who will trade you all items he may get during the run. Minimum guarantee is

2 items

in 2 different item slots and in case of a bad luck we will get you another run next week to get you remaining items.

X2 LOOT

There will be 2

players

with the same armor type in your group without loot ID who will trade you all items they may get during the run. Minimum guarantee is

4 items

in 4 different item slots and in case of a bad luck we will get you another run next week to get you remaining items.

Loot Distribution

In case you choose additional loot option (X1

/

X2

Loot) 1 / 2 players of the same armor type will be assigned to you and trade you all 430+ ilvl loot they get for your character's chosen class and spec. Bonus roll items and items, which are not an upgrade for your character, count towards minimum guarantee, however double items (2 items in a same item slot) don't. In case of a bad luck of not getting minimum guarantee we will make another loot run for your character to get remaining items next week absolutely free.

Guarantees

Number of items guaranteed depends on a loot option you choose, check out our loot table:



| | | |
| --- | --- | --- |
| Loot option | Number of players with the same armor type assigned to you in a raid, who will trade you all the loot they get | Minimum number of items guaranteed in different slots |
| PL | - | - |
| X1 | 1 | 2 |
| X2 | 2 | 4 |

Things you should know and get ready to

There's one limitation with common Battle for Azeroth loot system in which only items with lower item level than the ones player already has in the same item slot can be traded. Despite this, we guarantee that all of your assigned players will have higher item level than the basic item level of items dropped in this run (430) and will be able to trade you 99.9%

of items they get. The only exceptions are Titanforged items of very high item level increase which, with all our desire, can not be traded.
I need mechagon dungeon boost how can I get it?
You are in the right place for the Operation: Mechagon gear run! To finalize your Mechagon quests, many of them you will need mechagon run for sure with a great team but it is not easy to find one! Dungeon is tough and your crew of friends cannot carry Mechagon? No stress! Mmonster is your booster provider in the world of Warcraft and other games! We will get our team to make Mechagon boost for you today!
How the Operation: Mechagon Carry is made
We have fixed timetable for the Mechagon dungeons run and we will find the best time possible for your Mechagon carry. Just write to us using this website chat or any other messenger listed in the contacts below at this page and you will get fast reply with the time for your Mechagon boost.
How to order Mechagon BFA Dungeon boost run
How to find a group for mechagon? Easy as ordering pizza! We provide Mechagon runs everyday with the fast delivery and best friendly support you will not get anywhere else! Professional Boosters did this boost shop for you so you can quickly order Mechagon run for today on MmonsteR website with the raid and dungeon calendar! Even if there are no events listed - just ask our manager and we will appoint your Mechagon run with the nearest boosting group. You will get all mechagon loot that will drop to you personally including mechagon trinkets, mechagon weapon and all other items from this superb dungeon!
Mechagon Megadungeon Hard Mode Boost
You wonder how to run Mechagon without dying? Where to get Mechagon group that will carry you in Hard mode so you can get amazing rewards? We will boost Mechagon hard mode for you anyday! Mechagon Hard mode with Hertz Locker achievement for Rank 4 Vision of Perfection Azerite Essence is made only with account sharing to guarantee success of the boost service.