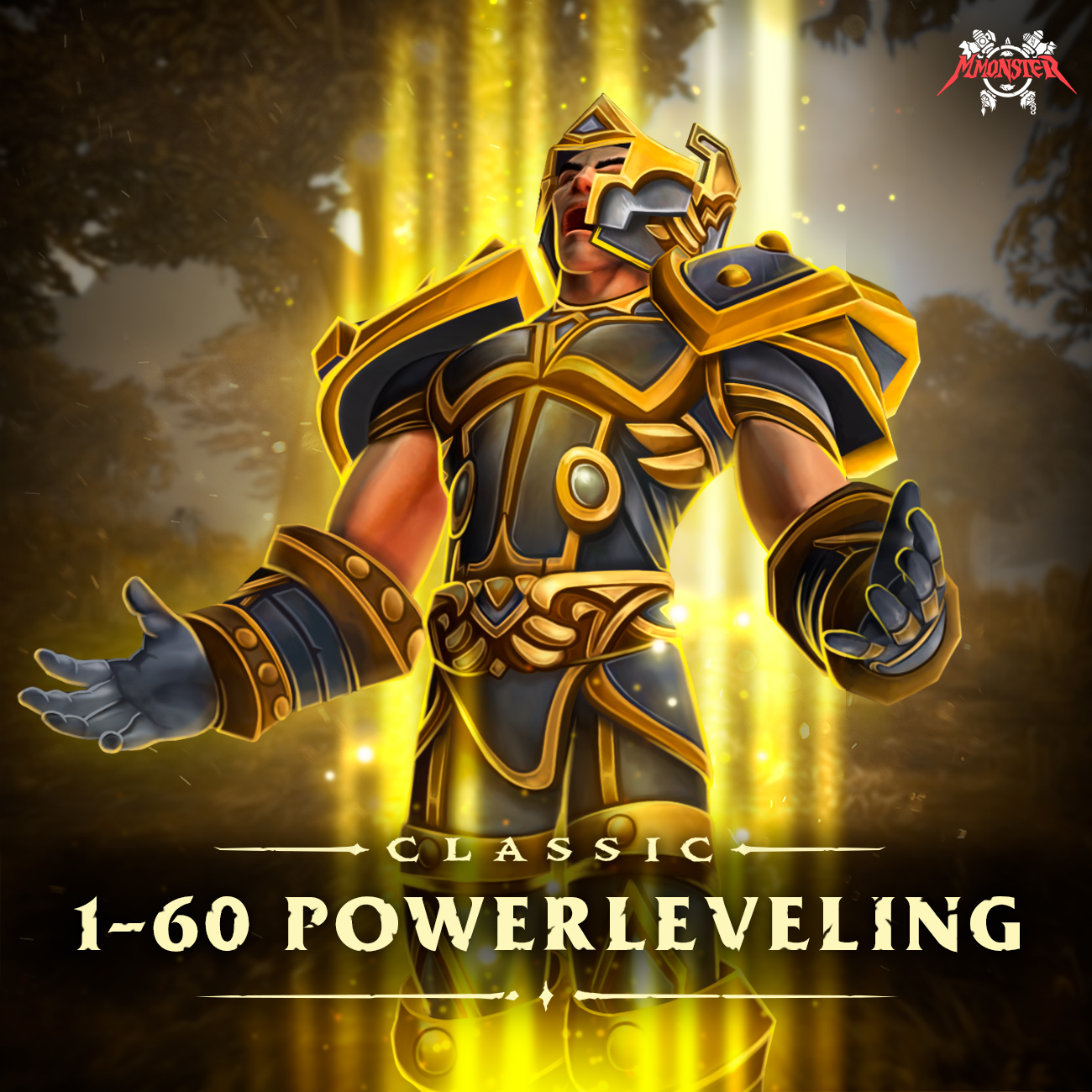 WoW Classic Season of Mastery Power Leveling Boost
Here you can buy fast and smooth
WoW Classic Season of Mastery Power Leveling Boost

and get your character leveled to goal level in no time
You will get your character leveled from your Current level to Selected level in WoW Classic Season of Mastery

Estimated power leveling boost time can vary depending on selected levels, your character's class, world pvp activity, server population and other factors (check average time for 1-60 classic leveling in the Estimated Boost Time tab)

Some gold farmed, equipment obtained, skills learned, flight points unlocked and other rewards gained during leveling
Login and password, your account's safety guaranteed.
Estimated power leveling boost time can vary depending on selected levels and your character's faction and class. For more information regarding estimated leveling time please check the Estimated Boost Time tab. Please note that we can't guarantee specific estimates and deadlines because of world pvp activity, server population and other factors but we will do everything from our side to finish your boost as fast as possible.
WoW Classic Season of Mastery Power Leveling Boost

- the best way to get your WoW Classic SoM character leveled to selected level in no time W

orld of Warcraft Classic is an epic and modern recreation of original World of Warcraft game released back in 2004, putting it in the most stable state of last patch 1.12.1 (before the launch of pre Burning Crusade Expansion patch) bringing players the most authentic experience on Azeroth including original classic world, races, classes, character models, skills, talent trees, replicated leveling experience, dungeons, legendary 40 ppl raids and much more. To truly emulate the original game's updates through the content patches, content in Classic will release in phases like it was in original game: Blackwing Lair, The Temple of Ahn'Qiraj and Naxxramas raids, battlegrounds like Warsong Gulch and Alterac Valley, and certain items and quests will become available later in coming updates. The maximum level of the player characters is set to 60 and reaching max level in WoW Vanilla can be really difficult and time consuming task. At the same time it is vital in order to fully immerse yourself in WoW Classic end game and therefore we are ready to provide you with 1-60 character leveling boost service. Welcome again to a world of honor... a world of mystery... a world of danger... The World of Warcraft!

You can buy WoW Classic Power Leveling leveling boost carry with account sharing only. Our professional and trusted Mmonster players will kindly boost your character with this World of Warcraft Classic

1-60

leveling boosting service really fast so lean back and watch your character collects all those tasty rewards and achievements and tremendously grows in power!
Check our table to know the estimated boost time of your power leveling boost

| | |
| --- | --- |
| Leveling option | Estimated boost time |
| 1-60 Normal Speed Leveling Boost | up to 14 days |
| 1-60 Fast Speed Leveling Boost | up to 11 days |
| 1-60 Super Speed Leveling Boost | up to 7 days |
| Custom Leveling Boost | varies based on your current and goal level |
Login or Register with...