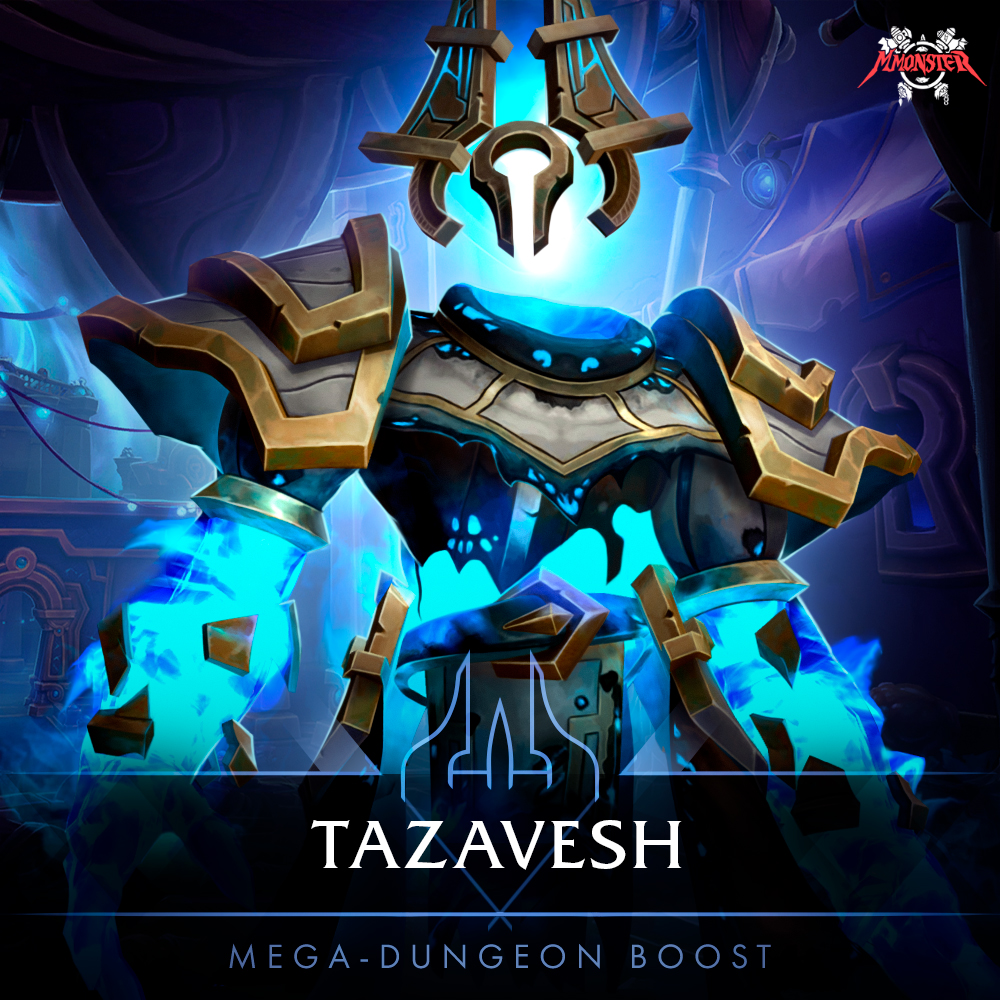 Tazavesh Megadungeon Boost Run
Here you can buy
Tazavesh Megadungeon Boost run

on Normal or Hard Mode to get some cool

226/233 item level gear

and unique cool-looking

Tazavesh Gearglider

flying mount as reward for completing Tazavesh Dungeon on Hard Mode
8/8 Tazavesh Megadungeon run completed on Normal Mode or Hard Mode participating in one of the best 5 people teams

Tazavesh, the Veiled Market achievement for completing 8/8 Tazavesh Megadungeon
226 item level (233 item level from bosses on Hard Mode difficulty) loot for your character's chosen class and spec including socketed items

You can get unique Tazavesh Gearglider

flying

mount for completing Tazavesh Megadungeon on Hard Mode difficulty. You will also get Fake It 'Til You Make It

achievement
Chance to obtain Conduits for your Covenant Soulbinds customization
Tons of Anima to upgrade your Covenant Sanctum buildigns or to buy come cool rewards
Tazavesh Dungeon unlocked for your character. You can add it as additional option.
Login and password in case of account sharing option, your account safety guaranteed.
Tazavesh, the Veiled Market

- new Shadowlands: Chains of Domination dungeon content to explore

Tazavesh, the Veiled Market is a new WoW Shadowlands 9.1: Chains of Domination 8-boss Megadungeon located in Broker bazaar where players will explore the market, encounter new types of foes and chase after the stolen artifact. Tazavesh Dungeon is released on July 6 in US region and on July 7 in EU region, when Shadowlands Dungeon Season 2 hits live servers. The Megadungeon is Mythic only, but available in 2 difficulty modes: Normal Mode and Hard Mode, which can be activated by performing special activities and grants players special rewards for successfully completing it. Join this epic adventure alongside with our best 5-player teams, be the one of the first to get Tazavesh Megadungeon Boost Run and have the best gaming experience and pastime you have ever had!
Tazavesh Megadungeon Boost Run

- the best way to get your guaranteed 226/233 item level gear and Tazavesh Gearglider mount fast and easy

Tazavesh, the Veiled Market Megadungeon on Normal Mode drops 226 item level gear with Broker themed weapons and armor as loot rewards for killing bosses. There is also Hard Mode feature available that can be activated by performng special activities at the start of dungeon and obtaining Passably-Forged Credentials item turning player into Broker. Item level of gear which drops from the Hard Mode bosses is increased to 233 item level and the gear itself marked as Priceless Mythic, making it useful for your character during the whole Shadowlands Season 2 up until the new Season release. So what are you waiting for? Get your Tazavesh Megadungeon Boost Run today and watch your character collects all this cool gear and tremendously grows in power!
All
Tazavesh Megadungeon Boost Run

rewards - buy the boost, enjoy the loot!

Even if you are an experienced player with the best raid or dungeons gear, Tazavesh Megadungeon (especially its Hard Mode) will still be a tough challenge for you. However, the rewards you will get for completing it are really high: along with the best 226/233 item level gear with top stats, which can also be socketed powering up your character even more, you will get Tazavesh, the Veiled Market achievement by killing all 8 bosses, chance to obtain new Conduits for your Covenant Soulbinds customization, chance to obtain Cartel Master's Gearglider mount as a rare 1% drop from So'leah last boss, lots of Anima and last but not least, for completing Tazavesh Megadungeon on Hard Mode and killing last boss you will get unique Tazavesh Gearglider flying mount with Fake It 'Til You Make It achievement. There are no special requirements to buy Tazavesh Megadungeon Boost Run other than 60 level of your character (you can order Shadowlands Power Leveling Boost at our store). You can buy Tazavesh, the Veiled Market Megadungeon boost run with account sharing or selfplay. Our professional and trusted Mmonster players will kindly boost your character with this World of Warcraft (WOW) Tazavesh Dungeon boosting carry service really fast so lean back and enjoy rewards.
Simply buy
Tazavesh Megadungeon Boost Run

and complete the dungeon in no time

Buy new Tazavesh Megadungeon boost on Normal Mode or Hard Mode from the safest and most reliable boosting services on both EU and US regions, join the most epic dungeon in WoW: Shadowlands and clear all 8/8 Mythic difficulty bosses in no time! Account Sharing option is your best bet if you just want to save your time, especially for Hard Mode runs during first weeks after dungeon's release and selfplay option is always available for you also if you want to participate in Tazavesh Megadungeon and get the most epic gaming experience yourself. MmonsteR boosting store is also ready to provide you with cheap Tazavesh Megadungeon boost for sale through our Events Calendar, where you can pick a date and time of your Normal Mode or Hard Mode Tazavesh Dungeon carry any time! Just save yourself lots of time and skip unwanted boring wipes by using our Tazavesh Megadungeon boosting service with our professional and skilled players.
Get even more loot in our
Tazavesh Megadungeon Boost Runs

using our extra loot trade option (available in 1-2 weeks after Shadowlands Season 2 release)

If you want to be sure that you're taking out the maximum amount of loot from Tazavesh Megadungeon or want to gear your alts most quickly and efficiently, you should purchase X Loot option and get the real lootfall for your character with the help of additional players who will trade you all loot they get and eligible to trade! You will get a full-fledged Tazavesh Megadungeon lootrun with all the extra loot you can carry from our loot traders. We have lots of them prepared for you to meet any expectations and provide you with your loot satisfaction, just upgrade your Tazavesh Megadungeon boost run with Extra Loot option and you're ready to go. Please keep in mind that loot traders are not available during the first weeks of Shadowlands Season 2.
Personal Loot
Run with Personal Loot option means that quantity of items you will get fully depends on your luck, which we wish you most of all :) You will get all 226/233 item level loot which dropped for you personally during the run.
Additional Loot (X1 / X2 Loot)
You have the opportunity to buy additional X1 / X2 loot chance in our dungeon runs to increase the quantity of needed loot you may get during the run and to have a minimum quantity of items guaranteed.
X1 LOOT CHANCE
There will be 1 player with the same armor type in your group without loot ID who will trade you all items he may get during the run. Minimum guarantee is 2 items in 2 different item slots and in case of a bad luck we will get you another run next week to get you remaining items.
X2 LOOT CHANCE
There will be 2 players with the same armor type in your group without loot ID who will trade you all items they may get during the run. Minimum guarantee is 4 items in 4 different item slots and in case of a bad luck we will get you another run next week to get you remaining items.
Loot Distribution
In case you choose additional loot option (X1 / X2 Loot Chance) 1 / 2 players of the same armor type will be assigned to you and trade you all 226/233 ilvl loot they get for your character's chosen class and spec. Items, which are not an upgrade for your character, count towards minimum guarantee, however double items (2 items in a same item slot) don't. In case of a bad luck of not getting minimum guarantee we will make another loot run for your character to get remaining items next week absolutely free.
Guarantees
Number of items guaranteed depends on a loot option you choose, check out our loot table:
| | | |
| --- | --- | --- |
| Loot option | Number of players with the same armor type assigned to you in a group, who will trade you all the loot they get | Minimum number of items guaranteed in different slots |
| PL | - | - |
| X1 | 1 | 2 |
| X2 | 2 | 4 |
Things you should know and get ready to
There's one limitation with common Shadowlands loot system in which only items with lower item level than the ones player already has in the same item slot can be traded. Despite this, we guarantee that all of your assigned players will have higher item level than the basic item level of items dropped in this run (226/233) and will be able to trade you 99.9% of items they get.
Login or Register with...
---
Tazavesh dungeon boost run delivered in time, with 0 issues. Best boosting service!