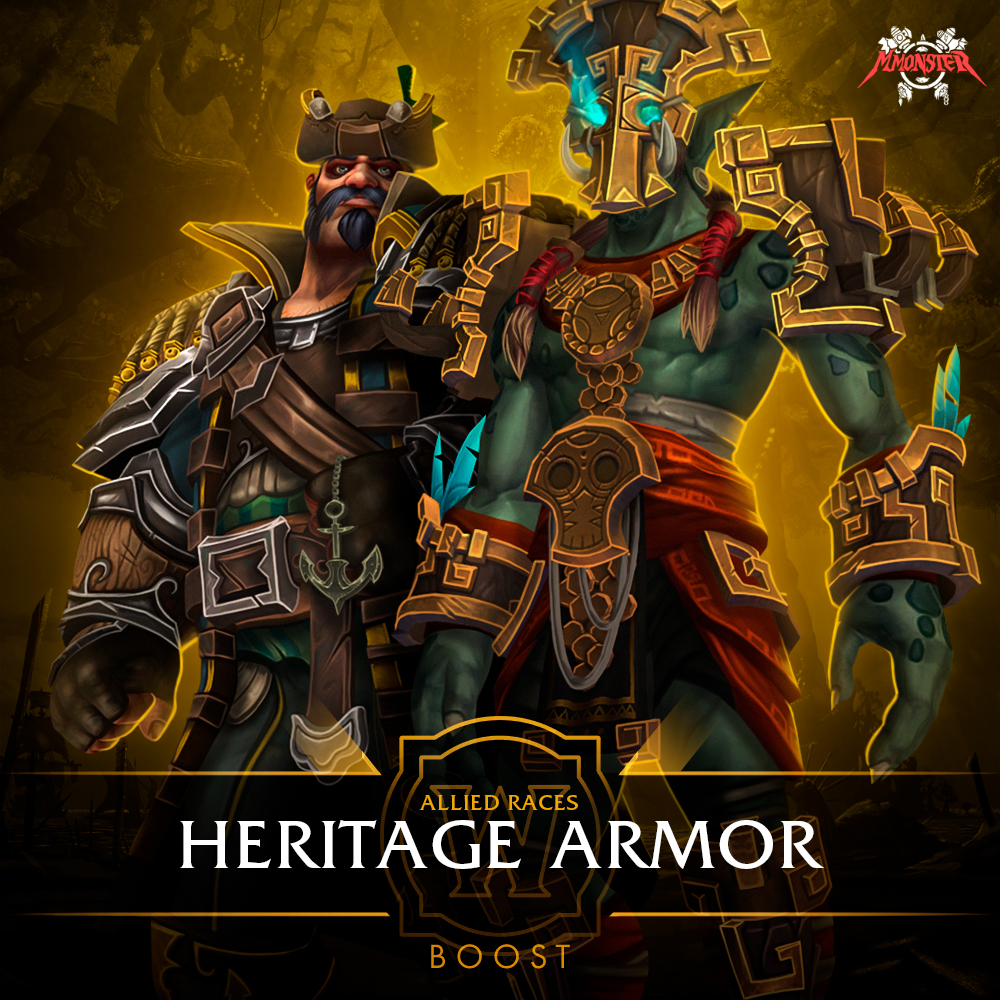 Allied Races Heritage Armor Set Unlock Boost
You will get your Allied Race character power leveled to 50 level by our pro boosting player by hand
Login and p

assword, your account safety guaranteed.
Estimated Delivery Time is up to 70 hours.
What is Heritage Armor set and why you need to buy unlock boost
Heritage Armor sets are cosmetic armor sets unique to each Allied Race and some core races introduced in World of Warcraft: Battle for Azeroth expansion. There are total of 10 Allied Races added in BFA and every its Heritage Armor Set is unlocked by leveling respective Allied Race character to level 50 without the use of additional features like Recruit a Friend extra levels bonus, Character boost, race change or faction change services. Each Allied Races set can be used for transmogrification by any character of that particular race regardless of armor type. Additionally to that, once acquired, you will get special achievement unlocking this set account-wide. To receive Heritage Armor for your freshly unlocked Allied Race character you will need to level your character from 10 to 50 level by hands and that may take long weeks of grind every evening after work or school, so what we offer is professional leveling for up to 70 hours from 10 to 50 to get the job done. Just order heritage armor gear for your character and you will get quick professional boost by the best boosting service on EU and US regions.
Best way to get Allied Race Heritage Armor Set and how the unlock boost is done
Getting Allied Races Heritage Armor is easy with MmonsteR! Buy Allied Races Heritage Armor set farm boost service and join the ranks of your faction in the upcoming war with your new leveled Allied Race character in its unique authentic outfit in shortest time. Our allied races leveling boost carried out by our pro players by hand in a combined way by running dungeons and completing quests. We guarantee security of your account, complete anonymity and reliability of our power leveling service. Estimated delivery time of our Allied Race Heritage Armor set boost is up to 70 hours, but that's the maximum term and can be done earlier. You can buy Allied Races Heritage Armor Set boost with account sharing only. Our professional and trusted MmonsteR players will kindly power level your character to 50 level with this World of Warcraft (WOW) Allied Races Heritage Armor Set boosting service really fast so lean back and watch your character collects all those tasty rewards and achievements and tremendously grows in power!
Login or Register with...