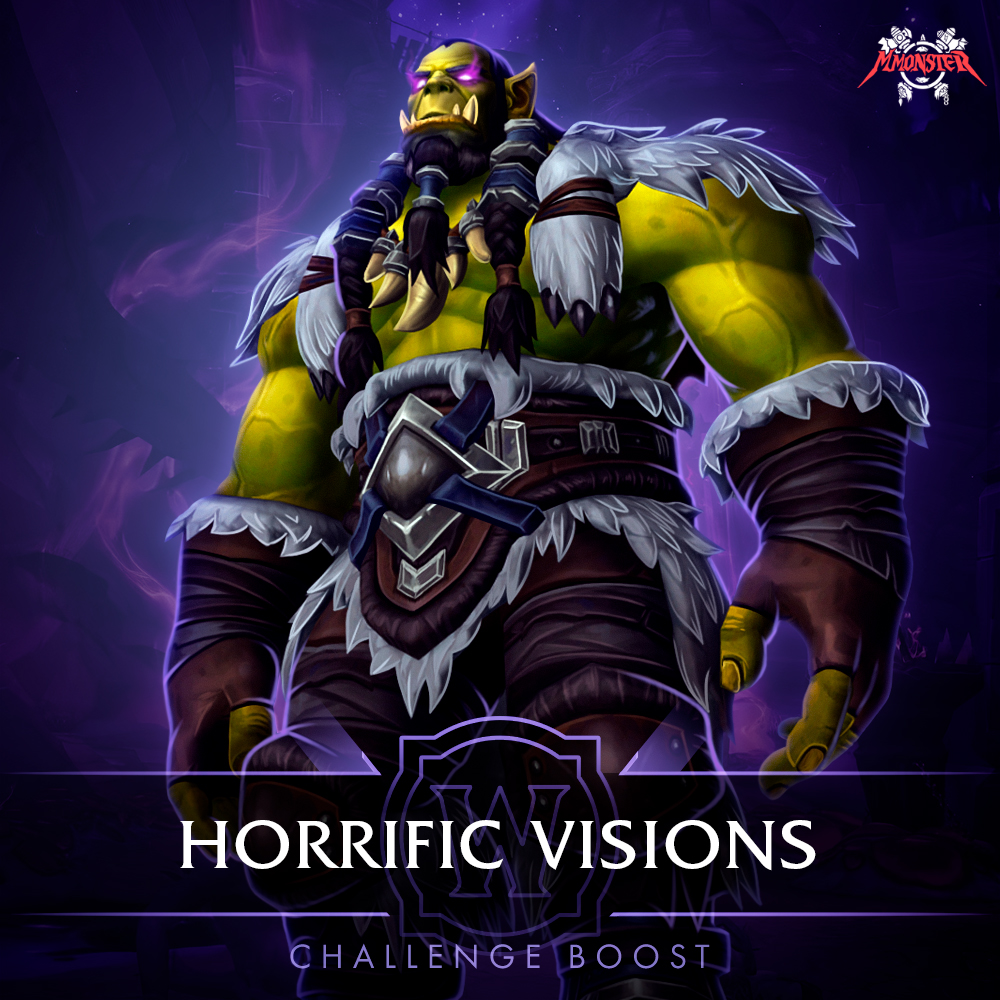 Horrific Visions Challenge Boost
One Horrific Visions Full Clear (5/5 Objectives) Challenge run completed including all 5 objectives done in all 5 areas: 2 Lost Areas, 2 Corrupted Areas and 1 Tainted Area with selected amount of active Masks

100 up to 125 item level corrupted gear from the End of Run chest. Item level hardly depends on amount of masks and subsequent number of runs during the reset (each subsequent completion within one reset reduces the reward by 5 item levels):


Horrific Visions Challenge Boost
Reward from End of Run chest (ilvl)
Full Clear with No Masks

100 item

Full Clear +1 Mask

105 item

Full Clear

+2

Masks

110 item

Full Clear

+3

Masks

115 item

Full Clear

+4

Masks

120 item

Full Clear

+5

Masks

125 item
Lots of Corrupted Mementos to unlock upgrades at your Titanic Research Archive (amount of gained highly depends on boost run option and your character's titanic research archive talents). Average values:
- Full Clear with No Masks: 1000 - 1500 Corrupted Mementos
- Full Clear +5 Masks: 3000 - 4000

Corrupted Mementos

Chance to obtain some pets, toys and other rewards
60 Lvl Character. Don't have one yet? Take advantage of our Power Leveling Boost service.

Black Empire Campaign completed to unlock Horrific Visions. If you don't have it, simply add it as an extra option.
Certain minimum item level of your character, minimum Legendary Cloak rank and minimum amount of Titanic Research Traits learned depending on Horrific Visions boost run you've chosen to get all the rewards from the run:
- Full Clear (5/5 objectives) + 0 Masks

requires 85+ ilvl and Rank 1+ of your Legendary Cloak


- Full Clear (5/5 objectives) + 5 Masks

requires 100+ ilvl and Rank 6+ of your Legendary Cloak and at least 4 Titanic Research Traits learned


- Full Clear (5/5 objectives) + 5 Masks Solo requires 115+ ilvl and Rank 12+ of your Legendary Cloak, all 5 masks unlocked and full Titanic Research Traits learned

Login and p

assword in case of account sharing option, your account safety guaranteed.
Estimated Delivery Time is up to 2 hours
What is Horrific Visions Challenge and how to buy boost in EU region
New World of Warcraft patch 8.3 Visions of N'Zoth brings us some new content to experience and some new ways to obtain cool rewards. And such piece of major content is Horrific Visions similar to Legion's Mage Tower and Death of Chromie scenario, an instanced challenges for 1 to 5 players who are fighting their way through the twisted future of Orgrimmar and Stormwind where N'Zoth has succeeded in revitalizing the Black Empire and doomed the whole Azeroth. The city changes weekly and is consistent throughout the week. Both Stormwind and Orgrimmar mechanically function the same, but have their own unique objectives, layouts, secrets and some rewards are tied to one or the other. Horrific Visions Challenge will scale seamlessly from 1 to 5 players regardless of your role, and rewards are equal regardless of the size of the group so you should experience this in the best way that suits your playstyle. You will need one Vessel of Horrific Visions to enter one Horrific Visions Challenge and these are farmed through N'Zoth Assaults in Uldum and Vale of Eternal Blossoms mostly (we can even do that for you either, just add this extra option when ordering). Buy new Horrific visions boost from the safest and most reliable boosting service on both EU and US regions, join the most epic piece of content in the whole WoW: Battle for Azeroth expansion and get all the cool rewards in no time! Account Sharing option is your best bet if you just want to save your time and selfplay option is always available for you also if you want to participate in Horrific Visions run and get the most epic gaming experience yourself. Please note that there may be also some special requirements in order to complete specific Horrific Visions Challenge Boost runs option so please read carefully requirements tab and boost option hints.
How we carry Horrific Visions challenge and why you need the boost
Even if you are an experienced player with the best gear from previous raid, Horrific Visions will still be a tough challenge for you especially during the first weeks or inside higher tier areas with Bonus Objectives and Faceless Masks active. While inside of the Horrific Visions, you will have Sanity bar with 1000 Sanity which is constantly decreasing with time (the harder the zone, the faster your sanity is drained), when you hit by mobs/elites or are affected by horrific visions effects or boss mechanics. If your Sanity reaches 0 or you die during the horrific visions challenge - it will end and you will be teleported out to the Chamber of the Heart without the major rewards (not gonna happen with our Horific Visions boost!). To resist overwhelming madness and venture deeper into the Horrific Visions and earn better rewards there are two things in game currently: Legendary Cloak Ashjra'kamas, Shroud of Resolve which we will get from Wrathion during Black Empire campaign and will be constantly working on to improve it by upgrading its Rank. The second thing is Titanic Research Archive talents allowing you to resist against N'zoth's corruption even more and give you new tools to overcome greater threats in Horrific Visions. You will need to bring a lot of Corrupted Mementos out of Horrific Visions runs to MOTHER in the Chamber of Heart to progress and upgrade new traits in the Titanic Research Archive. As you can see, Horrific Visions is very complex and mandatory feature to develop your WoW character in new Visions of N'Zoth patch 8.3 and failure is really punishing because you have very limited amount of attempts every week so buy our Horrific Visions boost and save yourself lots of nerves, time and effort.
Horrific Visions Rewards: Buy the Boost - enjoy the Loots!
For completion of Horrific Visions challenge there will be cool rewards waiting for you in the chest(s) in rewards chamber at the end of the vision containing 80+ item level corrupted gear, new Azerite Essences, cosmetic and transmog rewards, toys, battle pets and more. Also, during the Horrific Visions run you will earn some Corrupted Mementos and obtain special items to upgrade your Legendary Cloak. To successfully finish Horrific Vision challenge and get the basic rewards from Thrall's (Orgrimmar) or Alleria's (Stormwind) Corrupted Chest you will need to complete Main Objective located in the starting Tier 1 Tainted Area by killing Thrall or Alleria respectively. For those of you who seek bigger challenges and better rewards Horrific Visions have 4 additional bonus areas (two Tier 2 Corrupted Areas and two Tier 3 Lost Areas) where sanity drain is increased drastically and even harder threats awaits. And if you seek to get absolutely best rewards, including corrupted gear up to 470 item level, maximum amount of Corrupted Mementos, earn cool Through the Depths of Visions achievement and Mad World hidden Feat of Strength, unique Black Serpent of N'Zoth mount and special items to reach maximum Rank 15 for your Legendary Cloak there are total of 5 Faceless Masks which are an end-game system to Horrific Visions drastically increasing its difficulty even more. You can obtain these masks from Corrupted and Lost areas during your Horrific Visions runs and can activate them before the runs if you will so. Depending on your character's item level and legendary cloak rank account sharing option may not be recommended for some Boost Run options due to the higher complexity and sanity mechanics involved in the Horrific Visions. Though, there is always selfplay option available for you to experience Horrific Visions yourself along with our professional players. You won't have to face all the trials during the Horrific Visions Challenge selfplay run at all, just follow the player(s), enjoy the show and grab the rewards! Our professional and trusted Mmonster players will kindly boost your character with this World of Warcraft (WOW) Horrific Visions boosting service really fast so lean back and watch your character collects all those tasty rewards and achievements and tremendously grows in power!
Login or Register with...