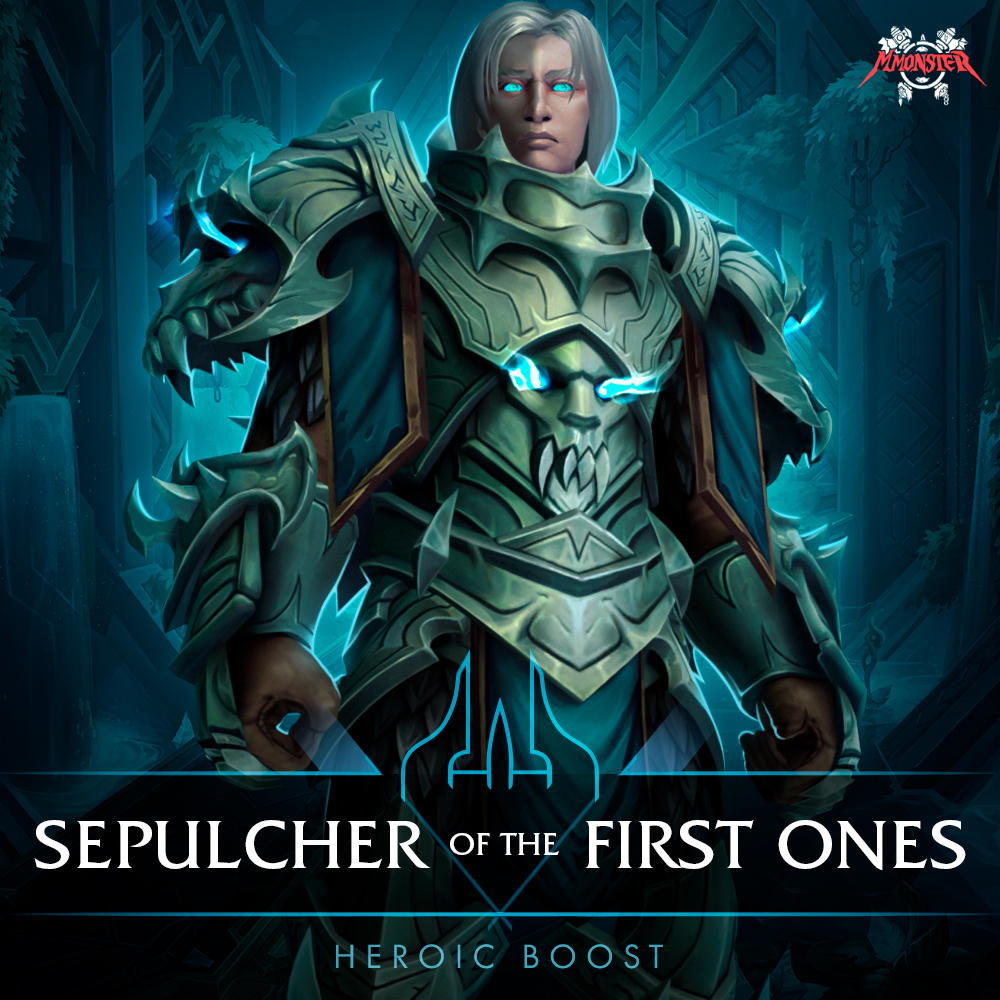 Sepulcher of the First Ones Heroic Boost Run
Here you can buy
Sepulcher of the First Ones Heroic Boost run

to get some cool

265/272 item level raiding gear

and other rewards fast and easy
Selected amount of Sepulcher of the First Ones Heroic bosses killed participating in one of our best raiding teams. Check Loot Run Info tab for more information regarding available boost run options and boss sequence

Heroic: Sepulcher of the First Ones achievement

Cool unique Carcinized Zerethsteed flying mount and Ahead of the Curve: The Jailer Feat of Strength for 11/11 Sepulcher of the First Ones Heroic Raid, 3 Last Bosses Kill and The Jailer Kill raid options
265 item level (272 item level from three last bosses) loot for your character's chosen class and spec including new Progenitor Class Tier Set items. Check Loot Run Info tab for more information
Lots of Cosmic Flux currency for every boss kill required to craft or upgrade your Legendary Item to Rank 7 (292 Item Level) and to convert one piece of Shadowlands Season 3 gear into a Progenitor Tier Set Piece
Chance to obtain Conduits for your Covenant Soulbinds customization
Tons of Anima to upgrade your Covenant Sanctum buildigns or to buy come cool rewards
Raid with Personal Loot (PL) option means that quantity of items you will get fully depends on your luck, which we wish you most of all :) To increase the quantity of loot and to get minimum quantity of items guaranteed you should consider our X Loot system. Check Loot Run Info tab for more information. *Please note, that loot traders become available only in several weeks after the raid's release.
245+ item level gear of your character for Account Sharing option. If you don't have the required item level, plase select Selfplay option.

Login and password in case of account sharing option, your account safety guaranteed.
Sepulcher of the First Ones Raid

- new Shadowlands: Eternity's End raiding content to explore

Sepulcher of the First Ones is a new WoW Shadowlands raid located in Zereth Mortis where players will put an end to the Jailer's wrath, facing 11 powerful bosses inlucding well known characters such as Dominated Anduin Wrynn, dreadlord Mal'ganis, Artificer Xy'mox and Zovaal, the Jailer as the final encounter. Sepulcher of the First Ones heroic raid is released on March 1 in US region and on March 2 in EU region, one week after new Eternity's End patch 9.2 hits live servers on February 22. The raid is available in 4 difficulty modes: LFR, Normal, Heroic and Mythic and consists of 4 floors with linear structure. Join this epic adventure alongside with our best boosting guilds, be the one of the first to get SotFO Heroic Raid Run and have the best gaming experience and pastime you have ever had!
Buy
SotFO Heroic Boost Run

- the best way to get your guaranteed 265/272 item level gear fast and easy

Sepulcher of the First Ones raid on Heroic difficulty drops 265 item level gear (272 item level from three last bosses) with the Zereth Mortis aesthetic weapons and armor as loot rewards for killing bosses. Also, each class will be able to get the new 5 piece Progenitor Class Tier Set items from the SotFO raid. And on top of that, a guaranteed weekly reward from The Great Vault will be waiting for you in the coming reset for killing bosses in Sepulcher of the First Ones raid. Item level of reward from the Great Vault will be equal to item level of loot dropped from SotFO heroic raid - 265/272 item level (you will need to kill 3 last bosses in Heroic raid for a chance of 272 item level item to appear). You can also unlock additional items (up to 3) to choose from by killing more bosses in a raid giving you more choice and chances to get the desired item, but still you can pick only one guaranteed weekly reward from the the Great Vault. Depending on amount of bosses killed during the week you will unlock following rewards to choose from in your Vault:
1 item of 265/272 item level unlocked - 2/10 bosses killed during one reset week;

2 items of 265/272 item level unlocked - 5/10 bosses killed during one reset week;

3 items of 265/272 item level unlocked - 8/10 bosses killed during one reset week.
Sepulcher of the First Ones heroic raid gear will benefit your character during the whole Shadowlands Season 3 up until the new WoW expansion release. So what are you waiting for? Get your Sepulcher of the First Ones Heroic Boost Run today and watch your character collects all this cool gear and tremendously grows in power!
All
Sepulcher of the First Ones Heroic Loot Run

rewards - buy the boost, enjoy the loot!

Even if you are an experienced player with the best raid or dungeons gear, Sepulcher of the First Ones heroic raid will still be a tough challenge for you. However, the rewards you will get for completing it are really high: along with the best 265 / 272 item level raiding gear with top stats, including the new 5-piece Progenitor class tier set powering up your character even more, you will get Ahead of the Curve: The Jailer Feat of Strength achievement and unique Carcinized Zerethsteed flying mount for killing The Jailer heroic last boss, lots of Cosmic Flux currency required to craft and upgrade shadowlands legendary items as well as to craft Progenitor tier set items, chance to obtain new Conduits for your Covenant Soulbinds customization and some Anima. There are no special requirements to buy Sepulcher of the First Ones Heroic boost other than 60 level of your character (you can order Shadowlands Power Leveling Boost at our store). You can buy Sepulcher of the First Ones Heroic boost run with account sharing or selfplay. Our professional and trusted Mmonster players will kindly boost your character with this World of Warcraft (WOW) SotFO Heroic boosting carry service really fast so lean back and enjoy rewards.
Simply buy
Sepulcher of the First Ones Heroic Boost

and complete the raid in no time

Buy new heroic Sepulcher of the First Ones raid boost released in Shadowlands: Eternity's End 9.2 patch from the safest and most reliable boosting services on both EU and US regions, join the most epic raid in Shadowlands and clear all 11/11 Heroic difficulty bosses in no time! Account Sharing option is your best bet if you just want to save your time, especially for Heroic raids during first weeks after raid's release and selfplay option is always available for you also if you want to participate in Sepulcher raid and get the most epic gaming experience yourself. MmonsteR boosting store is also ready to provide you with cheap SotFO Heroic boost for sale through our Events Calendar, where you can pick a date and time of your heroic Sepulcher of the First Ones raid carry any time! Just save yourself lots of time and skip unwanted boring wipes by using our Sepulcher of the First Ones raid boosting service with our pro players.
Get even more loot in our
Sepulcher of the First Ones Heroic Boost Raids

using our extra loot trade option

If you want to be sure that you're taking out the maximum amount of loot from Sepulcher of the First Ones Heroic raid or want to gear your alts most quickly and efficiently, you should purchase X Loot option and get the real lootfall for your character with the help of additional players who will trade you all loot they get and eligible to trade! You will get a full-fledged Sepulcher of the First Ones heroic lootrun with all the extra loot you can carry from our loot traders. We have lots of them prepared for you to meet any expectations and provide you with your loot satisfaction, just upgrade your Sepulcher of the First Ones boost run with Extra Loot option and you're ready to go. Please keep in mind that loot traders are not available during the opening raid weeks. And if you are already geared your character in full 265+ gear, consider our Sepulcher of the First Ones Mythic Boost Run to keep upgrading your character even further.
Personal Loot
Raid with Personal Loot option means that quantity of items you will get fully depends on your luck, which we wish you most of all :) You will get all 265/272 ilvl loot for your character's chosen class and spec including socketed items which may drop for you personally during the run.
Additional Loot (X Loot)
You have the opportunity to buy additional X loot in our raids to increase the quantity of needed loot you will get from the raid and to have a minimum quantity of items guaranteed (just like it was in Master Loot raids).
Loot Distribution
In case you choose additional loot option (X Loot) selected amount of players of the same armor type will be assigned to you (you will know beforehand at which group number are your assigned players) and trade you all 265/272 ilvl loot for your character's chosen class and spec. Items which drops for you personally and items, which are not an upgrade for your character, count towards minimum guarantee, however double items (2 items in a same item slot) don't. In case of a bad luck of not getting minimum guarantee we will make another loot run for your character to get remaining items next week absolutely free.
Guarantees
Number of items guaranteed depends on a loot option you choose, check out our loot table:
*information provided applies to 11/11 Sepulcher of the First Ones Heroic boost run
| | | | |
| --- | --- | --- | --- |
| Loot option | Number of players with the same armor type assigned to you in a raid, who will trade you all the loot they get | Number of characters with the same class and spec as your character | Minimum number of items guaranteed in different slots |
| PL | - | - | - |
| X1 | 1 | - | 3 |
| X2 | 2 | - | 4 |
| X3 | 3 | 1 | 5 |
| X4 | 4 | 1 | 6 |
| X5 | 5 | 2 | 7 |
| X6 | 6 | 2 | 8 |
| X7 | 7 | 3 | 9 |
Bosses included in your Sepulcher of the First Ones Heroic Run depending on your selected Boost Run option:
| | | | | | |
| --- | --- | --- | --- | --- | --- |
| | 5/11 Bosses | 8/11 Bosses | 10/11 Bosses | 11/11 Bosses | 3 Last Bosses |
| Vigilant Guardian | r | ✔ | ✔ | ✔ | |
| Skolex, the Insatiable Ravener | a | ✔ | ✔ | ✔ | |
| Artificer Xy'mox | n | ✔ | ✔ | ✔ | |
| Dausegne, the Fallen Oracle | d | ✔ | ✔ | ✔ | |
| Prototype Pantheon | o | ✔ | ✔ | ✔ | |
| Halondrus the Reclaimer | m | ✔ | ✔ | ✔ | |
| Lihuvim, Principal Architect | | ✔ | ✔ | ✔ | |
| Anduin Wrynn | | ✔ | ✔ | ✔ | |
| Rygelon | | | ✔ | ✔ | ✔ |
| Lords of Dread | | | ✔ | ✔ | ✔ |
| Zovaal, the Jailer | | | | ✔ | ✔ |
Things you should know and get ready to
There's one limitation with common Shadowlands loot system in which only items with lower item level than the ones player already has in the same item slot can be traded. Despite this, we guarantee that all of your assigned players will have higher item level than the basic item level of items dropped in this raid (265) and will be able to trade you 99.9% of items they get. Please note that BOE items can not be traded. Minimum loot guarantee applies to 11/11 SotFO Heroic boost runs only, we can not guarantee this amount for lesser bosses runs.
SotFO Heroic Sell Run FAQ
Sepulcher of the First Ones Heroic Boost is a new SotFO raid run to kill all 11 bosses on Heroic difficulty with our top payers where you can get some cool 265/272 item level raiding gear and other rewards fast and easy.
Doing Sepulcher Heroic Raid can be time consuming and may require a lot of effort and skill from you and/or your team mates. Our professional players are well trained and suitable for any task. They are constantly learning and improving their gaming skills in order to save you a lot of time and help you skip unwanted struggle so you can immediately start reaching your in-game goals, win rewards and enjoy your gaming time.
You can read about all relevant rewards you will get by completing the boost under the Service Includes tab. If the service is more complex and have some advanced options structure with a lot of additional rules and conditions, please also learn Service Details/Loot Run info tab (if any available) or extra option notes (under the "?" mark) to find out exactly what you are entitled before purchasing a particular service and/or extra option.
Only when it's possible, our managers will appoint your gaming sessions and define time frames when the account will be available for you to play. Please understand that our players schedule their gaming sessions on your account beforehand and plan the boosting process to accomplish your boost in most efficient way. Interfering in the boost process and non-compliance with the schedule will result in extended terms of boost completion. Also, keep in mind that logging in to the account when other player already logged in can compromise its security. In that case we won't be able to hold responsibility for any unwanted consequences.
In case we need to share your account with our booster for the boosting service, our support manager will contact you for the login details. Then he will pass your login details to your booster who will type them in to the game client or launcher to enter your game account. Depending on security settings you have at your game client or launcher you will be required to provide our support manager with a security code from an email, sms or 3rd party authentication device or app to successfully authenticate our booster's login to your account.
You can learn all the requirements for the boost under the Requirements Tab. If it is stated that requirements are various and hardly dependant on lots of factors, please contact our support managers and they will gladly help to analyze your character and advise on the following steps to meet the requirements or offer an alternative service which will give the same or similar result.
You can check your boost progress status on your MmonsteR website's Order page under the Status line. You can also ask our support managers to get your boost's status update, more precise info like estimated completion time and your booster's operating hours. Please note that sometimes due to increased workload it may take some time to process your request. You may also leave a feedback of our boosting service during or after the boost so we can improve and provide you with a better experience next time you use our service.
We cooperate only with qualified and experienced top world players who participate personally in each event, providing most relevant services. Currently we have more than 9000 satisfied customers, 100000+ completed boosts and 8000+ positive reviews proving our flawless reputation as one of the best boosting services on the market. MmonsteR is officially registered in Germany (GmbH) so you can trust us with your money. We guarantee your privacy, account's safety and secure payments using the most reliable payment providers while bringing you top-notch service and flexible approach with best care possible. Every single service is done by hand and only through legit gameplay. We track all services in real-time and ensure that no third-party software or scripts are being used.
Login or Register with...