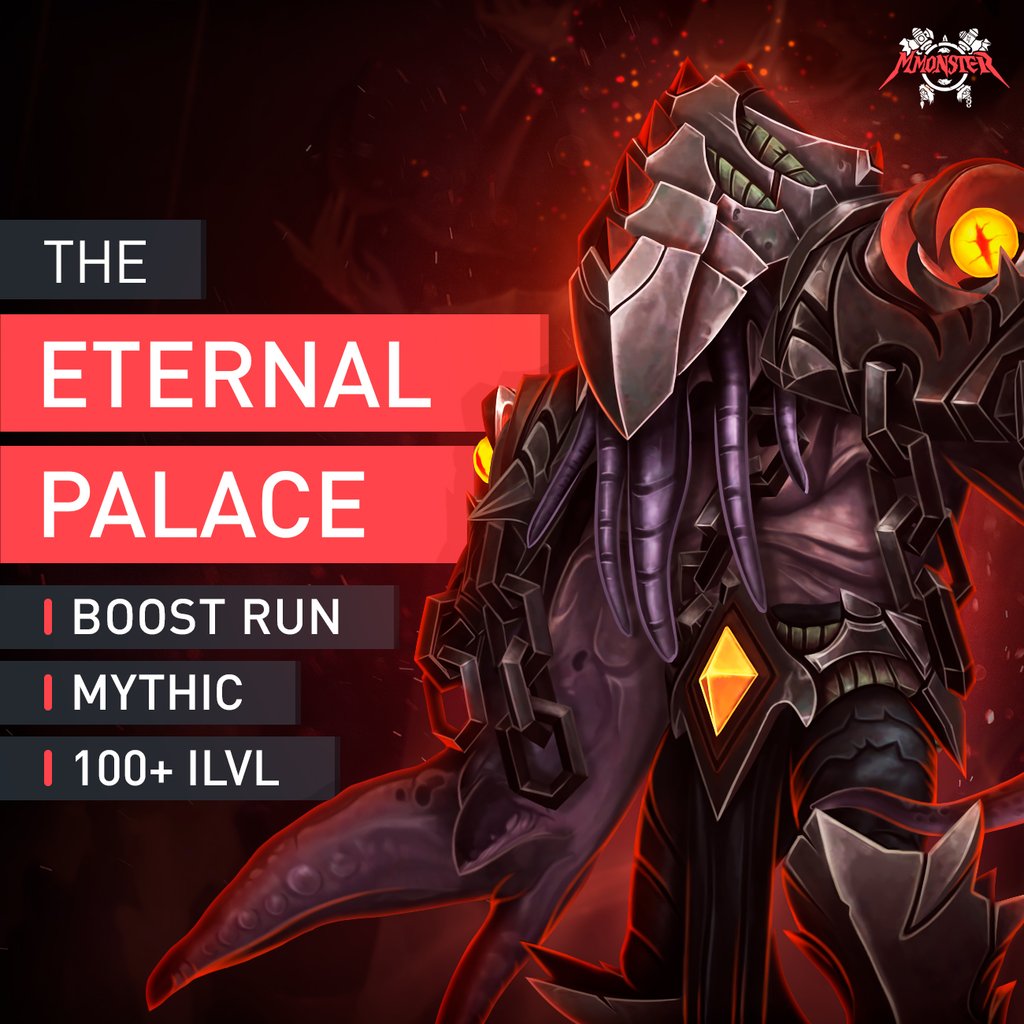 The Eternal Palace Mythic Boost
CURRENTLY THIS SERVICE IS AVAILABLE ON

EU

REGION ONLY
Login and p

assword in case of account sharing option, your account safety guaranteed.
What is The Eternal Palace raid and why you need to buy TEP mythic raid boost carry
Deep within the capital of Naga known as Nazjatar you will find the queen Azshara's palace called The Eternal Palace where the most terrible secrets lurking deep under water are to be discovered. Azshara's Eternal Palace is the fourth Battle for Azeroth raid where you will face 8 bosses along with the Queen Azshara herself and end her threat once and for all. The Eternal Palace Mythic raid is released in 3 weeks after new Battle for Azeroth patch 8.2 Rize of Azshara hits on live servers. The raid consists of 3 wings, has mostly linear form except 2nd and 3rd bosses which can be done in any order and has the Naga themed weapons and armor as loot rewards for killing bosses.

The Eternal Palace raid on Mythic difficulty has a weekly lockout and drops 100+ item level loot which can be warforged or titanforged (increased item level) and can have a socket on them. Join this epic adventure alongside with our best boosting guilds, be the one of the first to get The Eternal Palace Mythic Boost Run and have the best gaming experience and pastime you have ever had!

You can buy The Eternal Palace Mythic boost run with account sharing or selfplay. Our professional and trusted Mmonster players will kindly boost your character with this World of Warcraft (WOW) Azshara's Eternal Palace Mythic boosting service really fast so lean back and watch your character collects all those tasty rewards and achievements and tremendously grows in power!
Personal Loot

Raid with Personal Loot option means that quantity of items you will get fully depends on your luck, which we wish you most of all :) You will get all 100+ ilvl loot

for your character's chosen class and spec including warforged, titanforged and socketed items which will drop for you personally during the run.

Loot Distribution

We guarantee that you will get a minimum 5 items in different slots during The Eternal Palace Mythic Loot run. To achieve that in personal loot run, some of our players will trade you some random items they may get. Please note that only quantity of items in different slots is guaranteed, you can't choose which items will be traded to you. Minimum guarantee is just a bad luck protection so you can count on getting 100% minimal reward and it doesn't mean you won't get more items, actually you can and definitely will :) Bonus roll items and items which are not an upgrade for your character count towards minimum guarantee, however double items (2 items in a same item slot) don't. In case of a bad luck of not getting minimum guarantee we will make another loot run for your character to get remaining items next week absolutely free.

Things you should know and get ready to

There's one limitation with common loot system in which only items with lower item level than the ones player already has in the same item slot can be traded. Despite this, we guarantee that all of your assigned players will have same or higher item level than the basic item level of items dropped in this raid (100) and will be able to trade you some items they get for a minimum guarantee. The only exceptions are Titanforged items of very high item level increase which, with all our desire, can not be traded.