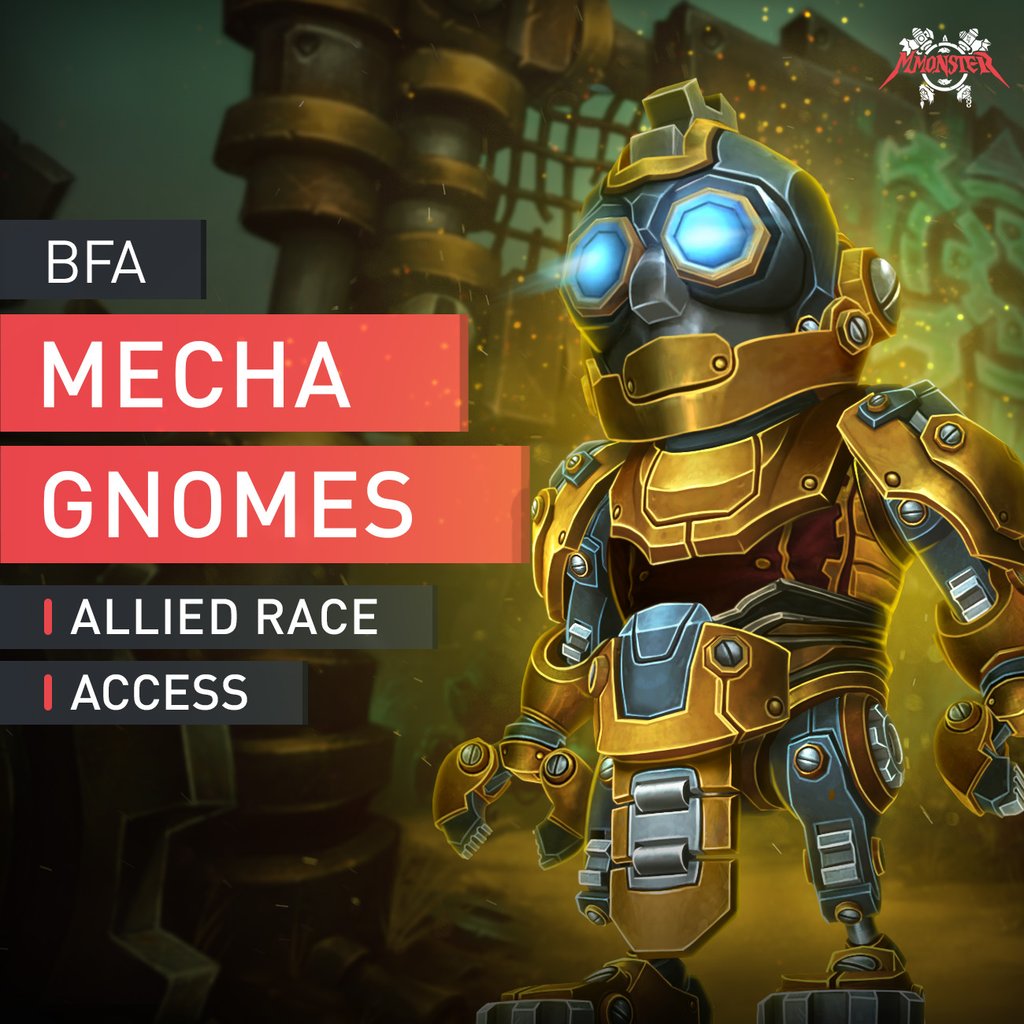 Mechagnome Allied Race Unlock Boost
You will get Mechagnome Allied Race unlocked and ready to play
Upon

unlocking your Mechagnome allied race character you will get various rewards:
50 Lvl Character on a Horde faction. Don't have one yet? Take advantage of our Power Leveling Boost service.
Login and p

assword, your account safety guaranteed
Lead time is up to 24 hours
Who are Mechagnome Allied Race and why you need to buy unlock access boost
New World of Warcraft: Battle for Azeroth long waited playable Mechagnome Allied Race is here to join heroes of Horde in the upcoming battles. Mechagnomes are the former gnomes, mostly members of Rustbolt Resistance, who mechanized themselves within the isolated Mechagon metropolis. They were recently freed from the threatening King Mechagon dictate and now seek for new adventures within the ranks of the Alliance. This allied race (along with Vulpera) becomes available to unlock and play with the release of the last Battle for Azeroth major patch 8.3 Visions of N'Zoth, granting players new gaming experience with the addition of new Mechagnomes race and new race/class combinations.
Our team will do all the necessary preparations, achievements, storylines and faction reputation farm so you can start playing your allied race character right away: Mechagon main storyline questchain The Mechagonian Threat and final scenario finished. Join the ranks of your faction in the upcoming war with your new Mechagnome allied race character in shortest time with our Mechagnome Allied Race Unlock service.


You can buy BFA Mechagnome Allied Race Unlock boost with account sharing only. Our professional and trusted Mmonster players will kindly boost your character with this World of Warcraft (WOW) BFA Mechagnomes Allied Race Unlock boosting service really fast so lean back and watch your character collects all those tasty rewards and achievements and tremendously grows in power!
Mechagnome Classes
Mechagnome Racial Traits