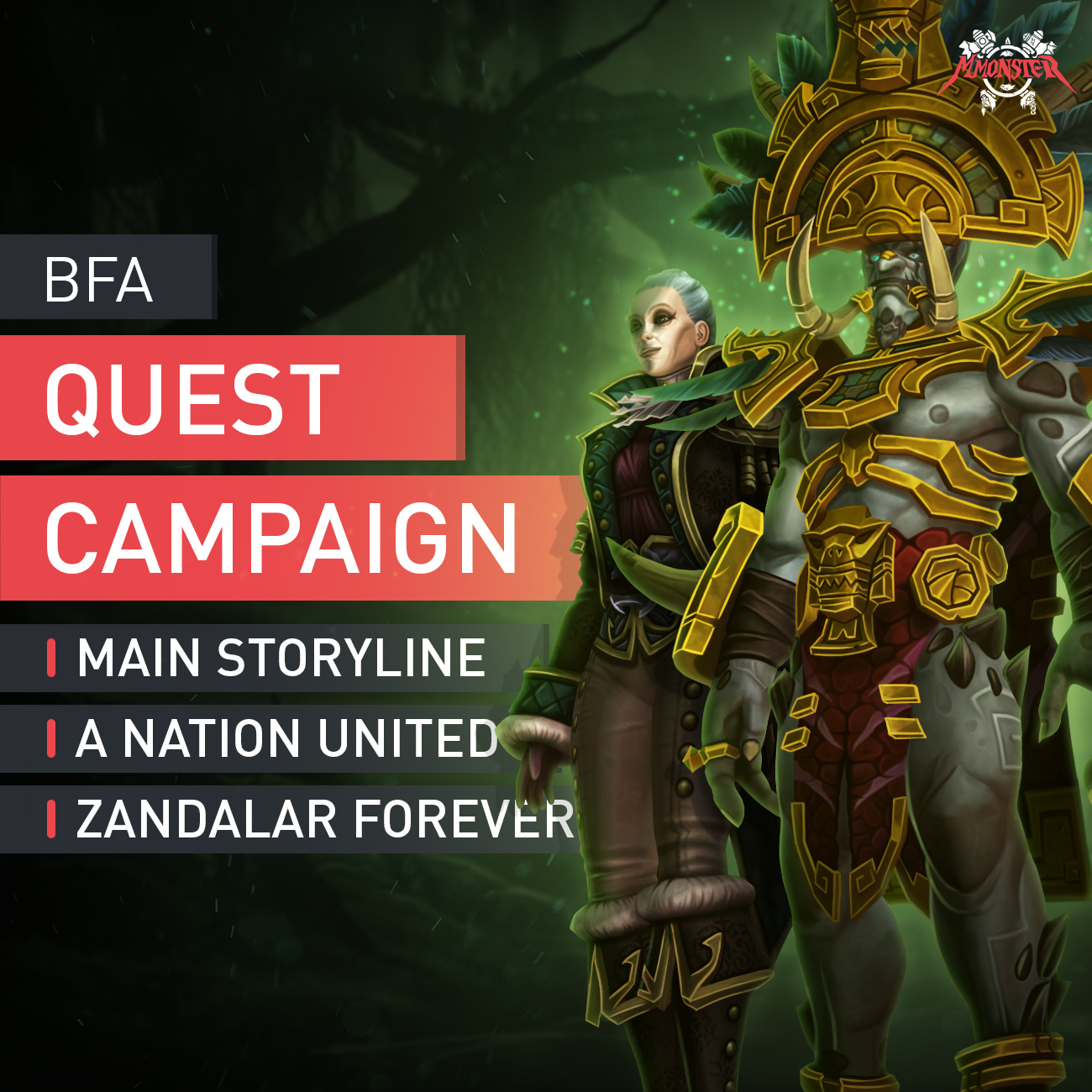 Battle for Azeroth Quest Campaign Boost
2 Mythic Dungeons access: Siege of Boralus for Alliance and King's Rest for Horde
All 3 Zandalar / Kul Tiras zones access for Alliance / Horde character respectively

World Quests access
Login and p

assword, your account's safety guaranteed.
Lead time is up to 48 hours approximately
New World of Warcraft: Battle for Azeroth expansion brings us a full-fledged conflict between the Horde and the Alliance factions to gain full control of Azerite. And as in any new expansion, each faction has its own huge questline in each zone which has to be completed in order to finish main storyline chapter and gain access to some new content. The main storylines are Zandalar Forever! for Horde and The Pride of Kul Tiras for Alliance; accomplishing these achievements grants you access to 2 Mythic Dungens: Siege of Boralus for Alliance and King's Rest for Horde, all 3 paths to the opposite faction's zones, World Quests access and brings you closer to Battle for Azeroth Pathfinder, Part One achievement. Join our team, rush into epic Battle for Azeroth completing Quest Campaign for any faction fast and easy, get your ultimate rewards and have the best gaming experience and pastime you have ever had!

You can buy Quest Campaign boost with account sharing only. Our professional and trusted Mmonster players will kindly boost your character with this World of Warcraft (WOW) Quest Campaign boosting service really fast so lean back and watch your character collects all those tasty rewards and achievements and tremendously grows in power!
Login or Register with...