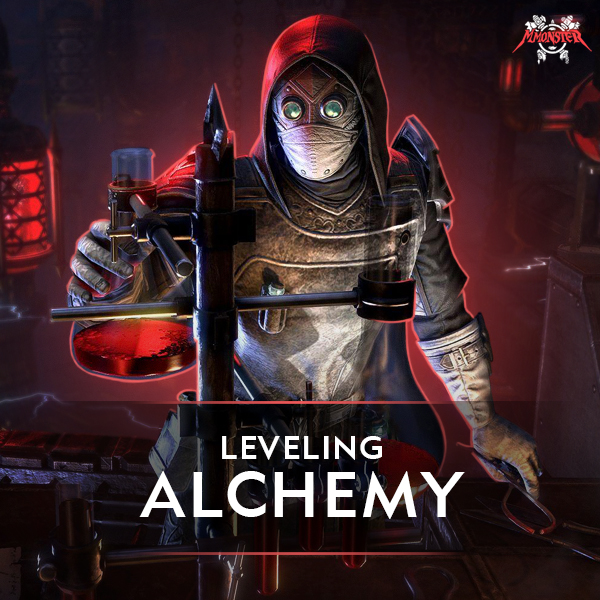 Selected character Alchemy Profession will be power leveled from 1 to 50 lvl


Estimated boost time around 15 minutes after start

With the professions leveling you will receive additional achievements and resources

Leveling is available on both regions - EU / US
ESO Online Account on PC (Don't have one yet? Check out our account catalog. Maybe you will find there already fully prepared acc, that you need)

Login Details (Login and Password if you're using Bethesda launcher or Steam Login and Password if you're using Steam Launcher)

Verification code, from your mail or phone(in case of steam guard phone protection)

Your account's safety guaranteed. All items, gold and other valuable items will stay in place
The Elder Scrolls Online features a crafting system similar to most modern MMOs. There are 7 professions: Alchemy, Blacksmithing, Clothier, Enchanting, Jewelcrafting, Woodworking and Provisioning. You can choose any crafts you want; however, to raise crafting tiers and make crafting more profitable, you need to invest skill points into your chosen craft(s). You can use Alchemy to create many types of potions and poisons. You must be at an alchemist's lab in order to create any items. In general, potions provide you with a quick boost to Health, Stamina, Magicka, as well as other beneficial effects. Poisons can be applied to your weapon, nullifying any enchantments but providing powerful additional effects. Alchemy works similarly to previous games in the series, in that you do not need to find alchemy recipes before attempting to make potions. You are also able to eat potion ingredients to discover their first effect. Otherwise, you can try putting multiple ingredients with unknown effects together to learn their properties. Making potions has been refined since Skyrim, and now requires two or three reagents plus a solvent. Using a more powerful solvent boosts the power of your potion. A water-based solvent creates a potion that you can drink to receive its effects, while an oil-based solvent creates poisons which can be applied to your weapons to cause negative effects on your enemies.

While potions can be crafted in batches of 1-4, poisons are created in batches up 4-16 samples (depending on your Chemistry passive). In general, you want to avoid negative effects when making potions, as these will only have undesirable effects. The Snakeblood passive mitigates these effects, but it's better to simply avoid them in the first place whenever possible. In poisons, all effects can be useful - negative effects will harm or debilitate your targets while positive ones will do the same to a lesser degree but also benefit you. Poison can be applied to any weapon, including Staves. Using a poison on a weapon will override its Enchantment until the poison has been depleted. Each strike has a 20% chance of triggering the poison's effect, reducing the poison charge on the weapon by one when it does so. In addition to potions and poisons, the Alchemy skill allows you to craft furnishings for your home.

All of this content is waiting for you, but to reach it out, you will have to lay your path throw a hundred of hours time-wasting repetative grind and quests, that most of the time foul the impression of the game. But don't hurry up to scream, that it takes "FOREVER!" to reach your desired point! Because we are here to help you out! No more lazy rats killing to get needed rank to level up, no more quest skipping to became champion! Our team provide you the best experience in world of ESO, fast and reliable service, makes all the long-term work, so you can make your wishes come true and conquer the desired content right away! Enjoy our ESO power leveling service now and focus on having fun instead of grinding!

Craft Professions Leveling: how the service will be carried out
After placing the order we will contact you to start boost service process. First of all we will need you to provide primary data, for account sharing (Login and Password), so our booster can receive access to your account. Second if there is needed, we will ask some additional information, if it was not yet provided from you before, like char name, time for account is available for boost or any other details, that you wish to clarify for us. After all preparation is done and we have all the needed info from you, in the nearest time our boosting member procceed to order completion. While boost is going you always have the opportunity to receive info about process, or to add some additional orders. When all the work is done we will inform you, so you can check all the work is done properly and complete.
How to get Alchemy Profession Leveling fast
Crafting Professions in ESO is a main part of the game, which goes aside while you exploring the world. If you're are truly adventurer, you will notice, that every time you leveled up, your armor and weapons are gettinge weaker, and your enemies growing stronger. Before you reach 160 champion level there is no easier way to rise your offenders skills, than craft armor and weapons suitable for your current level. And as well, to make your way to the champion one of the helping aspects for the game is using alchemy. From one side this is potions, for your sustain, from other side - it is poisons, to make your foes les powerful. To get alchemy boost fast, you will need three things - two of the easier getting ingridients, for example nirnroot you can find a lot near rivers, and spider eggs, this one easily can be found in spider nests or caves. And the last thing you need is oil catalizator, for this you don't need something special - just kill enemies, loot them and you will get drops of poison solvent. Then return to alchemy station - craft it, raise first Solvent Proficiency and go back to your adventure. And offcourse if you don't wanna waste a lot of your time, and just pop up in a fight fully geares and prepared, you can always count on our team to help you!

Why you need Elder Scrolls Online Alchemy Leveling service
Our service designed to greatly save your precious time, so you don't have to stuck on some tedious location lurking for another stone in the far corner of the map and hours of waiting just for another dungeon to load. We make all process fast and safe, so in the result of our professional ESO boost you will receive all that you wish, as well as some additional loot and other bonuses, that your hero will get during the boost performance. Our guys are the best boosting team with great helpful players and our support is there to answer your questions and assist you when you need it. While carrying we can provide you screenshots of current progress, if needed. We make any existing ESO carry services available for the best price! Try MmonsteR boost service and you will have your in-game helper from this moment on!
Login or Register with...