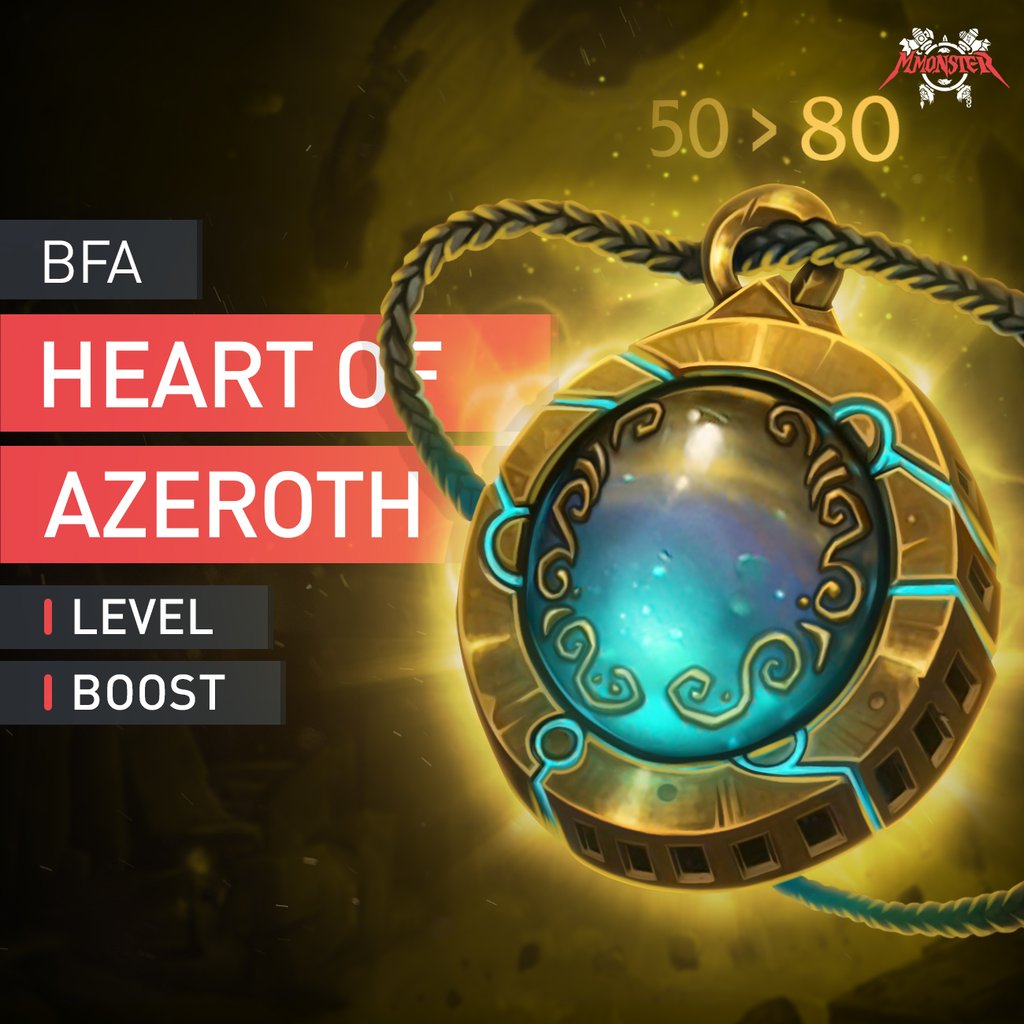 Heart of Azeroth Leveling Boost
You will get required Heart of Azeroth level gained and respective powers unlocked:



Heart of Azeroth Level
Powers Unlocked
Heart Forge Unlock
50 Level
Azerite Essence System unlocked
Major Power Slot unlocked

53 Level

3% Stamina Increase

55 Level

Minor Power Slot unlocked

57

Level

3% Stamina Increase

62

Level

3% Stamina Increase

6

5 Level

Minor Power Slot unlocked

67

Level

3% Stamina Increase

71

Level

3% Stamina Increase

7

5 Level

Minor Power Slot unlocked

80

Level

3% Stamina Increase
Heart of Azeroth item level upgraded (+2 item levels for each azerite level gained)
All these rewards will be easily yours after you buy our most reliable boost service in Europe (EU region) with affordable price and excellent support
Login and p

assword, your account safety guaranteed.
Lead time highly depends on option you've chosen. Heart Forge is unlocked in 1 hour.
What is Heart of Azeroth and why you need to buy boost carry
New World of Warcraft: Battle for Azeroth expansion as always brings us some new content to experience and some new ways to empower your character. Instead of old Legion Artifacts we are all getting the new Heart of Azeroth, necklace that will replace artifact weapon in Battle for Azeroth. This Neck will be there with you during the whole BFA expansion. Right after you get the Heart of Azeroth, its Azerite level will be 1 and item level 280. Then, you will need to collect Azerite (the stone shard blood of Azeroth) from different sources which will grant you Artifact Power, which in turn upgrades your Heart of Azeroth Azerite levels and increase its item levels (+2 item level for each azerite level). This way you will boost your Heart of Azeroth artifact amulet and open new traits for your Azerite Gear pieces which is the new system in BFA to greatly strengthen your character. Also, you can gain additional Heart of Azeroth item level upgrades by farming reputation with Champions of Azeroth faction to Friendly/Honored/Revered levels.
With Patch 8.2 Rise of Azshara Heart of Azeroth system is renewed adding more customization with new Essence items and their Major and Minor powers. These new Essence items can be socketed in your Heart of Azeroth to add new talent-like abilities or improve current ones and greatly empower your character. Every Essence has major and minor effects, and these effects are applied depending on a slot you've put your Essence into. Central major slot activates both major and minor effects of any Essence and two other minor slots activate only minor effects. Also, each Essence has different ranks which grant better effects and are obtained by performing different harder activities throughout the game. To be able to socket an Essence you will have to unlock the appropriate slots first by leveling your Heart of Azeroth neck and reaching certain Azerite levels and we are here to help you.
You can buy Heart of Azeroth boost with account sharing only. Our professional and trusted Mmonster players will kindly boost your character with this World of Warcraft (WOW) Heart of Azeroth boosting service really fast so lean back and watch your character collects all those tasty rewards and achievements and tremendously grows in power!