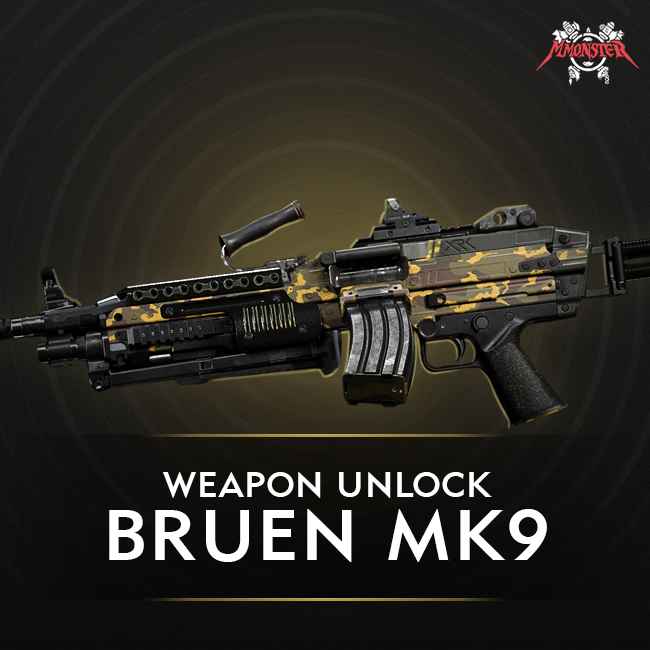 CoD MW Bruen MK9 Unlock Boost
The new LMG Bruen MK9 unlocked
You can also get your Bruen MK9 Leveled UP to unlock all Weapon Attachments, just add it as an Extra Option
You can also get

Gold

and (or)

Obsidian

camouflage unlocked for your Bruen MK9, just add it as an Extra Option
Several Battle Pass lvls will be unlocked and the Rank will be increased by several lvls during the boost if you will add one of the Extra Options
Call of Duty Modern Warfare (2019) Account. (The boost will be done in multiplayer mode.)
Login and password. Account safety guaranteed.
Grau Killer and why you need the Bruen MK9 Unlock Boost
At the beginning of Season 3 there were 2 new weapons in Call of Duty Modern Warfare: the Renetti Handgun and the SKS Marksman Rifle. In the middle of the season, with patch 1.20, the new LMG Bruen MK9 was added.
Some say that Bruen MK9 is even better than the popular Grau. In addition to the enormous range and incredible TTK, the Bruen MK9 has properties of an assault rifle and is damn easy to keep under control, since the LMG has hardly any recoil. With a proper setup are also ADS, as well as movement and reload speed, comparable with an assault rifle as Grau thanks to the 60 rounds magazine.
MMOnster Bruen MK9 Setup:
Muzzle: Monolithic Suppressor
Barrel: XRK Summit 26,8
Laser: Tac Laser
Optic: VLK 3.0 Optic
Ammunition: 60 Round Mags (Bruen MK9)
Bruen MK9 is an absolute must-have, which is not so easy to get! To unlock the Bruen MK9, you have to kill 3 enemies in 15 different games with an LMG, as long as the enemy is near smoke, which can be tricky. If you are hot for the new Bruen MK9 light machine gun, but you don't have the time or you just don't feel like spending hours on the farm, let me know, the experienced professional players from MmonsteR will be happy to take it over.