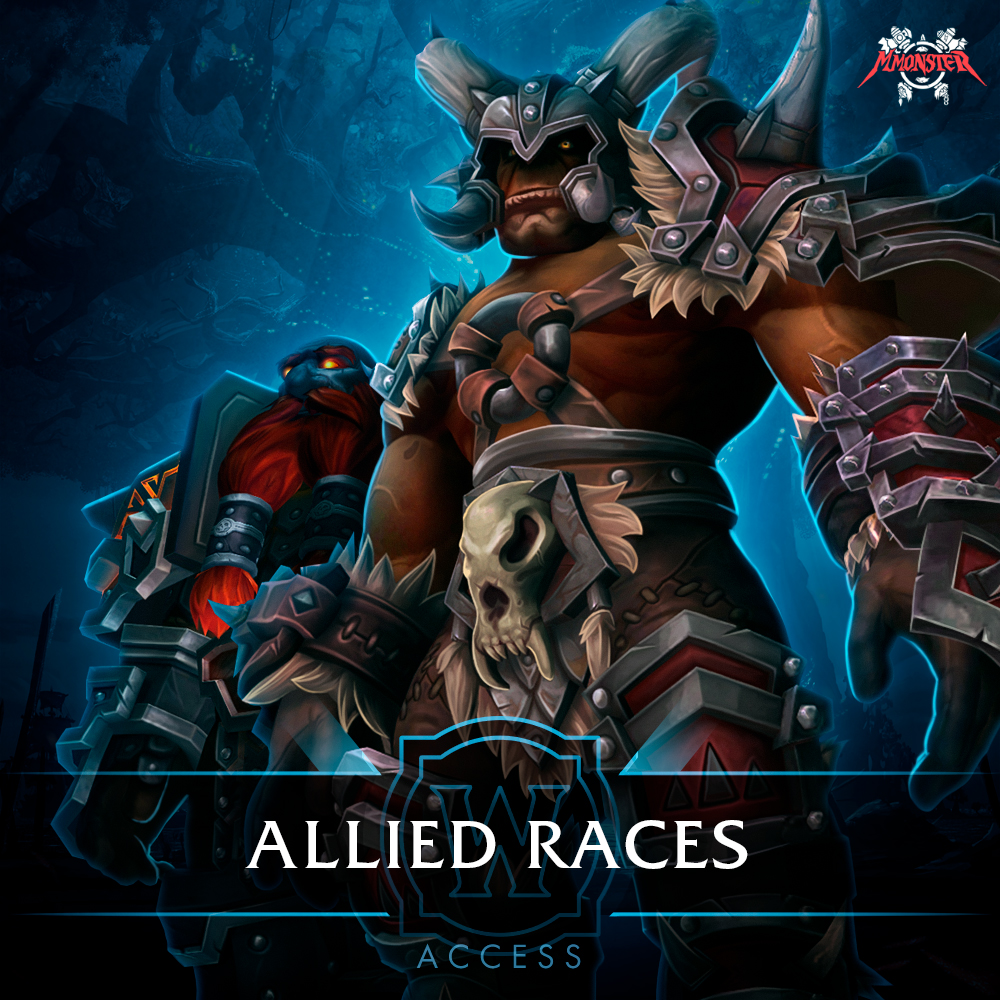 You will get your preferred (or all of them) Allied Race unlocked and ready to play
Upon

unlocking your allied race character you will get various rewards:
World of Warcraft: Battle for Azeroth purchased
50 Lvl Character on a faction you wish to unlock your preferred Allied Race for (Highmountain Tauren, Nightborne, Vulpera, Zandalari Troll and Mag'har orc on the Horde side and Lightforged Drenei, Void Elf, Mechagnome, Dark Iron Dwarves and Kul Tiran Human on the Alliance side respectively). Don't have one yet? Take advantage of our Power Leveling Boost service.
Login and p

assword, your account safety guaranteed
Lead time is up to 2 days (highly depends on your current progress and allied race you desire)
New World of Warcraft: Battle for Azeroth playable Allied Races are here and ready to aid heroes of Azeroth in the upcoming battles. In Battle for Azeroth in addition to 4 Legion Allied Races: Highmountain Tauren, Nightborne, Lightforged Drenei and Void Elf - 6 new playable races can be recruited (3 races per each faction): Vulpera, Zandalari Troll and Mag'har Orc on the Horde side and Mechagnome, Dark Iron Dwarves and Kul Tiran Human on the Alliance side respectfully, granting players new gaming experience via refreshed leveling zones and new race/class combinations.
Dark Iron Dwarves and Mag'har Orcs will be available to unlock and play right after BFA release, Zandalari Troll and Kul Tiran Human aiding their factions some time later in patch 8.1 Tides of Vengeance and Vulpera with Mechagnomes coming with patch 8.3 Visions of N'Zoth. Our team will do all the necessery preparations so you can start playing your allied race character right away: completing faction's main questchains and finish special unique to each allied race questchain. Join the ranks of your faction in the upcoming war with your new allied race character in shortest time with our Allied Races Access service.


You can buy BFA Allied Races Access boost with account sharing only. Our professional and trusted Mmonster players will kindly boost your character with this World of Warcraft (WOW) BFA Allied Races Access boosting service really fast so lean back and watch your character collects all those tasty rewards and achievements and tremendously grows in power!
How to unlock allied race in Warcraft BFA
To unlock the allied race, each and every one, you will need to complete some achievements and unlock the final quest chain. Working and studying it may take you to unlock this race up to 2 weeks but we can carry allied races unlock much faster for you! For example Zandalari Troll we can unlock for a little longer than couple weeks and the same for the Kul Tiran Human access, it will only take you one click to place an order and waiting for the contact from us after your order is confirmed on email!
Why do you need new allied race for your Warcraft account?
New allied races added at the start of Battle for Azeroth expansion and is something new, amazing mixture of the races and totally new races will make your gaming more fun, your new character looking awesome and all other players will want the same character as you have, since it takes a lot of time to farm allied races char! Also allied races character have an opportunity to get heritage armor for the transmog, that is very authentic looking for exactly this character! Thus you will have the best looking allied race personage in game possible! You can also add Heritage armor to your new allied race toon so you will have your new allied race character boost done very fast.
What allied races can be unlocked?
You can unlock all 10 allied races available in Warcraft at the moment such as Highmountain Tauren, Lightforger Draenei, Nightborne and Void Elf allied races from Legion and Vulpera, Mechagnome, Mag´har Orcs, Kul Tiran Humans, Zandalari Trolls and Dark Iron Dwarves from BFA unlocked and all other races available in Warcraft at the moment. We unlock allied race fast and painless for you so you will not need to invest a lot of time into farm. We know how to unlock any Warcraft allied race in a very efficient way!
Login or Register with...