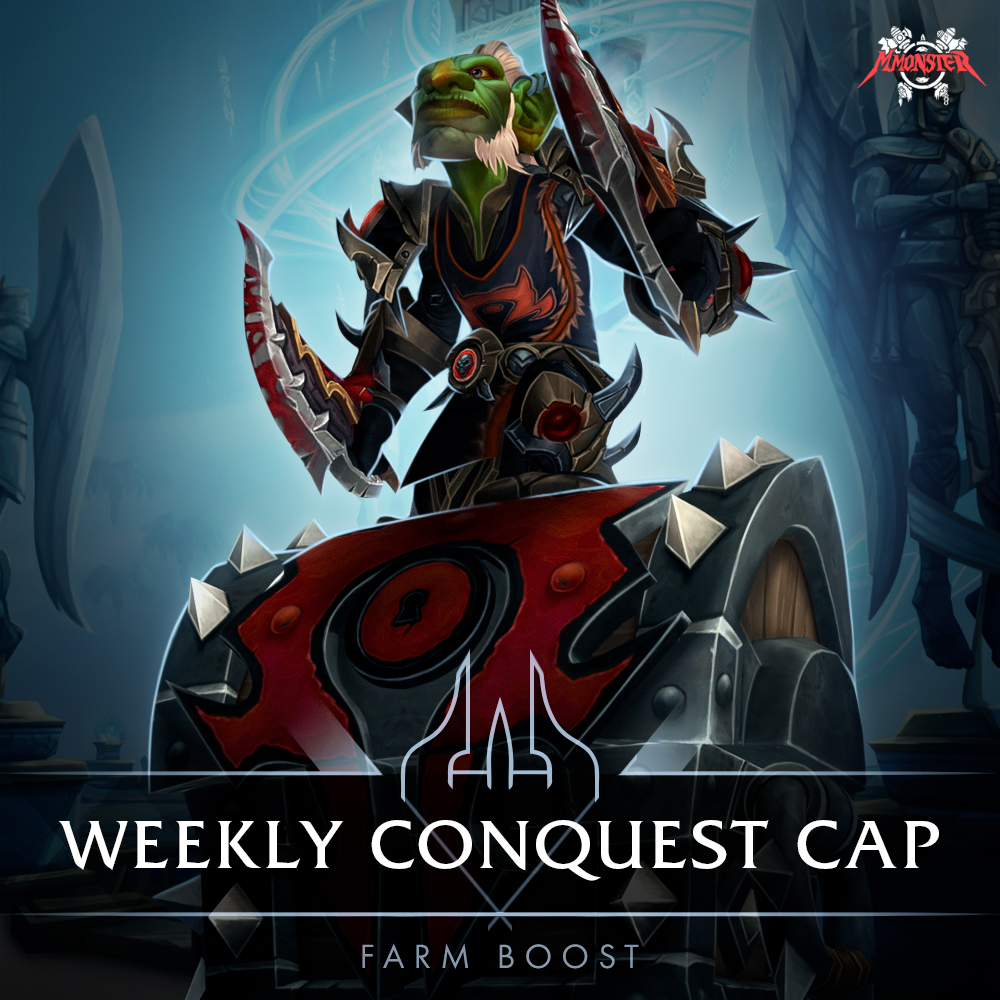 Conquest Weekly Cap Boost
Here you can buy
Conquest Weekly Cap Boost

service to get selected amount of Conquest Points farmed in 2v2 or 3v3 rated PvP Arena bracket. Due to the heavy workload of our pvp boosting teams there are waiting queues for arena rating boost to start.

Estimated Boost Start

time can be up to several days
You will get selected amount of Conquest Points farmed by winning games in 2v2 or 3v3 Rated Arena required to purchase and upgrade your PvP gear from a Conquest vendor

Guaranteed 275+ PvE / 288+ PvP item level item as a weekly reward from The Great Vault

Tons of Anima to fuel your Covenant Reservoir or to buy some cool Covenant rewards

A bunch of MARK OF HONOR which you can exchange for old season PVP tier sets or weapons, heirlooms and pvp mounts
Login and password, your account's safety guaranteed.
Certain minimum item level of PvP gear required, please ask our managers on more details regarding your specific character's gear and estimated boost time before purchase
Estimated Boost Time highly depends on queues and may be up to several hours.
Conquest Weekly Cap Boost

- the best way to obtain any amount of Conquest Points fast and easy

In Shadowlands, the long forgotten Conquest Points System returns after its break. As you participate in PvP, you will earn Conquest for winning Rated PvP activities. Conquest points are used as a currency to buy and upgrade PvP-specific gear from Conquest vendor in Oribos and has a weekly cap of 1200 points, earned from Rated PvP activities. Here are the Conquest gear costs:
| | | | | | | | | |
| --- | --- | --- | --- | --- | --- | --- | --- | --- |
| Gear Item | Gladiator Trinkets, Back, Wrist, Rings, Necks | Damage Trinkets, Shoulders, Hands, Waist, Feet | Head, Chest, Legs | Two-Hand Weapons | Melee One-Hand Weapons | Intellect One-Hand Weapons | Off-Hands | Conduit |
| Cost | 525 Conquest | 700 Conquest | 875 Conquest | 1800 Conquest | 900 Conquest | 1350 Conquest | 450 Conquest | 200 Conquest |
Highest earned rating determines which item level of PvP gear is available for purchase or upgrade at Conquest Vendor and as a weekly reward from the Great Vault. Starting PvP gear is an Unranked Gladiator gear of 275 PvE / 288 PvP item level which can be increased up to 301 PvE / 311 PvP item level as you reach higher PvP Rating. Winning Arena rated games and obtaining conquest weekly cap (especially on higher rating) is not a trivial task and requires exceptional playing skill, experience, effort and time not only from you, but from all your team mates. And with our Conquest Weekly Cap Boost service you won't have to face all these trials alone, as our top pvp players are ready to provide you with the best and the most effective way to get your character your Conquest Weekly Cap fast and easy. So what are you waiting for? Join our pro boosting team, crush your enemies while winning Arena battles and claim your ultimate rewards!
Login or Register with...