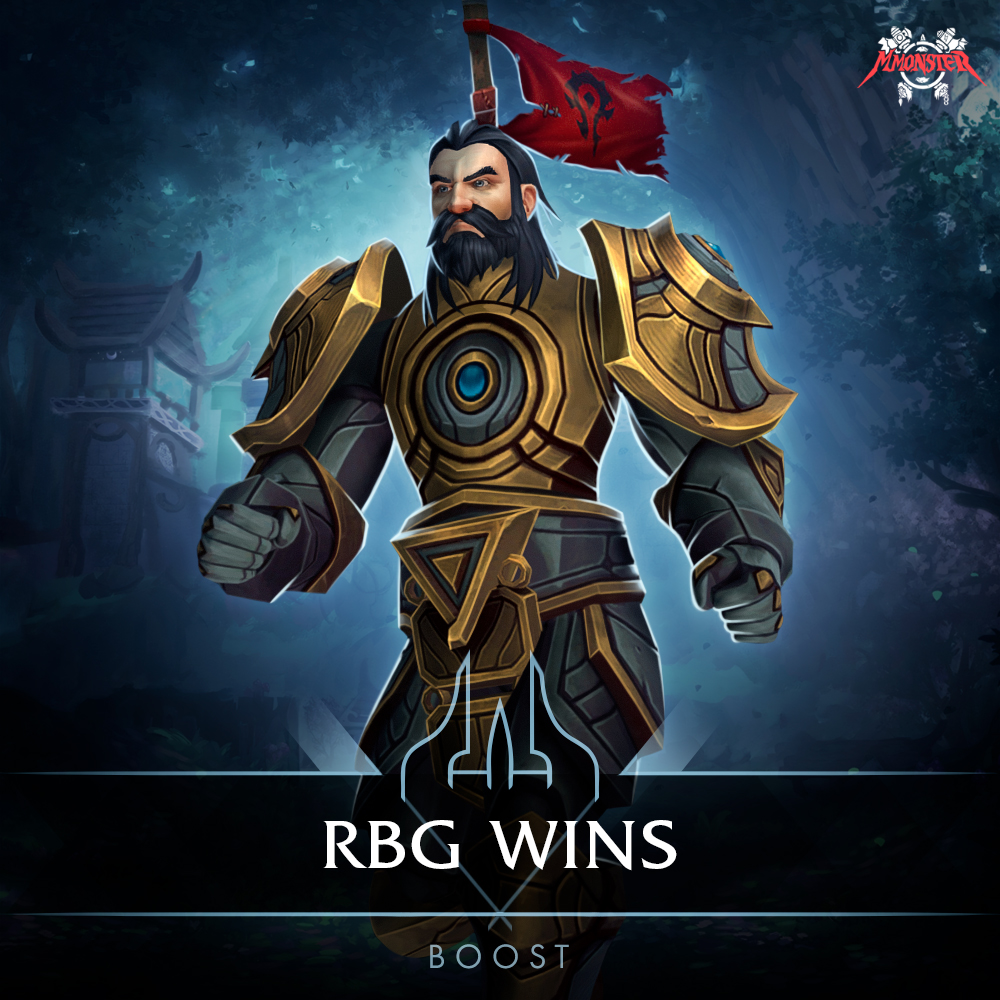 WoW RBG Wins Boost
Here you can buy
RBG Wins Boost Carry

service to get desired amount of Rated Battleground games wins. Due to the heavy workload of our pvp boosting teams there are waiting queues for RBG wins boost to start.

Estimated Boost Start

time can be up to several days
Estimated Boost Start time varies and can be up to several days. Estimated Boost Time varies and highly depends on your selected amount of RBG Wins.
Shadowlands PvP Season 2

- new features and rewards for PvP gameplay in WoW

Shadowlands PvP Season 2, released on July 7, is in full swing and brings lots of cool rewards and gear players can obtain for participating in different Player vs. Player activities in World of Warcraft. You can battle in competitive Ranked games such as RBG (Rated Battlegrounds), 2v2 or 3v3 Arena, random Battlegrounds or even simply kill enemy players in World PvP with War Mode on to get awarded based on associated PvP content, earned rankings and overall success. Ranked or Rated PvP will have you climbing standings by defeating enemy player teams and reaching for higher ranks, earning some cool rewards such as titles, achievements, transmog gear and mounts based based on your cutoff. Additionally to that, there is new The Great Vault feature introduced with WoW Shadowlands release which is an upgraded version of previous PvP Weekly Chest and will award players with a guaranteed epic piece of gear to choose from up to 3 potential items as weekly reward depending on amount of Honor earned in Ranked PvP games and PvP Rank reached. Also, participating in any PvP will still reward all players with Honor as an experience towards the Honor Level System, persisted from Battle for Azeroth expansion. As players increase their Honor Level, they will unlock lots of different cosmetic rewards such as mounts, toys, titles, pets etc. And last but not least, PvP Vendors and the Conquest system make their return in Shadowlands meaning players can earn both Honor and Conquest points from specific PvP activities as a currency used to buy new gear and upgrade item levels of their current PvP gear as they increase in Renown with Covenant (for Honor gear) and reaching higher PvP ranks (for Conquest gear). Participate and win the most epic RBG battles with our best PvP boosting teams and have the best gaming experience and pastime you have ever had!
RBG Wins Boost Carry

- the best way to obtain desired Rated Battlegrounds Wins fast and easy

Rated Battlegrounds (RBGs) are the most prestigious places of all Horde and Alliance players to fight for their faction and compete to get higher in rating ladder. Only the strongest teams can constantly win RBG games which reward Conquest points to buy and upgrade your elite epic gear (which can be on par with relevant Mythic Raiding gear), mounts, unique titles, cool achievements and other rewards.

Additionally to that, you will get a bunch of Marks of Honor which you can exchange for old season PvP tier sets or weapons, Honor Level boosted along the way, tons of Anima to fuel your Covenant Reservoir or to buy some cool Covenant rewards and filling PvP progress bar towards Seasonal PvP mount reward (Vicious War Gorm in Shadowlands Season 2) or Vicious Saddle (if you already obtained your Seasonal PvP Mount) which can be exchanged for one of the Vicious mounts from the previous expansions. Our professional pvp boosting team consists of several multi-ranked 1 Gladiators with huge experience in providing the fastest, most secure and reliable service so you can be sure you will achieve your desired RBG Wins farmed in no time. There are no special requirements to buy RBG Wins Boost Carry other than 60 level of your character (you can order Shadowlands Power Leveling Boost at our store). We also guarantee complete anonymity and reliability of our PvP boost services. You can buy RBG Wins Boost Carry as a selfplay service only. Our professional and trusted Mmonster players will kindly boost your character with this WoW Shadowlands Season 2 RBG Wins boosting service really fast so lean back and watch your character climbs the competitve PvP ladder and tremendousely grows in power!

Winning RBG games is not a trivial task and requires exceptional playing skill, experience, effort and time not only from you, but from all your team mates. And with our RBG Wins Boost service you won't have to face all these trials alone, as our top pvp players are ready to provide you with the best and the most effective way to get your character desired amount of RBG wins farmed, pvp gear and other rewards fast and easy. So what are you waiting for? Join our pro boosting team, crush your enemies while winning Rated Battleground battles and claim your ultimate rewards!
Login or Register with...