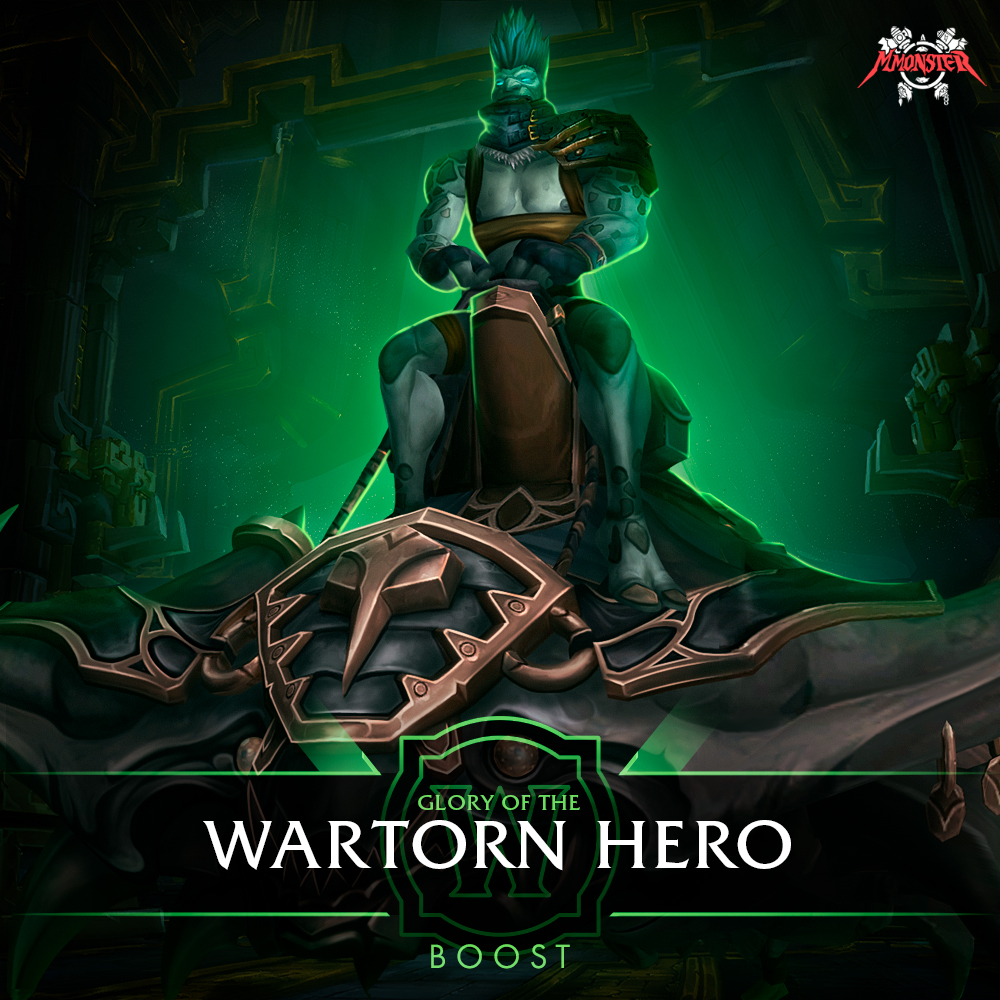 Glory of the Wartorn Hero
WOW: Battle for Azeroth 10/10 Mythic Dungeons clear participating in one of the best 5ppl teams

GLORY OF THE WARTORN HERO

meta-achievement granting you a total of 295 Achievement Points
10 Achievements for passing 10 Battle for Azeroth Mythic Dungeons granting you a total of 100 Achievement points
All 85+ ilvl up to 110 ilvl loot for your character's chosen class and spec including Azerite Armor, weapons and warforged and titanforged items

Tons of Azerite to boost your Heart of Azeroth
Login and p

assword, your account safety guaranteed.
What is Glory of the Wartorn Hero and why you need Obsidian Krolusk mount boost carry
N
ew
World of Warcraft: Battle for Azeroth expansion brings us new dungeons to explore, new bosses to kill and new rewards to obtain. Glory of the Wartorn Hero is a meta achievement, where you need to accomplish different achievements in all 10 BFA dungeons on Mythic difficulty only, just like it was in Legion. When your character earns all 27 achievements, you will get awesome Reins of the Obsidian Krolusk Mount as the main reward. Also, during this run you will get some loot including Azerite Armor pieces of course, azerite power, mounts and other rewards. In BFA Season 4 bosses in Mythic Dungeons drop 85+ item level gear with a chance of it being Warforged or Titanforged, which can have its item level upgraded to 110 item level piece. Join our team and rush into this epic Battle for Azeroth completing Glory of the Wartorn Hero meta achievement, get your Obsidian Krolusk Mount and have the best gaming experience and pastime you have ever had!
You can buy BFA Glory of the Wartorn Hero boost with account sharing only
. Our professional and trusted Mmonster players will kindly boost your character with this World of Warcraft (WOW) BFA Glory of the Wartorn Hero boosting service really fast so lean back and watch your character collects all those tasty rewards and achievements and tremendously grows in power!
Login or Register with...